September Mailbag No 2 and Happy Mid-Autumn Festival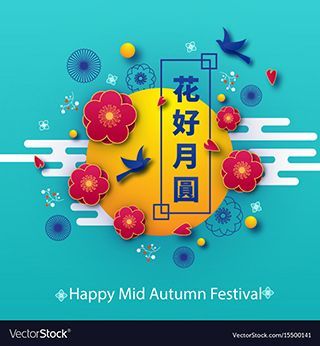 On top of our Mailbag for today is a piece of paper which reads: Happy Mid-Autumn Festival! 中秋快乐! Zhōngqiū kuàilè!
May the round moon bring you a happy family and a successful future.
祝福中秋佳节快乐,月圆人圆事事圆满.
A special greeting to our subscribers K and K in HongKong.
The Mid-Autumn Festival (Simplified Chinese: 中秋节; Traditional Chinese: 中秋節; Vietnamese: Tết Trung Thu; Korean: 추석; Japanese: 月見), also known as Moon Festival or Mooncake Festival, is a traditional festival celebrated by Chinese people and the Sinosphere. It is the second most important Chinese holiday after Chinese New Year with a history dating back 3,000 years, when China's emperors worshipped the moon for bountiful harvests.The celebration is called Chuseok (autumn eve) in Korea and Tsukimi (moon-viewing) in Japan.(en.wikipedia.org)
Next, in our second mailbag for this month, is an email stating that we have another new subscriber - a very warm welcome to J.M.D in Adelaide, South Australia.
Digging deeping into our mailbag I find correspondence from John Pickup who has sent in this link to 20 of the most amazing stairs around the world.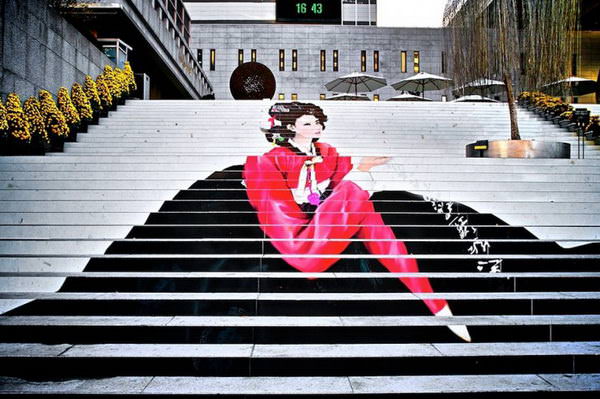 It's hard to choose which stairs I like best as they are all amazing. I have chosen these from Rio de Janeiro so we can say hello to our subscriber M.G. in Brazil. And I love the amazing array of bright colours.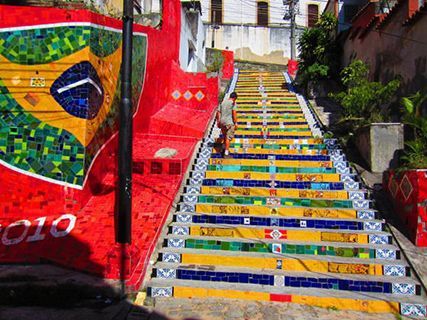 And while we are speaking of John Pickup here are two of his latest paintings. As a teaser I can announce that we will be showcasing more of John's latest works very soon.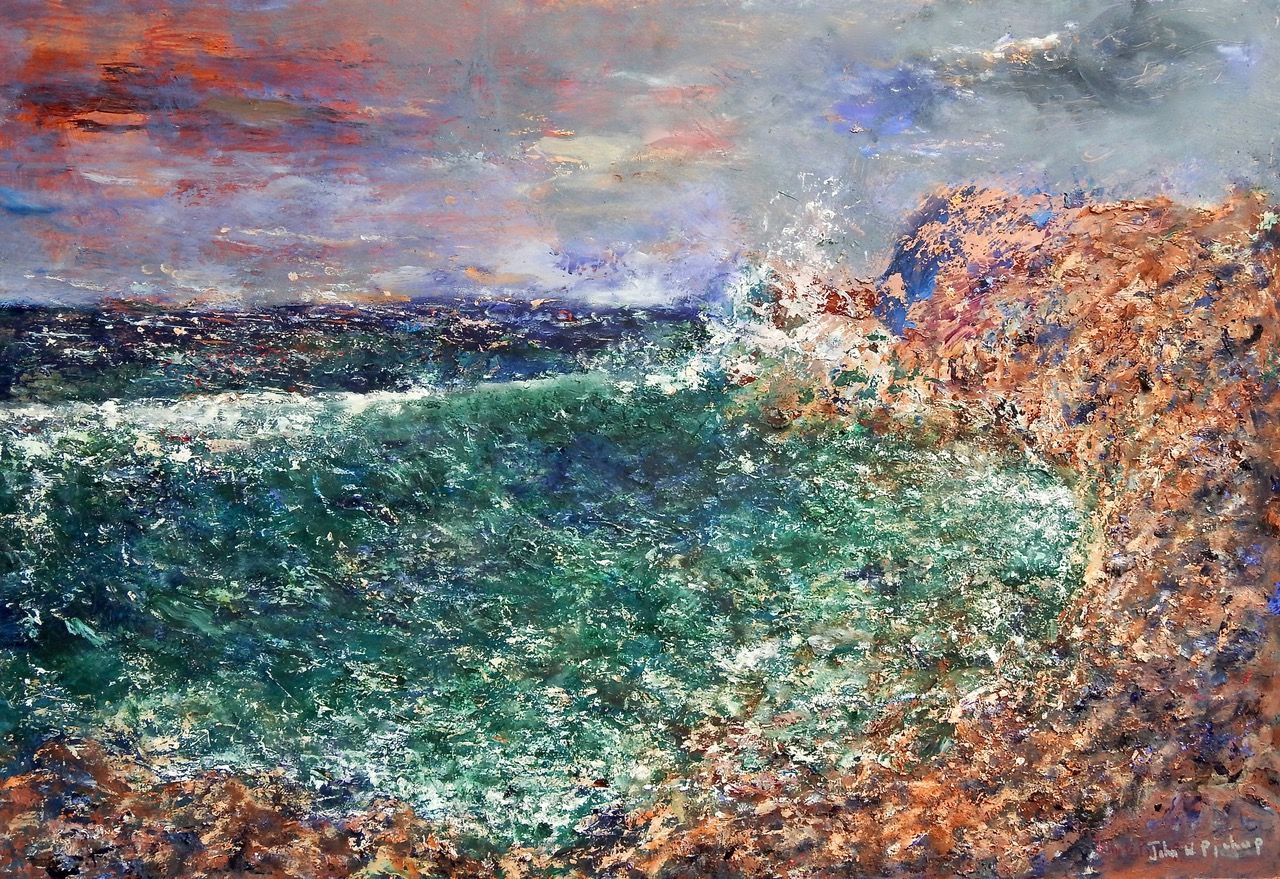 Moving on (literally) to something ingenious. From time to time we mention the use of the Camera Obscura, a device (in many versions) used back as early as the C16th as a drawing or painting aid.
Julie has discovered the artist Maciej Markowicz who takes pictures from the water with a camera obscura. His floating pinhole camera is 15 meters long and he travels throughout Europe with it and attends photography festivals.
Please watch this video to see how Maciej Markowicz is creating amazing images of buildings along the waterways.
A little while back I John Wylie and I introduced you to the Australian artist Clarrie Cox who travelled Australia in the 1970s painting scenes of outback towns.
Jane loves to play around with photos and has made for us two image collages showing a painting by Clarrie Clox compared to a photo of the same scene.
The first is of the Central Victorian gold mining town of Clunes. The second is William Creek Hotel which is in the nearest town to the iconic Kati Thanda-Lake Eyre in Outback South Australia, on the famous Oodnadatta Track between Marree and Oodnadatta, and two hours east of Coober Pedy. Jane visited the hotel nearly 50 years after Clarrie and little has changed.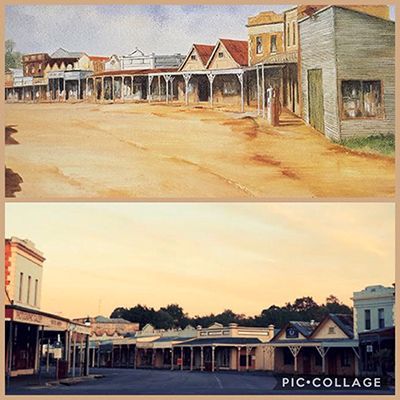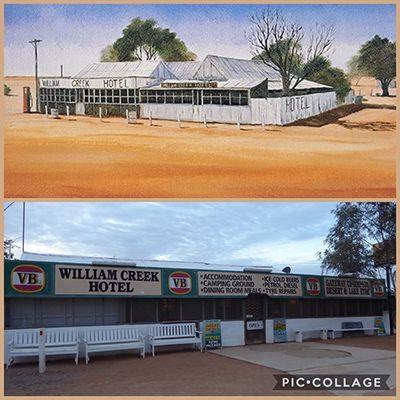 Jane has also alerted us to the fact that Sydney will now host the Australian premiere of Van Gogh Alive produced by Grande Exhibitions and is a large-scale, multi-sensory, digital spectacular.
The exhibition will run for a strictly limited Covid-aware season at The Royal Hall of Industries at Sydney's Entertainment Quarter, Moore Park .
Don't just admire Van Gogh's paintings - immerse yourself in them in the most visited multi-sensory experience in the world.
Follow this link below to enjoy some of the experience through on on-line video plus to book a ticket if you are lucky enough to live in Sydney.
Thank you for the wonderful feedback from so many of you from London to South Australia following the post on the paintings of urban landscape artist Kevin McKay which John Pickup introduced us to.
If you are on Facebook you might like to check out Kevin McKay's page but we will be bringing you very soon more works from the easel of this fabulous urban landscape artist.
And my contribution to the september mailbag comes from two tweets I received this week related to hearing impairment. The first alerts us to the works of the hearing impaired Indian artist Satish Gujral who lost his hearing when young and regained it over 60 years later. The image below in the tweet shows some of the hearing motifs he included in some of his paintings.
The second showcases a painting Personification of the Sense of Hearing by English painter Lizzie Riches who is a magical realism painter and her works are fascinating. She has also been called The Poet of Painting.
Posts on both these artists coming up soon.