Hiroshi Yoshida - unique ukiyo-e Part 2
Yesterday we looked at the early life of Hiroshi Yoshida, who was a remarkable Japanese painter and a unique woodblock printer in the early to mid 1900s.
He was also unique in that he began to travel the world only thirty or forty years after the country had come out of 200 years of being totally cut off from the rest of the world, in the early 1900s.
What led him to exploring on a such a large scale, when travelling the world was not the fast, efficient process we know today, when it meant weeks at a time at sea?
The answer seems to be that he always had an enquiring mind, always wanting to improve, always wanting to experiment and learn new things. This, combined with his early training in Western techniques by artists who wanted to embrace the West, led to his desire to experience the world first hand.
He is famous for the many detailed prints he produced from his extensive travels around the world - the Acropolis in Athens, the Sphinx in Egypt, Yosemite National Park, USA, the Taj-Mahal and the Ajmer Gate in India, and others.
(All images courtesy of ukiyo-e.org unless otherwise stated).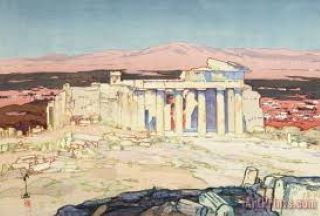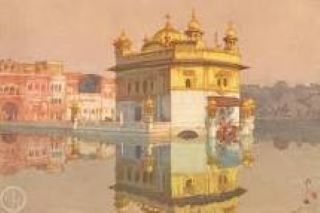 You may be aware that some of the Impressionists were influenced by Japanese art, but in actual fact, it worked both ways!
Yoshida is regarded as one of the greatest artists of the shin-hanga style movement, a movement that was influenced by European Impressionism with imagery focused on landscapes, women, and nature. Yoshida is noted especially for his excellent landscape prints.
The French impressionists liked to paint the same subject at different times of the day to show the effects of light and shadow and the influence of the light on colours. This was basically the essence of French impressionism.
The shin hanga (modern) art movement picked up this idea from the French impressionists and combined it with old, traditional Japanese woodblock printmaking to a very high level of craftsmanship.3
Many of you will be familiar with Monet's Rouen Cathedral, a series painted in different lights. Hiroshi Yoshida also made several of his designs in two or more versions - a day and a night scene or images at different weather conditions, or different times of the day, as seen below.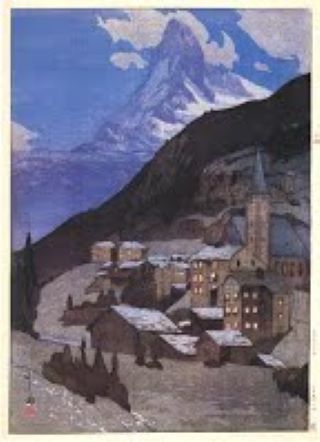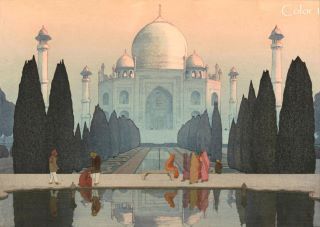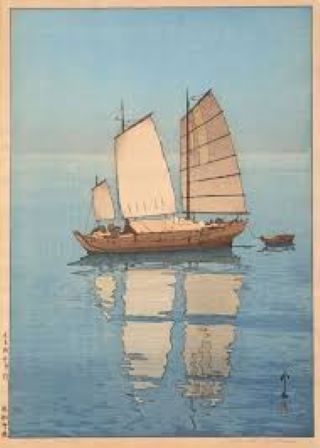 The woodblock prints produced in this way had the perspectives and compositions of Western-style paintings with the highly refined and precise techniques of ukiyo-e woodcuts. Consequently, Hiroshi was unlike any of the woodblock artists and opened up a new frontier in Japan that was unprecedented and thoroughly original to him.2,4
Do you like his style and the multiple views of the one scene?
In a way, Hiroshi established a third school of modern prints in Japan, combining the artist-carver-publisher system of ukiyo-e with the sosaku hanga (creative) artist's total control of the final image.2
He was the prime Japanese organizer of the Toledo Exhibitions in 1930 and 1936, and as a result many of his prints were included. Both exhibitions increased his existing popularity in the USA and led to his work being widely collected there.1
With the second world war, Yoshida's travel was curtailed, but he still travelled within Japan and continued to produce beautiful scenes: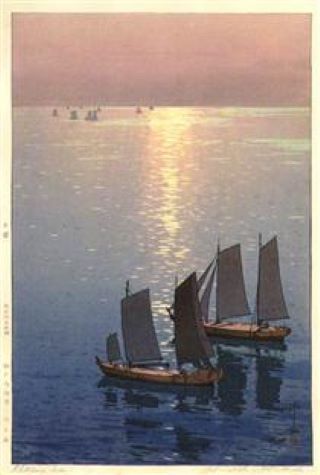 He designed his last print in 1946, at age 69, but continued to paint. At the age of 73, Yoshida took his last sketching trip to Izu and Nagaoka but became sick on the trip. He returned home to Tokyo where he died on 5th of April, 1950.
Yoshida's wife, Fujio (1887-1987) was also a print maker. Their legacy lives on, with 8 members from four generations of Yoshida's family all becoming artists and printmakers, starting with Yoshida's sons Toshi (1911-1995) and Hodaka (1926-1995) and his wife.
If you would like to read more detail about the life and work of Hiroshi Yoshida, click here.
Footnotes
With thanks to:
Wikipedia
myjapanesehanga.com
artlino.com
The book: A Japanese Legacy: Four Generations of Yoshida Family Artists, Laura W. Allen, Kendall H. Brown, Eugene M. Skibbe, et. al., The Minneapolis Institute of Arts, 2002, p. 30, 31