Savouring the Modern Masters from The Hermitage
I have gone to Sydney with Jane (the Blog 2IC) to see the Masters of Modern Art from the Hermitage. I'm quite excited having never had the opportunity to see these works in Russia. The advertising text from the Art Gallery of New South Wales reads in part: Masters of Modern Art from the Hermitage presents a magnificent selection of works from the towering figures of modern art. Drawn from the unparalleled collections of the State Hermitage Museum in St Petersburg, the exhibition captures the ebullience, idealism and confidence of artists as they freed themselves from tradition.
Featured are the works of: Monet ● Cézanne ● Matisse ● Picasso ● Gauguin ● Kandinsky ● Pissarro ● Malevich ● Denis ● Bonnard.
AND FOR ME THE WINNER IS:
Wassily Kandinsky (1886-1944): Russian artist and pioneer of abstract art.
I think there were only four of Kandisky works on display and for me they stood out from all the rest, except for a wonderful Picasso painting which was Jane's favourite. More on Picasso later. My favourite of all the paintings in the exhibition was View of Murnau: landscape with a green house painted by Kandinsky in 1908. Murnau is a small town in the Bavarian Alps.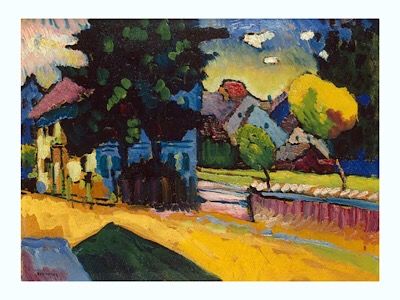 I've been wondering why this painting so affected me today; what caught my eye and separated it out from all the other paintings on display- and it is an extensive exhibition. The vibrant colours in Kandinsky's painting are breathtaking and the influence of the Art Nouveau Movement and Russian Folk Art (both favourites of mine) is strong. The painting would look perfect in my lounge room but Jane was most uncooperative about helping me steal it.
Two Kandinsky's on exhibit were also wonderful. There was Winter painted in 1909.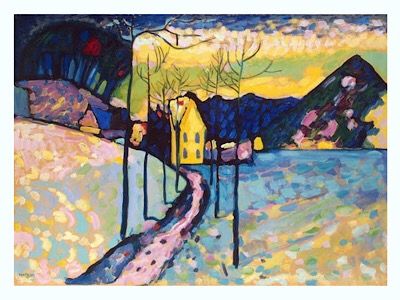 And also Landscape: Dunaberg near Murnau painted in 1913.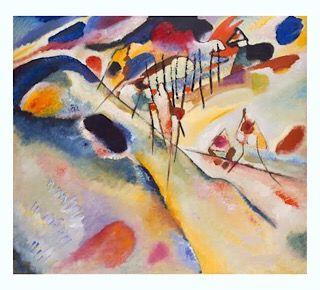 Coming in a close second (behind the Kandinsky paintings) for me was Woman with a Fan by Picasso which Jane awarded as her favourite.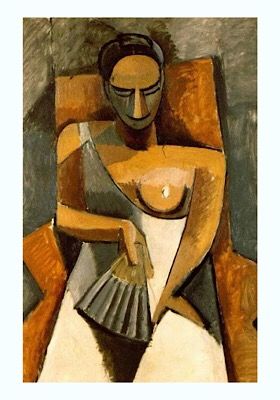 A another favourite of Jane's was Monet's Waterloo Bridge, London- with the minimalistic use of colour and shade whilst still creating an amazing image.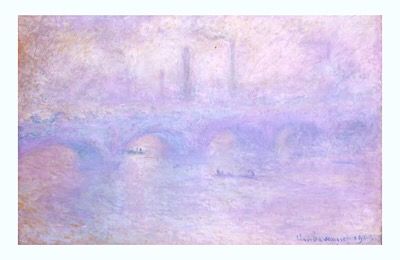 A wonderful exhibition and a wonderful experience.
Credits
1. wassilykandinsky.net
2. The Culture Concept Circle
3. pablopicasso.org
4. ArtWorks