Reflection: from the James Webb Space Telescope
So much has happened on our beautiful little planet over the past couple of years I thought it was time we stopped, drew breathe and reflected on our place in the great universe beyond our perimeters.
And the best way to do this is through the breathtaking images being sent back to Earth from the James Webb Space Telescope.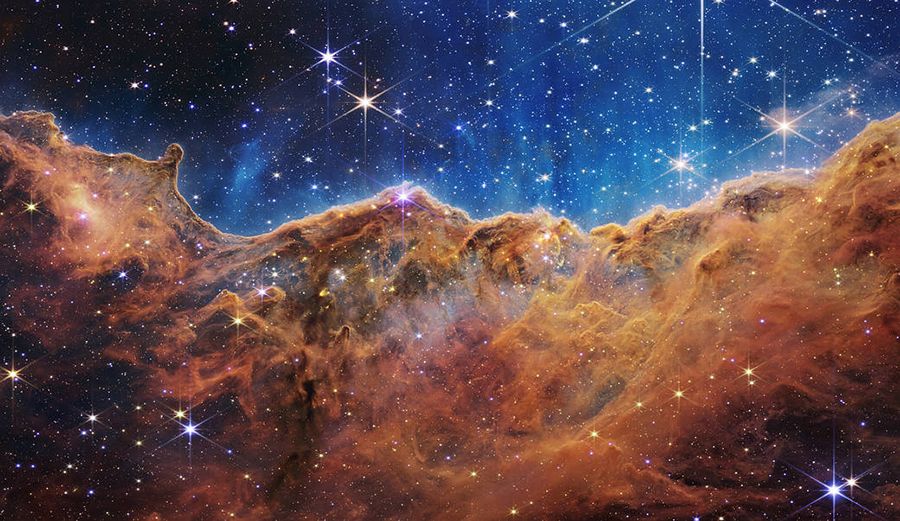 This landscape of "mountains" and "valleys" speckled with glittering stars is actually the edge of a nearby, young, star-forming region called NGC 3324 in the Carina Nebula. Captured in infrared light by NASA's new James Webb Space Telescope, this image reveals for the first time previously invisible areas of star birth.1
Called the Cosmic Cliffs, Webb's seemingly three-dimensional picture looks like craggy mountains on a moonlit evening. In reality, it is the edge of the giant, gaseous cavity within NGC 3324, and the tallest "peaks" in this image are about 7 light-years high. The cavernous area has been carved from the nebula by the intense ultraviolet radiation and stellar winds from extremely massive, hot, young stars located in the center of the bubble, above the area shown in this image.1
The dawn of a new era in astronomy has begun as the world gets its first look at the full capabilities of NASA's James Webb Space Telescope, a partnership with ESA (European Space Agency) and CSA (Canadian Space Agency). The telescope's first full-color images and spectroscopic data were released during a televised broadcast at 10:30 a.m. EDT (14:30 UTC) on Tuesday, July 12, 2022, from NASA's Goddard Space Flight Center in Greenbelt, Maryland. These listed targets below represent the first wave of full-color scientific images and spectra the observatory has gathered, and the official beginning of Webb's general science operations. They were selected by an international committee of representatives from NASA, ESA, CSA, and the Space Telescope Science Institute.
These first images from the world's largest and most powerful space telescope demonstrate Webb at its full power, ready to begin its mission to unfold the infrared universe.
Press release: NASA Reveals Webb Telescope's First Images of Unseen Universe
More images can be seen if you follow this link on the NASA website to the James Webb Telescope.
Please take time to reflect on the beauty and brilliance of our universe and the incredible humans and their skills making these views possible.
Credit
1.nasa.gov