Reflection: Embracing the Beauty in the World
We have another new subscriber to welcome to the AnArt4Life blog. A very warm welcome to K.M. of Sydney who has joined our on-line art community.
And now it's time for our Saturday reflection.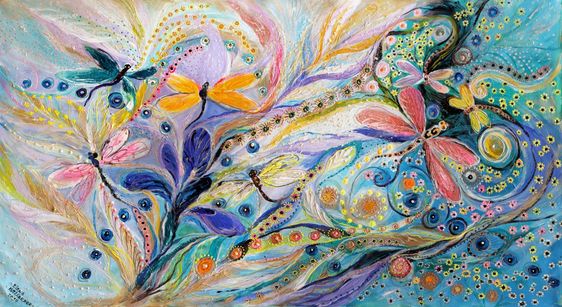 As a lover of nature and the beauty we find all around us, I find this painting The Flowers and Dragonflies by Elena Kotliarker so pretty I just want to smile. I admit to loving dragonflies which are quite amazing.
Let's see what Elena has to say about her painting.
The Flowers and Dragonflies by Elana Kotliarker
The dragonfly totem carries the wisdom of transformation and adaptability in life. As spirit animal, the dragonfly is connected to the symbolism of change and light. When the dragonfly shows up in your life, it may remind you to bring a bit more lightness and joy into your life. Those who have this animal as totem may be inclined to delve deep into their emotions and shine their true colors. When this spirit animal shows up in your life, it's an indication that it's time for change. Just like the dragonfly changes colors as it matures, you may be called to live and experience yourself differently. Stay open to the enfoldment of your personal journey. 2
Take a little time to study the images carefully and see what you can discover in the shapes and colours.

Elena Kotliarker, born in Kiev, Ukraine now lives in Israel. She is a loving Mom of two sons, a professional Painter and an irresistible Dreamer.
Her art is an invitation into a most enchanting world of fairy-tale cats, exotic flowers on silk, and sea creatures looking from walls. Her murals create original spaces and atmosphere for studies, work, play and rest. You will feel inspired by Elena's relaxing and kind energy that makes this world a more pleasant place. Have a look, and you will wish to keep dreaming with Elena!2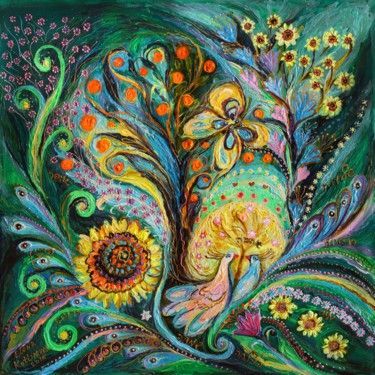 We can't leave today without recognition of the greatest Jewish artist of all time - Marc Chagall. Here is a tribute to Chagall by Elena Kotliarker.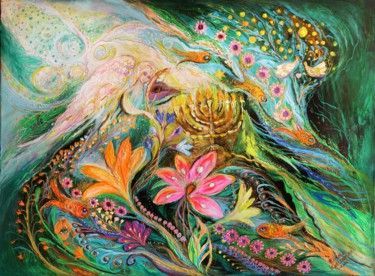 Elena is internationally recognized professional Judaica Artist, with hundreds of her artworks sold all around the world, from US and Canada to Europe, Australia and Asia. About 800 Lena's original artworks and hand embellished prints may be found in private collections in wide range of countries:2
Credit
fineartamerica.com
artmajeur.com