Priwall – Five Days and Fourteen Nights by Robert Carter
We continue our series on the marvellous paintings by Robert Carter OAM, FASMA, FISMP of the sailing ship era and recently published in The Marine Paintings of Robert Carter.
Robert is one of Australia's leading marine artists and is also joint founder of the Australian Society of Marine Artists with Dean Claflin.1 You can read more about Bob's biographical information by clicking here.
In The Marine Paintings of Robert Carter Bob has presented his paintings in five parts2 and we will follow this same format. We are up to Part Four: German Sail and French Ships where the ships painted by Robert illustrate that While Britain led the world in shipbuilding in the nineteenth century it was Germany, and to a lesser extent France, that took the sailing ship into the twentieth century. 2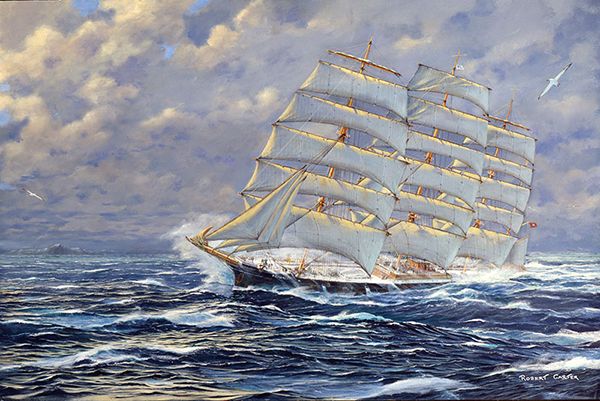 The fastest ever east to west rounding of Cape Horn by a commercial sailing ship was recorded in 1938 by the German 4-masted barque Priwall under the command of Captain A. Hauth.
There was no official recognition, merely the ship's log and navigation charts showed this to have taken place. Is was usual to take the time from when the ship crossed Latitude 50 degrees south in the Atlantic, to when she again crossed 50 degrees south on the way north in the Pacific. (Cape Horn is 56 degrees south). The westerly head winds, and more often than not gales, encountered in the Southern Ocean, could result in the rounding time exceeding six weeks.
Built by Blohm and Voss in Hamburg for the Laeisz Flying P Line, in 1920, Priwall was built for the Nitrate trade with Chile. Apart from two voyages to Australia for grain in 1934 and 1935, she remained in this trade until her last voyage under the Laeisz flag, to Valparaiso, Chile in 1939.
She was here when the Second World War broke out and her owners decided that she should remain in Chile. When the Pacific war broke out, Chile decided to align with the Allies and claimed Priwall as a war prize. She became a cargo-carrying training ship, painted white and renamed Lautaro, making two voyages with nitrate to San Francisco in 1943 and 1945.
In 1945 off the coast of Peru, with a full cargo of nitrate, her cargo caught fire and she became a total loss.3
© Thank you to Robert Carter who kindly gave permission for the image of his work to be shared on AnArt4Life.
Please check out the Robert Carter Website.
And also the site for the Marine Artisits Australia.
The next glorious vessel in our Robert Carter Marine Series will appear in about a week.
Credits
1. Correspondence with Robert Carter
2. The Marine Paintings of Robert Carter, Published in Australia by Robert Carter Maritime, Gosforth NSW, 2320, Australia, 2022
3. robertcarter.com.au