Today Julie continues the series dealing with the family relationships of Berthe Morisot in a snapshot on Paule Gobillard. Previously Julie mentioned Paule in her blogs on Berthe Morisot and Julie Manet.
Paule (pronounced "Powl", with a long "l") was the daughter of Yves, Berthe's older sister, so she was Berthe's niece and Julie Manet's cousin. Paule was an artist in her own right, but not at all well known. Most of what we know about her has come from Julie Manet's diary, which is described in the blog on Julie Manet.
It's probably useful at this stage to show a tree to understand where Paule fits in to this family. Those of whom were artists have been shown in a red bordered box with Paule shown in pink in the bottom left hand corner.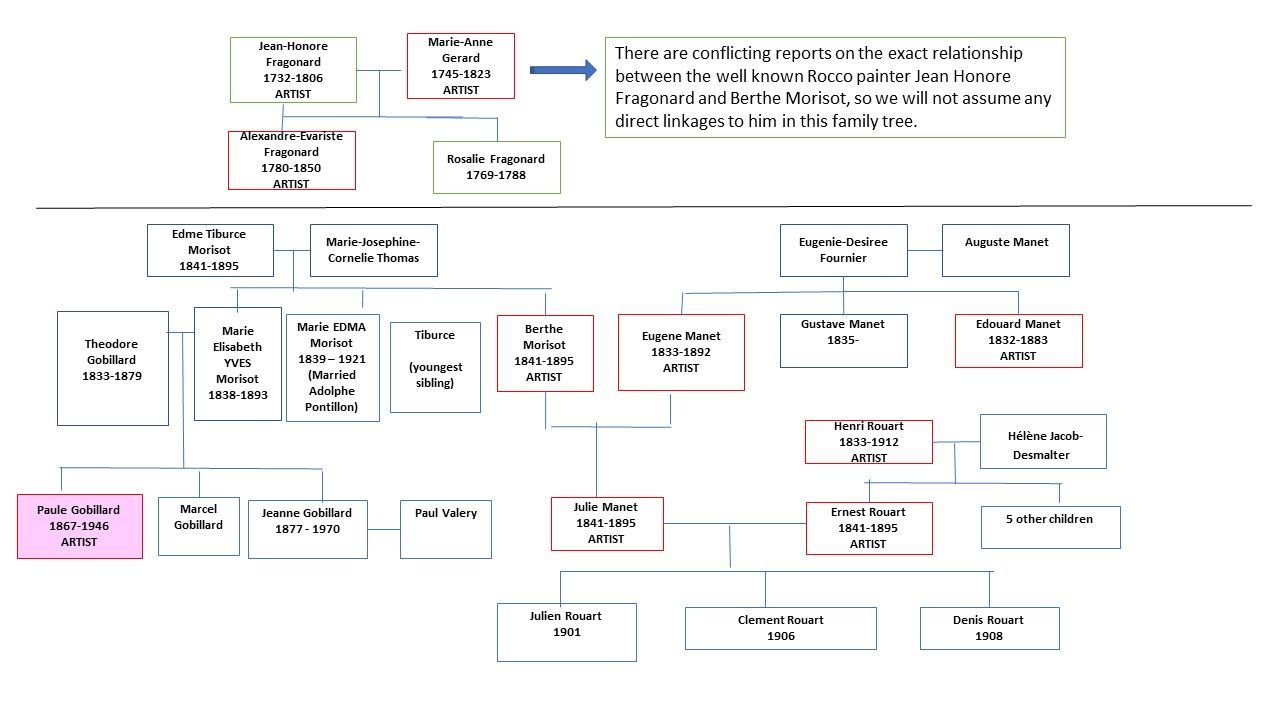 Paule was born on 3 December 1867 in Brittany, France. She had two younger siblings, Marcel and Jeanne. Throughout her childhood, Paule was the student and frequent model of her aunt Berthe and she is featured in at least ten of Morisot's paintings, including this one, Paule Gobillard En Robe De Bal.
Paule Gobillard En Robe De Bal (Source: Wikipedia. Credit: Sotheby's catalogue 6/11/13: Property from the Collection of Jacques Doucet)
Apart from being taught in oils and pastels by Berthe, Paule also had lessons with Edouard Manet and August Renoir. Edouard Manet as you will see from the family tree was Berthe Morisot's brother-in-law.
Paule was much influenced by the tutelage she received and her association with the Impressionists. She painted well over 100 images of the everyday life of children, women and the outdoors, and showed herself to be capable of very diverse styles, such as the following: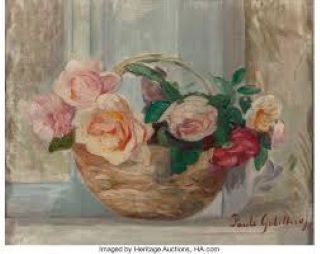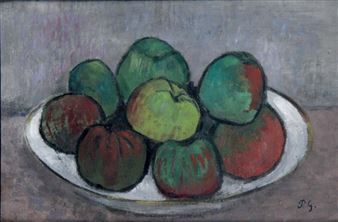 In 1893, at the age of 26, Paule was orphaned along with her siblings when their mother died. We know she and her sister, Jeannie, went to live with their aunt, Berthe Morisot, in Paris. During their stay with her aunt, they posed as models for her paintings. We also know that, being some 10 - 12 years older than her cousin Julie and sister, Jeanne, Paule acted as a mother figure to the younger girls after Berthe died two years later and so they were all orphaned.
No doubt they very much relied upon each other in their joint grief and sadness. Paule also showed that same family responsibility and connection when Berthe's other sister, Edma also died and left her children orphans.
During this period, Paule continued to paint, and also served as a model in several of close friend Edgar Degas' photographs - for example the photo of the four women also shown in the blog on Julie Manet. In 1894, Paule Gobillard held her first exhibition of her works and was subsequently exhibited with other prominent artists at the Société des Indépendants.
Portrait of Three Cousins: (L-R) Jeannie Gobillard (1877-1970), Julie Manet (1878-1967), Paule Gobillard (1867-1946) (Source: French Photographer, (20th century)/ Musee Marmottan Monet, Paris, France/Giraudon/The Bridgeman Art Library)
In 1900 Paule's sister Jeanne married Paul Valéry, a French poet and essayist, in a double ceremony with Julie Manet and Ernest Rouart. After this union, Paule resided with the couple in Morisot's home, where she produced some of her best work. This shows just how close the cousins were, and remained so, even after Julie and Jeanne were married.
Wedding Photo of Julie and Jeannie with their husbands (Source: Pinterest)
Julie Manet, Paul Valéry, Paule Gobillard, Ernest Rouart and Jeannie Gobillard. (Credit: Eric Picard)
Paule went on to further exhibit at the Salon d'Automne in 1904 and then at Le Salon des Tuileries in 1926. She continued painting until she died in Paris in 1946, aged 77. On 30 June 2004, more than 100 of her paintings and drawings from the collection of her nephew, François Valéry were auctioned by a Parisian auction house.
And lastly, just for interest, in 1983, the then Philippine First Lady Imelda Marcos reportedly bought fifty-two paintings of Gobillard's for US$273,000 (US$704,340 in 2020 US dollars) from the Hammer Galleries, a New York-based art gallery, as part of her extravagant overseas spending sprees during her husband's political reign. The paintings are presently being litigated by the Presidential Commission on Good Government until the present day. (Source: Wikipedia).
If you would like to read more about the life of Paule Gobillard: Click Here.