I have been commissioned to paint a picture of a Macadonian Shepherd minding his flock of sheep. I thought you would like to come on this journey with me.
So where does the story begin?
There are of course two areas in the world known as Macedonia. There is the region in northern Greece known as Macedonia which is the ancient land from which my lovely neighbour who cooks us Christmas breakfast arises from. And there is the country formally known as The Republic of North Macedonia which was formally part of Yugoslavia. The person who wants to be painted as a Macedonian Shepherd come from Northern Macedonia which is near to the border of Albania.
The landscape outside the cities looks like this.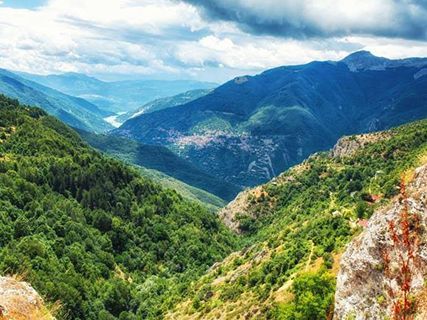 I always research my subject and try get to know a little of the history. The internet is wonderful of course but I do still believe in, and possess, quite a large number of books.
But alas I have no books on Macedonian Shepherds!! I have been to Macedonia - a long time ago- and have hundreds of slides of the landscape. But where are they? So back to the internet.
When you start researching on the internet you find the most amazing information and it is so easy to get distracted. In looking for pictures of shepherds and sheep I discovered this wonderful site which is all about sheep and shepherds and shepherdesses. If this is your predeliction please visit the site Herding On The Web.
You do learn the most amzing facts. This image caught my eye.
What on earth are they doing? Apart from minding their sheep while it would appear walking around on stilts what are they doing with their hands?
Shepherds in the Landes region of France, 1891
(http://herdingontheweb.com/)
Knitting! These shepherds are knitting.
In the marshy Landes region of France shepherds sat on stilts and while watching over their flocks, they knitted! I have to confess that I can't knit and so my admiration for anyone who can knit while sitting on top of a pole is huge.
Caroline couldn't rest until she found out more about the knitting pole shepherds (!) and with her usually tenancity she found a blog about shepherds who sit on poles and shepherds who knit which apparantely was very popular 100 years or so ago. Please check out Heather Gill's Blog.
And here is another image of a pole siting shepherd. I'm just a little concerned what happened when there was a strong wind!! Jane wants to know what happens if they drop a needle! And I'm also wondering if that is water or wine in the flask. Is it possible the shepherds were drunk - as they sat on their poles knitting? I'm sure we will agree, especially in the light of the DogBlog from the other day- we know who was really minding the sheep.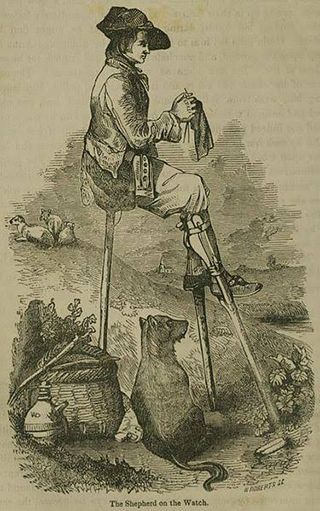 There can be no doubt that scenes of minding sheep are usually very picturesque and tranquil as captured by our artists below. Life can't be this good can it?
If anyone can find scenes painted of more challenging situations please send them in.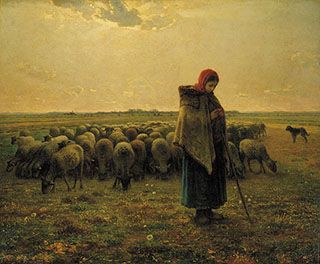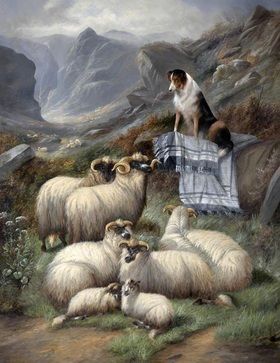 Dog Guarding His Flock by Eugene Verboeckhoven, 1860
(herdingontheweb.com)
I will return to tell you more regarding the development of the painting as I embark on putting brush to canvas. Somehow I don't think the shepherd I'm about to paint will be sitting on a pole, knitting! More coming up.