Painting a Macedonian Shepherd
I mentioned a couple of days ago that I have been asked to paint a picture of a Macedonian shepherd and I'm inviting you to come along on the journey and learn a little about what goes through my head when creating a new art work.
Let me tell you a little about my background and how I became interested in All Things Art. I was fortunate in growing up surrounded by artistic people as all family members were and continue to be engaged in the arts and crafts in many different mediums: weavers, potters, painters, jewellers, furniture makers, needlework experts.
The prints on the walls at home, which my mother had painted a mustard colour, were mainly from the Dutch masters. A print of The Laughing Cavalier (below) painted in 1624 by the Dutch Golden Age painter Frans Hals (1582-1666) hung on the wall facing my bed and greeted me each morning when I got up. To be honest, the portrait is somewhat disconcerting as The Cavalier's eyes follow you around the room and as I was a particularly naughty child I felt he was recording my every move!
Next time you are in London you will find The Laughing Cavalier in the Wallace Collection. But be careful - he is watching you!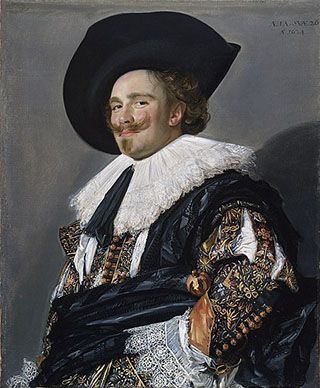 In complete contrast, next to my bed I had small prints of paintings by the English artist Laurence Lowry (1887-1976). I have Laying a Foundation Stone painted in 1936 and The Pond (1950). These prints were given to me by an uncle who lived in England after WWII and fell in love with the works being created by Lowry and passed this love onto me.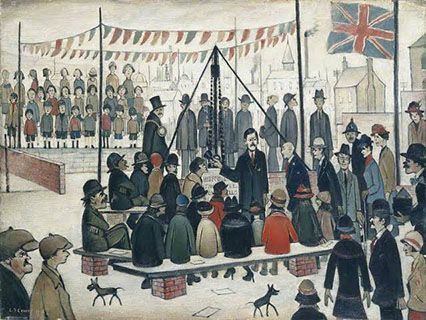 But we are drifting a long way from Macedonian Shepherds though I need to explain that the kind of paintings I experienced as a child influenced the way I paint. I like painting pictures of people engaged in their daily lives, including minding sheep! This style of work is call genre painting, the most famous genre artist being Pieter Bruegel the Elder; one of his paintings Winter Landscape with Skaters and Bird Trap (1565) is shown below.
(theculturetrip.com)
In the introductory blog to painting a Macedonian shepherd, viz Minding the Flock, I explained how it is important to get to know your subject before you start. It is important to gather information about what the scenery looks like and especially to think about what are the significant features because you can't paint everything into a picture. You have to decide what is important in the context of the painting to hand- literally! And how do you decide this?
You talk to the person who wants the painting and you listen to what they want in the painting. This will help you convey "the feeling in the painting" that you need to aim for. When someone asks you to paint a picture of themselves as, in this case, a shepherd, they want to convey a message, make a statement. The man I'm doing the painting for is a Northern Macedonian and wants to be "placed" in his birth scenery for sentimental reasons - to be reminded of his "homeland". To be seen "minding the sheep" is far more than culturally historical for him, even if he comes from generations of shepherds. He is a man who takes very seriously his role as protector of his family, his flock: he wants to do the best for his family and to protect them. He is kind and caring and brave: he is a shepherd.
So here we go. Where do we start?
With a blank canvas!
You need to discuss the size of the canvas with the purchaser. "John" wanted a huge canvas which the whole world could see. I gently persuaded him to alter this perception to a much smaller painting which is 71cm x 56cm.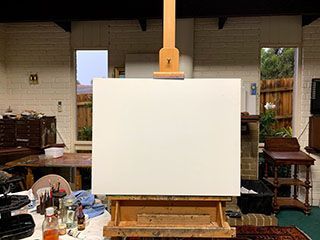 The next step is to use paper and pencil or a digital app to sketch up roughly the composition of the painting, remembering to place the significant features carefully as they begin to create the "feeling" of the image. It's a good time to mention that I always see a painting as a story even if it's a landscape with no living creatures. Each feature is a "character" and plays a role.
He is my initial sketch which I made on my tablet using the Medibang App.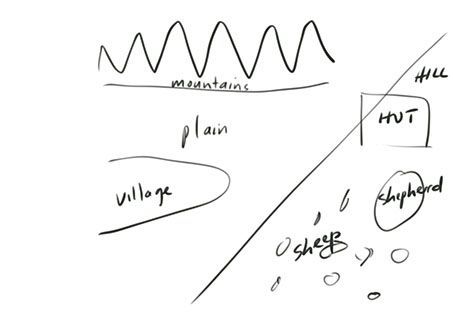 As you can see from the sketch above I intend to have the shepherd (with his sheep) sitting on a hill overlooking the valley below where his village is nestled, protected by the towering mountains behind. If you have ever been to this area of the world you will know how grand and imposing the mountains are.
The "shepherd's" hut will be on the hill behind him, symbolising protection from the natural elements that he has to brave in order to protect his sheep. A plain, broken up into cultivated fields, and roads leading to neigbouring communities, will separate the village from the background of mountains.
Next I had to decide whether the shepherd will be standing or sitting. Standing, he will be "on alert", ready for action to protect his flock. Sitting, he will be more relaxed and look more caring. "John" will decide which position is right for him.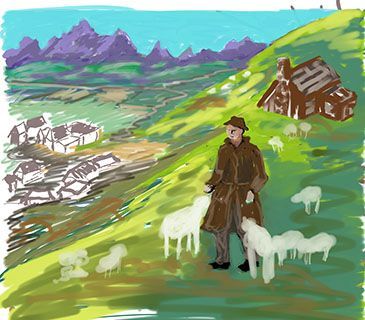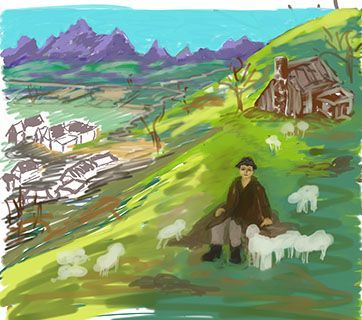 Looking at the images I think there are two "symbols" missing. A church, which is central to village life in this part of the world. "John" is a Macedonian Orthodox Christian and I will ask him if he wants a church showing in the village.
And I think the painting needs a sheep dog! I have no idea what kind of dog the Macedonian shepherds have - certainly not an Australian Kelpie or a Border Collie.
I will ask John what he wants. And this is important. It is his painting, not mine. He might not want a dog. We will see.