Recently I have been thinking about what attracts someone to a particular painting or to the oeuvre of a particular artist.
You might go to a local exhibition where the artistic standard is usually very high but one painting will catch your eye, often so much that you go searching for other paintings in the exhibition by the same artist. And when you get home you go on-line to see if they have a website so that you can enjoy more of their work and possibly even begin to think about purchasing a painting.
So, let's imagine you are at an exhibition and you come across this painting by Sue Hourigan.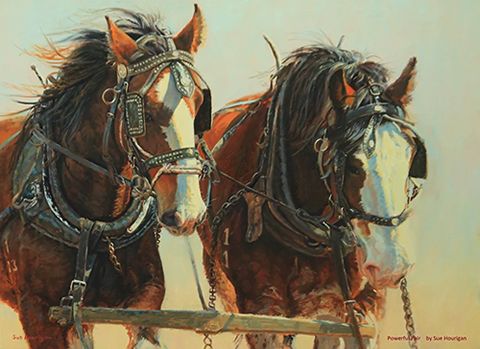 As a lover of all horses, especially working horses, I am immediately drawn to this painting - as are many of you, I am sure.
I admire most paintings of horses but few of them engage my attention as mush as this one. And I found myself wondering why.
Yes, many of us are drawn to the image because we like the subject matter but this painting transports you somewhere else - into the dusty paddock alongside these magnificent creatures who are noble and loyal and hold in their bodies much of the history of our ancestors, especially those who toiled the land for their survival.
If you can take your eyes off these glorious creatures for a moment and look beyond you can see the faintest of evidence of the dusty paddock they are working with the cobalt sky above turned almost green from the rising dust.
The artist of Powerful Pair is Sue Hourigan who lives in the border town of Corowa on the Murray River in New South Wales, Australia.
Her works are diverse, covering landscapes, seascapes, animals, birds, still lifes, portraits and much more.1
Reviewing her paintings shows a strong liking for painting working horses.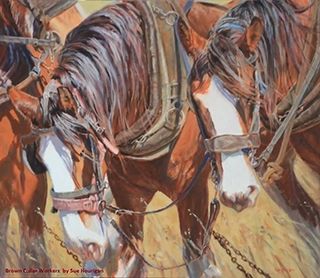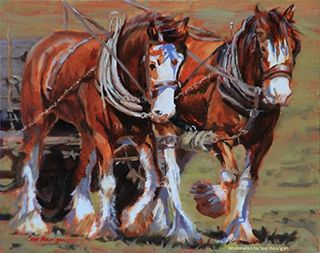 A strong narrative is present and with a dramatic change in palette Sue takes us back in time reminding us once more of the significance of the working horse to early rural life in Australia and of course around the world.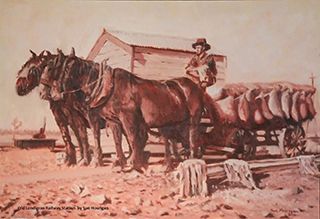 There can be no doubt that this is a very talented artist but what gives her horses, in theses examples, that magical touch. Is it her expertise with brush and line? Is it her skill in subtle tonal changes? And the design of perfect compositions is also without doubt.
But for me what brings these paintings alive is the clever arrangement of relationships between the subjects in the paintings be they animals or animal and human creating an empathy and perhaps even a symbiotic relationship between not only the subjects but subjects and artist.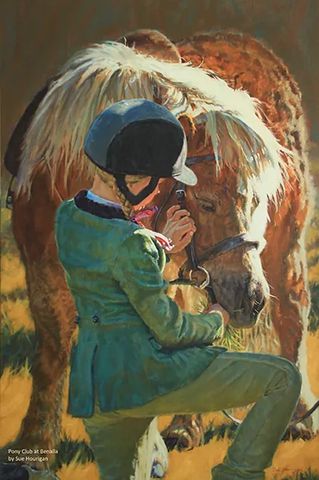 And undoubtedly the paintings of Sue Hourigan are alive with movement and drama so clearly illustrated in her action paintings involving humans, horses and cattle.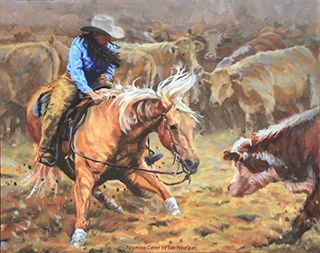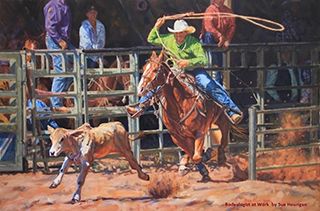 Sue is as versatile in her choice of mediums as she is in her choice of subject matter. The paintings shown above are all done in oil. But Sue is equally talented in the use of pastel, watercolour, graphite, charcoal, pencil.
Remaining with the horse theme below we see the use of pastel...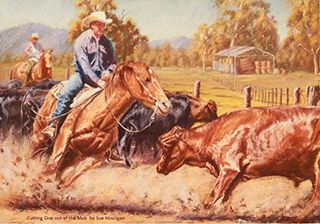 And on the left below - 8 Long Seconds! was created using graphite pencils and the Percherons using charcoal.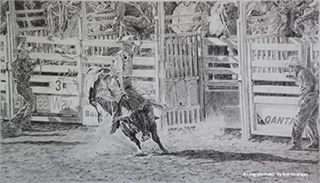 Sue is a founding member of the Passionate Palettes Art Group. The group meet regularly for social painting days (with support of King Valley Learning Exchange) at the Moyhu Masonic Hall ... generally... on the last Saturday of each month...1
They also organise workshops with other experienced artists to further enhance their skills. The Passionate Palettes have an open invitation with the local community for those interested in art to join them on their social painting days – all levels of experience including beginners are most welcome.1
Anyone interested in joining the group can contact Sue via email from the website for further information.1
Tomorrow you will learn more about Sue Hourigan and her art works, the many influences on her and how she constantly strives to achieve the best possible result in each painting.
© Thank you to Sue Hourigan who kindly gave permission for the images of her work to be shared on AnArt4Life.
Credits
1. suehourigan.com
2.artgalleryonovens.com