Olive Cotton – Photographer and pioneer
The last artist that we will feature in the Know My Name series is an artist with a difference – a photographer by the name of Olive Cotton. She was a pioneering Australian Modernist photographer of the 1930s and 1940s in Sydney, Australia, but didn't become a known "name" until 50 years later! In 1985, a retrospective exhibition of her work from 1924-1984 was held at the Australian Centre for Photography, in Sydney, and then toured many regional galleries in NSW, Victoria and Queensland during 1986, and this secured her fame and reputation.
Born in July 1911, and dying in September 2003, it is wonderful that she was still alive at the time to receive the acclaim that came from this exhibition, and many others subsequently.
Olive Cotton was the eldest of five children, born into an artistic, intellectual family. Her parents provided a musical background along with political and social awareness. Her mother was a painter and pianist and her father was a geologist, who took photographs on Sir Ernest Shackleton's expedition to the Antarctic in 1907.1
Olive's lifelong obsession with photography began when she was given her first camera, a Kodak Box Brownie at age eleven.
Do any readers remember these cameras? I certainly do!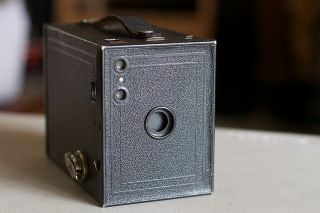 Olive's father fostered her interest, and they turned the laundry in the family home into a "dark room" so Olive could practice image develoment techniques.
In 1924, aged 13, whilst on holidays at the beach, Olive met Max Dupain, and they became good friends, with a shared passion for photography. During her school years, (and even in her later years), photography was just a hobby, and Olive continued on to University to gain a degree in English and Mathematics. She also studied music and was an accomplished pianist with a particular fondness for Chopin's Nocturnes. 1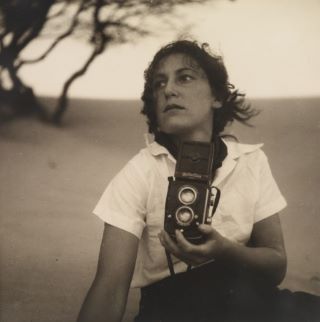 In 1934 Olive joined Max's photographic studio, where she made her best-known work, the angular composition Teacup Ballet, in about 1935. She used a back lighting technique to capture the shadows. Isn't it wonderful!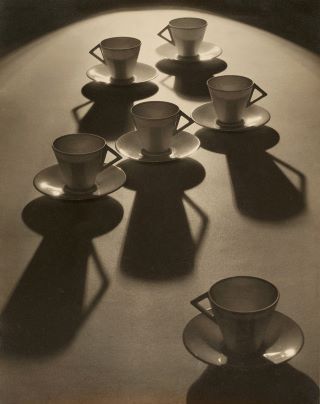 In 1939 Olive married her friend Max Dupain, and she photographed him often in the short two years in which their marriage lasted. The photograph Max After Surfing is frequently cited as one of the most sensuous Australian portrait photographs.2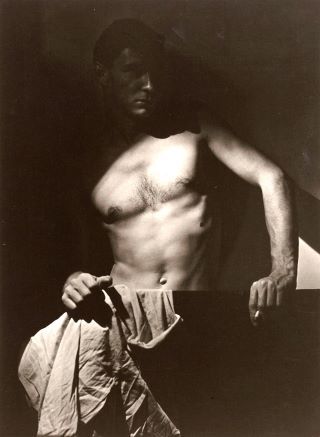 Max and Olive separated in 1941, but Olive ran his studio whilst he was away serving overseas in World War 2. She was one of only a handful of women working as professional photographers in Australia. They eventually divorced in 1944, and Olive then married her second husband Ross McInerney, who was a farmer.
In 1946 they moved to Koorawatha, near Cowra, in inland New South Wales where they had two children, a daughter, Sally, born in 1946, and a son Peter, born in 1948.
Photography took a back seat for nearly twenty years, as Olive was taken up with the farm, her children and teaching mathematics at Cowra High School. She never regretted this, but she continued to take photographs whenever she could, storing her negatives in an old sea trunk at the farm.
In 1964 she was able to set up a small studio in Cowra where she produced children's portraits, wedding photos and the like professionally, but could also print some of her photos from her vast personal archive. The great majority of her subject matter came from the bush around her, though she always said she greatly missed the sea and the landscape there that she grew up with.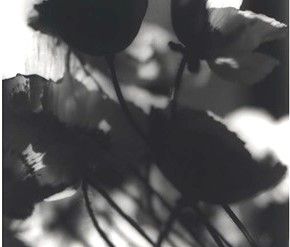 In 1981 she started exhibiting again. Two exhibitions, called 'Silver and Grey' and the 1981–1982 touring exhibition 'Australian Women Photographers 1890-1950′ earned her critical and public acclaim, and led to the retrospective exhibition, 'Olive Cotton Photographs 1924-1984' we mentioned previously, which cemented her reputation as a photographer.
Her well known shot, Teacup Ballet, taken in 1935, was issued on a postage stamp to mark the 150th anniversary of photography in Australia.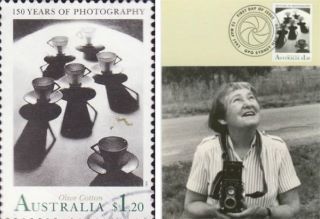 She was awarded an Emeritus Fellowship from the Australia Council in 1993 and the Olive Cotton Award for photographic portraiture is one of Australia's most prestigious photographic awards.
According to Sonia Turner, who was her niece, Olive Cotton, was a quiet, gentle, modest woman whose remarkable powers of observation and reflection whilst simply walking in nature became her art.3
She rarely spoke of her achievements, but………. "It was a simple pleasure to walk with her, to share in that, and for her to slip in and out of stories and thoughts that to us were just emerging," Sonia said. 3
Olive Cotton died in 2003 at the age of 92, and is buried at a small cemetery near her home. Her daughter, Sally McInerney, also became an eminent photographer, who we will feature in the near future.
You might like to browse through some of Olive Cotton's photgraphs held at the Art Gallery of NSW....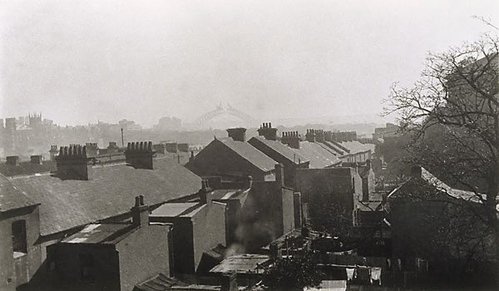 Footnotes
Wikipedia
National Portrait Gallery, Canberra
If you are interested to learn more, there is now a book about her life, by Helen Ennis, titled Olive Cotton: A life in Photography published in 2019.