We have all heard of Lady Godiva but do we know why she allegedly rode naked through the streets of Coventry (England).  She was actually the  Countess of Mercia (died between 1066 and 1086) who, according to a legend made this brazen protest to gain a remission of the oppressive taxation that her husband imposed on his tenants. Another item of interest is the name Peeping Tom used to describe a voyeur which apparently originates from later versions of this legend in which a man named Thomas watched her ride and was struck blind or dead. (Wikipedia) There is a lovely statue to Lady Godiva and her beautiful horse in Broadgate, Coventry, England. The statue created by Sir William Reid Dick was unveiled at midday on 22 October 1949 in Broadgate, Coventry, a £20,000 gift from Mr W. H. Bassett-Green, a Coventrian.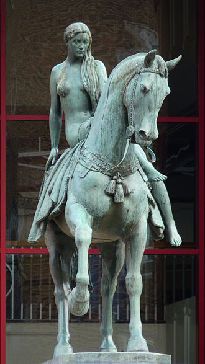 (Credit: Wikipedia)
The other remarkable naked statue I rather like and which can be associated with a protester is to Simon Bolivar, also known as El Libertador the Venezuelan military and political leader who liberated what are currently the republics of Venezuela, Bolivia, Colombia, Ecuador and Peru as sovereign states, independent of the Spanish Empire. (Wikipedia)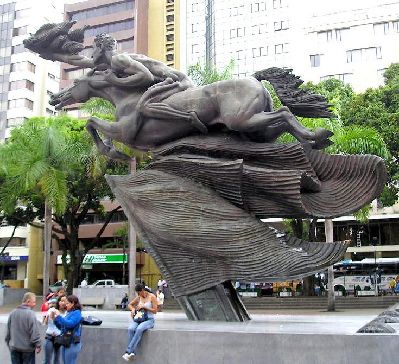 (Credit: http://michaelandgraciela.com)
The statue (located in Pereira, Columbia) was created by Colombian sculptor, Rodrigo Arenas Betancourt, commissioned in 1955 by the city mayor to produce something different to what everyone else has! The statue as you can imagine created a great deal of controversy and many questioned *why naked? I quote the answer given by Michael and Graciela from their Uniquely Colombia site: In the early 1980's I finally saw the statue in person. As an artist I looked at it through an artist's eyes. It is a fantastic sculpture. I marveled at the muscles and the veins. In my opinion, especially with his position on the horse, the sculpture evokes the brave determined man that Simon Bolivar was.
(michaelandgraciela.com)
Sadly towards the end of his life, Bolívar apparently despaired of the situation in his native region, with the famous quote all who served the revolution have plowed the sea. (Wikipedia)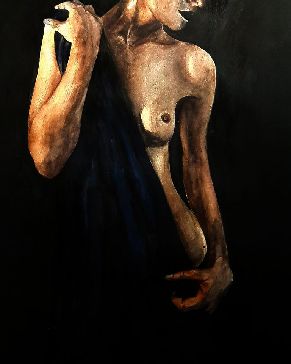 (Credit: voicesoncentralasia.org)
In Sept of 2018 Davlatova held an exhibition Dushanbe, the capital of Tajikistan. The 24 works making up the exhibition, ranged from pictorial art to realistic portraits to contemporary art with the focus on women and their daily lives in contemporary Tajik society. I wanted to show women as they go about their everyday lives, sometimes relaxing and sometimes changing their dresses to more comfortable, 'house-worn' clothes. I dedicated my work and this exhibition to the female body and to the protection of the female body from harassment, says Davlatova. (voicesoncentralasia.org)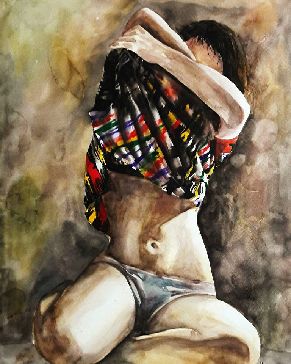 (Credit: voicesoncentralasia.org)
Please follow this link to see the full story about the Davlatova Exhibition
Finally in my blog on the naked truth I would like to tell you about what happened earlier this year at the Manchester Art Gallery where John William Waterhouse's painting Hylas and the Nymphs was removed from exhibition.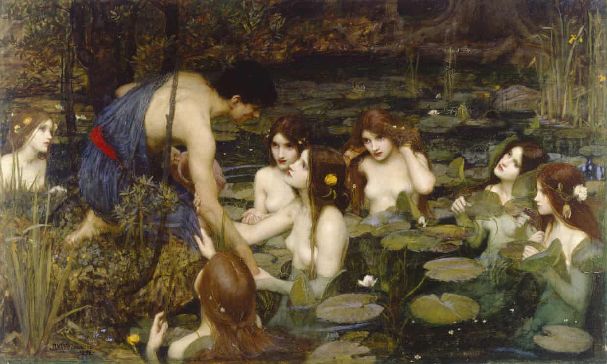 To quote The Guardian where I read the article about the painting's removal: It is a painting that shows pubescent, naked nymphs tempting a handsome young man to his doom, but is it an erotic Victorian fantasy too far, and one which, in the current climate, is unsuitable and offensive to modern audiences?
(www.theguardian.com)
The painting was replaced with a notice explaining that a temporary space had been left "to prompt conversations about how we display and interpret artworks in Manchester's public collection". Members of the public have stuck Post-it notes around the notice giving their reaction. Clare Gannaway, the gallery's curator of contemporary art, said the aim of the removal was to provoke debate, not to censor. "It wasn't about denying the existence of particular artworks." Gannaway said the title was a bad one, as it was male artists pursuing women's bodies, and paintings that presented the female body as a passive decorative art form or a femme fatale. "For me personally, there is a sense of embarrassment that we haven't dealt with it sooner. Our attention has been elsewhere ... we've collectively forgotten to look at this space and think about it properly. We want to do something about it now because we have forgotten about it for so long." Gannaway said the debates around Time's Up and #MeToo had fed into the decision.
I do like to end on a controversial note. It's good for us to think about where art fits into modern society and how we should interpret it. The response to the removal is as would be expected - some for, some against!! If you would like to read a little more on this issue here is an article by Sonia Boyce Our removal of Waterhouse's naked nymphs painting was art in action.
I wonder what John Waterhouse, probably the most famous of the Pre-Raphalite artists, would make of all this?

(Credit: ScoopWhoop)