The autonomous and consistent, Alfred Sisley
We have reviewed the lives of a number of the French Impressionists, (click here), but there is one glaring omission: the much loved Alfred Sisley.
Whilst he was an integral, founding member of this breakaway movement, Sisley was actually a British citizen throughout his life. This is because, although he was born in Paris (in October 1839), and had a French grandmother, his parents were English expatriates. Even though he lived most of his life in France, he was never granted French citizenship.
At the age of 18, in 1857, Sisley was sent to London for four years to work in the family business, importing French silk goods, as preparation for a commercial career. But he had no liking for business and instead, spent much of his time at the various art galleries (becoming familiar with Turner, Whistler and Constable). He returned to Paris in 1861, determined to become an artist.
In 1862 he began studying at the Paris École des Beaux-Arts within the school of the Swiss artist Marc-Charles-Gabriel Gleyre, where he met Frédéric Bazille, Claude Monet and Pierre-Auguste Renoir. They all became fast friends with a common perspective about art. He and his friends left the School about five months later and began to paint "en plein air," outside, directly from nature, in and around Paris, the Seine River and in the Forest of Fontainebleau.
In 1866, Sisley fell in love with Eugénie Marie-Louise Lescouezec (1834–1898), (usually known as Marie Lescouezec) and the couple had two children, Pierre and Jeanne. Though they did not marry until 1897, in Wales, Sisley remained devoted to Marie for his whole life. (Don't you just love the beautiful dress of Marie in the painting below, by Renoir!).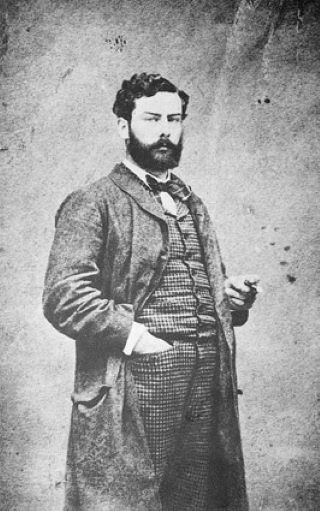 During this time, Sisley lived not far from the Café Guerbois in Paris, which was the local gathering-place of many artists. He received an allowance from his father and so, financially, was able to socialise and follow his artistic career without having to work.
In 1868, his paintings were accepted at the French Salon, the main Exhibition in Paris for becoming "known" to potential wealthy buyers and patrons. However, neither this, nor subsequent exhibitions, brought him success, either financially or as a sought-after artist.
In 1870, the Franco-Prussian War began and Sisley fled to London and did some of his best work around Hampton Court and the River Thames then, and again on a trip in 1874.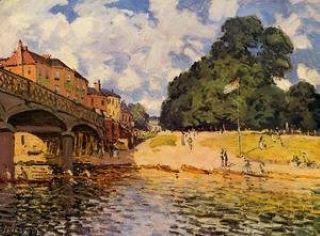 Unfortunately, Sisley's father's business failed as a result of the war, and his allowance stopped. From then on, he lived in poverty, dependent on the sale of his works, which did not prosper until after he died (like most of the Impressionists!) Occasionally, he would be backed by patrons, and this allowed him, among other things, to make a few brief trips to Britain.
Much of his best and most well-known work was done in the period 1872–80 in the neighbourhood of Paris, at Marly, Louveciennes, Bougival, Sèvres, Saint-Cloud, and Meudon, when he was in close touch with Monet.
Of his more than 400 canvases, plus 100 pastels, over 300 are scenes of a tributary of the Seine close to where he was living, west of Paris. He almost exclusively painted landscapes – there are very few still life or figurative subjects, except as a vague figure in the distance.
Alfred Sisley is said to be one of the most consistent of the Impressionists. His works can be distinguished from those of his colleagues by their tranquillity and harmonious shades of pale green, pink, purple, dusty blue and cream. His early style was much influenced by Camille Corot, and his delicate palette reflects something of Corot's silvery tones.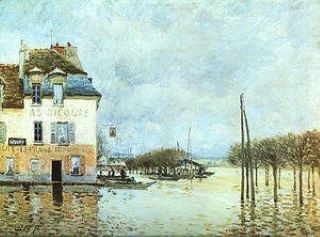 Sisley is particularly well known for his snowscapes....... I think they are my favourites! Don't you agree that they are particularly effective.........?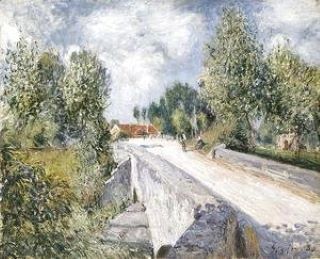 Sisley exhibited with the Impressionists in their independent exhibitions in 1874, 1876, 1877 and 1882, and had his first one-man exhibition at La Vie Moderne, Paris, in 1883.
As mentioned previously, he finally married Marie in Wales in 1897, and spent some time around Cardiff painting.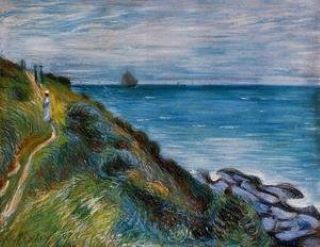 In 1880 he settled near Moret-sur-Loing, (south of Paris) and there painted most of his late works. He died there on 29th January 1899, aged 59, just a few months after his wife, Marie.
If you would like to see more of Alfred Sisley's works, please click here.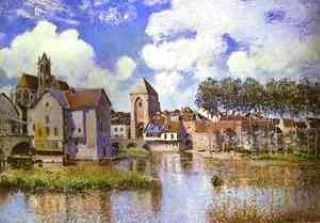 Tomorrow you are going to learn more about the stolen works of Alfred Sisley as Anne and Andrew take you into the world of art crimes and mysteries.
Footnotes
With thanks to Wikipedia, Encyclopedia Britannica, and the Tate Gallery for the source information.