John Russell: Australia's French Impressionist

Once known as a "lost" impressionist, John Russell was a close friend of Van Gogh and Rodin He also taught impressionist colour theory to Matisse and dined with Monet.
This was the wording in an advertisement for an upcoming exhibition at the Art Gallery of NSW and naturally attracted my attention. With such impressive credentials how could we not know about him? As you can see from the image above - Coucher de Soleil sur Morestil – he was a very accomplished impressionist artist.
With independent means, John Peter Russell was able to indulge his creativity and develop his own style. As you will read from the extract found on christies.com (italicised below,) he met and became friends with other artists of the time, many of whom became lifelong friends. Today we consider he moved in illustrious circles but we need to remember many of these artists were not well know then. Russell must have been a very modest man, interested in progressing his own style but especially keen to learn from, and spend time with, fellow artists, as well as share his insights with these friends, in particular, Matisse.
Following the death of his father and the closure of the family-run engineering business, John Peter Russell left Sydney for London to pursue a new career. With a considerable inheritance, he was able to concentrate on his artistic interests and, in 1881, he enrolled at the Slade School of Art. Russell later furthered his studies at Cormon's atelier in Paris, training alongside Emile Bernard, Toulouse Lautrec, and Vincent van Gogh.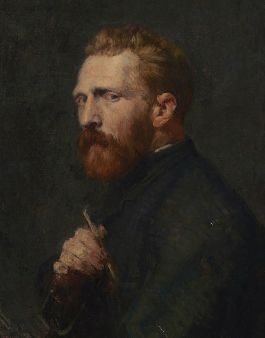 Russell loved the sea and was eager to escape the distractions of Paris life. In 1886, he discovered Belle-Ile, a small island off the south coast of Brittany. In 1888, following his marriage to Marianna Mattiocco, a former muse for Auguste Rodin, Russell and his family made Belle-Ile their permanent home.
It was during his first visit to the island, however, that Russell met Claude Monet, an artist whom he greatly admired and whose influence was decisive.
Monet appears to have tutored the inquisitive 28-year-old in the rudiments of his technique, and inspired by the Impressionist master, Russell became the only Australian artist to be directly in touch with Monet and the mainstream French impressionists in the late 19th century.
Belle-Ile, with its rustic, rugged and temperamental backdrop, inspired Russell to rethink the ideas that had been ingrained in him during his studies. He began instead to concentrate on the primary importance of light and colour, capturing the motif of nature in its purest and brightest hues.
In 1897 and 1898 Henri Matisse visited Belle Ile, and Russell is said to have introduced the artist to the work of his friend, Vincent van Gogh. Matisse's style changed visibly after his time on the island and he is said to have credited Russell with his new understanding of colour theory.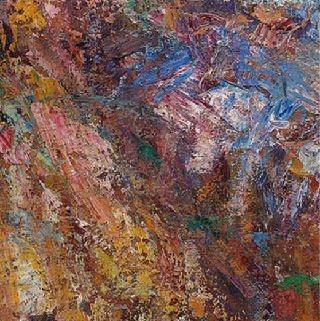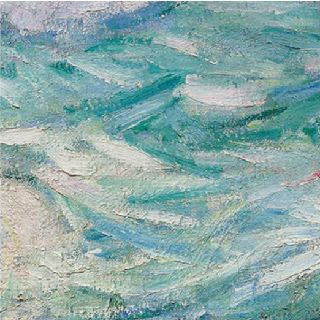 Details of Coucher de Soleil sur Morestil  show the colours and the varied brushstrokes used by Russell in his clifftop paintings on the Breton isle. Under conditions of varying intensity, the colours of the ocean, rocks and sky mutate from warm to cold, bright to dark, from hot pink and turquoise to leaden purples and grey-greens.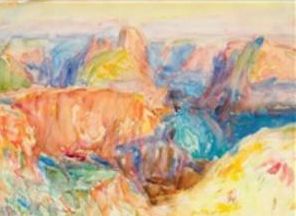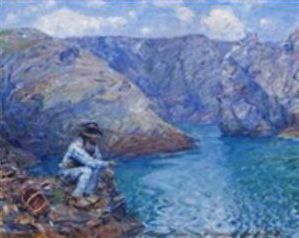 In 1908, Russell's beloved wife Marianna died. They had six children. Russell buried her next to his home and was so overcome with grief that he destroyed 400 of his oils and watercolours. In a letter to his friend, Rodin wrote, 'Your works will live, I am certain. One day you will be placed on the same level with our friends Monet, Renoir, and Van Gogh.'
Russell decided to return to Sydney in 1921. Nine years later, he suffered a heart attack and died. The significant part of his career having been spent overseas, none of Russell's radical painting reached his contemporaries in Australia, and his work was largely ignored by the Australian art establishment until the 1970s.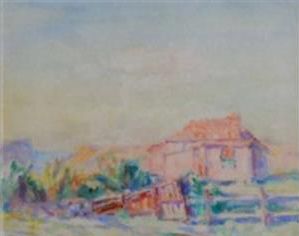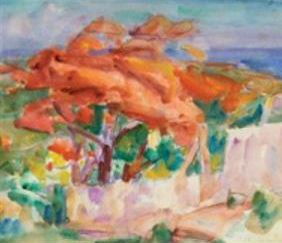 We will explore some of the more well known Impressionist artists in future posts, particularly Van Gogh and Matisse. And watch out for modern impressionist artists such as American Erin Hanson whom Anne has recently discovered.
Credits:
Artnet.com
Van Gogh Museum, Amsterdam
Christies.com