Monet's Garden in Giverny: How the World has Benefited from One Man's Legacy
Our Julie was lucky enough to visit Monet's garden in Giverny on her recent trip to France. She reports that the garden and the house are just as beautiful as all the pictures show it to be.
We thought today that we might highlight a few of the perhaps lesser known facts related to Monet's house and garden in Giverny. We can then appreciate how fortuitous it was for it to become such a wonderful drawcard to people from all around the world.
Claude Monet noticed the village of Giverny while looking out of a train window. He made up his mind to move there and, in 1883, rented a house and the area surrounding it. In 1890 he had enough money to buy the house and land outright and set out to create the magnificent gardens he wanted to paint. The two and half acres immediately in front of the house was named Clos Normand, and is famous for its curving archways entwined with climbing plants and flowering shrubs.(Credit: Wikipedia, unless otherwise stated).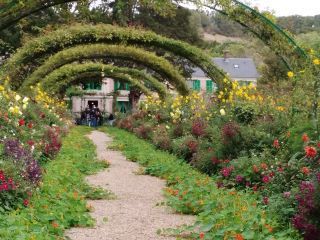 The house was initially very small. But as Monet had a family of eight children to accommodate, he had the house extended on both sides, to a length of 40 metres! And yet, the width of the house was never increased, and is only 5 metres wide the whole length!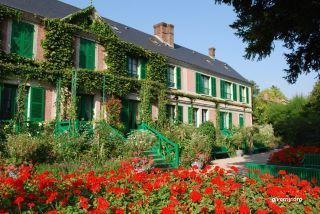 Did you know that Monet had eight children to care for?
This is how that came to be: A man named Ernest Hoschede was a businessman, a department store magnate in Paris. He collected impressionist paintings and was an important patron to Claude Monet early in his career. In 1877, Ernest Hoschedé went bankrupt and his art collection was auctioned off. Ernest, his wife Alice, and their six children moved into a house in Vétheuil (near Paris) with Monet, his wife Camille, and their two sons, Jean and the infant Michel. Ernest, however, spent most of his time in Paris, and eventually went to Belgium. After the death of Camille in Vétheuil on 5 September 1879, Alice and her six children continued living with Monet.
In 1881, they moved to Poissy, and finally settled in their home in Giverny in 1883. Although Ernest and Alice Hoschedé never divorced, Claude Monet and Alice went on living together until after the death of Ernest in 1891. Claude Monet and Alice Hoschedé then got married on 16 July 1892.
In 1893, ten years after his arrival at Giverny, Monet bought the piece of land neighbouring his property on the other side of the railway. It contained a small diversion of the Epte, a tributary of the Seine River.
Monet wanted to dam this and create an Oriental Garden, inspired by the Japanese gardens that he knew from the prints he collected so avidly. There was much opposition from the authorities and neighbours (who thought that his strange plants would poison their water).
Monet was on the point of giving up, writing angrily (and very colourfully!) to his wife from Belgium, when approval finally came through. Monet had the first small pond dug, and later enlarged to its present day size.
Just as well for us that he didn't abandon the project!
The water garden is a peaceful, reflective place, of gently curving paths which follow the gently winding stream. The pools are full of waterilies (nympheas), banked by maples, peonies, cascading weeping willows, and a shady bamboo forest off to the side. The world would be a much poorer place without the myriad of water garden paintings done in all different seasons and light conditions, including the huge panels of the waterlilies at the Musee L'Orangerie.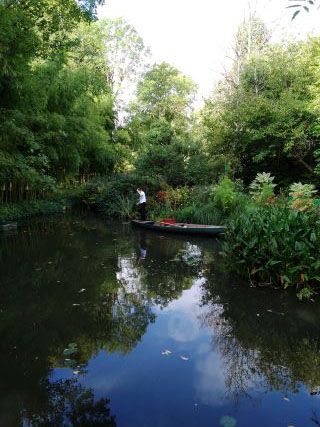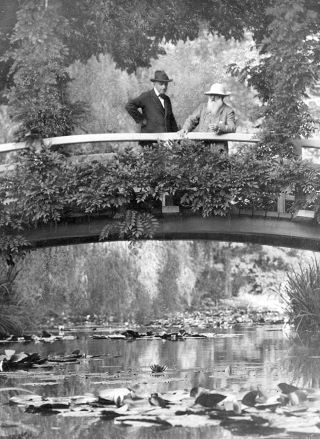 The only child in the Hoschedé-Monet household to become interested in art was Alice's daughter Blanche, born on 10th of November 1865.
She began painting at the age of eleven and developed a fond relationship with Claude Monet. She visited his studio as well as Édouard Manet's. By the time she was 17 years old, she was Monet's assistant and only student, often painting "en plein air" alongside him, painting the same subject with the same colours.
For example, The Haystacks, which still are gathered today in the same field on the property. Blanche was a prolific painter, just like Monet, in the years in which she lived in Giverny as part of Monet's family.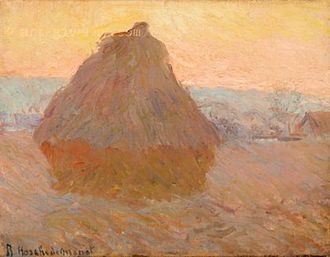 Blanche married Claude Monet's eldest son, Jean Monet, in 1897; she was both Monet's step-daughter and daughter-in-law! The couple lived in Rouen where Jean worked as a chemist for his uncle Léon Monet for some years.
Coincidentally, this is the same town where Monet twice spent 3 months at a time, a few years earlier, painting his famous series of the Rouen Cathedral at different times of the day, and in different lights, which we featured in our blog "Multiple views of the same subject".
Monet's second wife, Alice Horschede-Monet, died on 19 May 1911, and his son, Jean on 10 February 1914, after a long illness. Overcome with grief, Claude Monet suffered from depression and, from that point on, Blanche took over her father-in-law's household.
After Monet's death on 5 December 1926, Blanche stayed on and continued managing the house and gardens for the next twenty years, with the help of just one gardener. She died in 1947 in Nice, aged 82.
For the next twenty years after her death, the estate was almost completely abandoned. The house fell into disrepair and the gardens left to die and become overgrown with weeds.
Claude Monet's other son Michel died in a car accident in the nearby town of Vernon, in 1966. As he was childless and had no heirs, he left Monet's property in Giverny and all the artworks it contained, to the Académie des Beaux-Arts.
Jacques Carlu, a member of the Académie des Beaux Arts, and the keeper of the Musée Marmottan, made necessary roofing repairs and had the remaining art collection taken to the Musée Marmottan. (Credit: Claude Monet Foundation). This begins the explanation of how Monet's work came to be housed at the Musee Marmottan, and still is!
The roof repairs Jacques undertook probably helped to preserve the house interior a little, and just as well he did! It took another 10 years for a full restoration of the house and gardens to begin to bring it back to its former glory after so many years of neglect. Dead trees were cut down, flowerbeds ploughed, lanes and paths remade, and the Japanese bridge was identically reconstructed. Archives, innumerable pictures, and souvenirs from people who had known the garden helped in sourcing again Monet's preferred seedlings and varieties. The gardens opened to the public in approximately September 1980.
The garden is now maintained according to Monet's designs so that we all have the pleasure of seeing, first hand, the inspiration and source of so many of Monet's beautiful works.
What a wonderful legacy for the world to enjoy!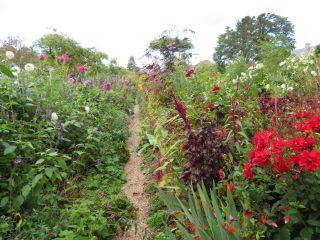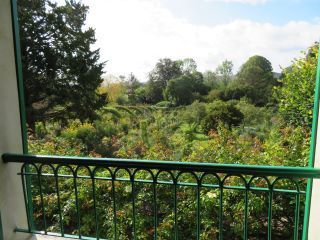 If you would like to take a virtual tour of the rooms of Monet's house in Giverny, Click Here. Once the image loads use your curser to move around the rooms.
For more information about the rooms in Monet's house, Click Here.
For more information about Monet's life and art, Click Here.