Monet and Friends – Alive!
I want to share with you a wonderful light show I recently visited at The Lume in Melbourne, Australia. We are very lucky to now have a large, dedicated space just outside our city area, along the lines of L'Atelier Lumieres in Paris and Bassins de Lumieres in Bordeaux in France. There are many other such venues around the world, in other European countries, America, the UK, and Canada.
I have been to L'Atelier Lumieres in Paris, it was wonderful! Do let us know in the Comments below if you have also seen light shows in other cities and countries around the world, we would love to hear of your experiences!
The first art light installation at The Lume was Van Gogh, when the venue opened in 2022. The next show, in 2023, was called Monet and Friends Alive and showed an ever changing kaleidoscope of works by Monet, Renoir, Morisot, Cailllebotte, Degas, Cassatt, Manet, Cezanne, Toulouse-Lautrec, Sisley, Seurat, Pissarro and more! We have featured all these artists on the blog at various times. You might like to browse through some of their stories under the Impressionist category in the TagCloud, click here.
I particularly loved the montage of portraits of some of these artists as soon as you walked in to the entrance foyer - it was an artwork in itself! Can you identify any of the artists?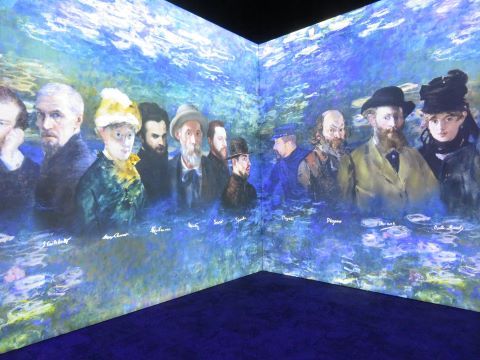 There was also a replica of one of the bridges in Monet's Garden at Giverny, which you could walk over and have your photo taken as a famed shot – which, of course, I just had to do!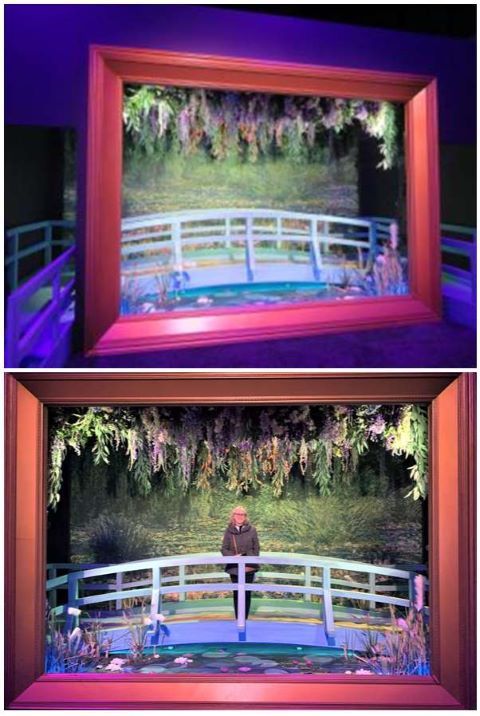 The lightshow was indeed immersive and mesmerising! It is a wonderful way to bring art to thousands of people! It explained in simple terms the philosophy of light, colour and "en Plain air" painting which motivated the Impressionists and was so different contrary to the established mode of painting.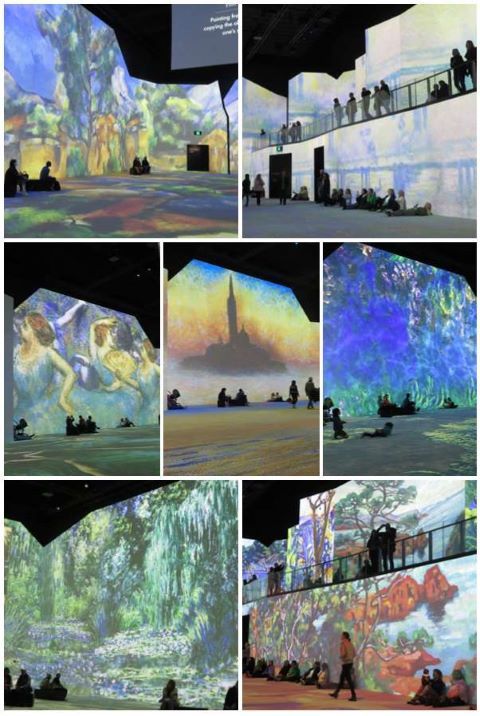 And not only did the paintings constantly change, but with each one there was a quote from one of the artists giving an insight to their inspiration and motivation.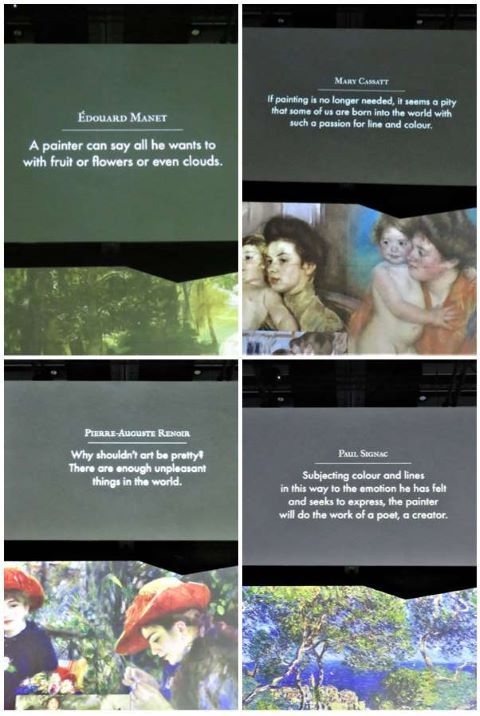 The whole show of about 40 minutes was set to carefully chosen, well known classical music which further enhanced the images and sensory experience!
It was a lovely education, and lovely to take time out from this hurly burly world to contemplate the beauty of nature, art and music so harmoniously put together that it just makes you feel good. Some people sit on the floor and just watch, others walk around or even danced!
I hope you enjoy the following 2.30 minute taste of the experience…..