Mariko Kusumoto: A versatile artist inspired by nature
Today we will marvel at the delicate and intricate work of Mariko Kusumoto, a artist born in Japan and now based in California, America. She has worked in many different types of media, and is able to utilise the skills of one art form in creating unique pieces in another material.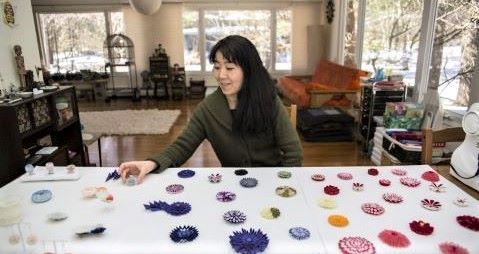 Mariko knew at school that she wanted to be an artist, and she learned the basic skills of drawing, sculpture, design and painting in high school. She then went to Art College in Tokyo and initially concentrated on oil painting, then transferred to printmaking, focusing on etching.
She moved to San Francisco when she was 23, and attended the Academy of Art University, where she pursued printmaking. However just before she graduated she began a class in jewellery making and small metal art sculpture which completely changed her artistic direction.
Mariko grew up in a 400 year old Buddhist temple where her father was a priest. She had always appreciated the beauty of the metal objects and icons there, so it was a short step to decide to concentrate on metalwork as an art form. This she did for the next 20 years, with each piece becoming more detailed and challenging to construct.
Mariko says on her website: "A playful, happy atmosphere pervades my work. I always like to leave some space for the viewer's imagination; I hope the viewer experiences discovery, surprise, and wonder through my work". 1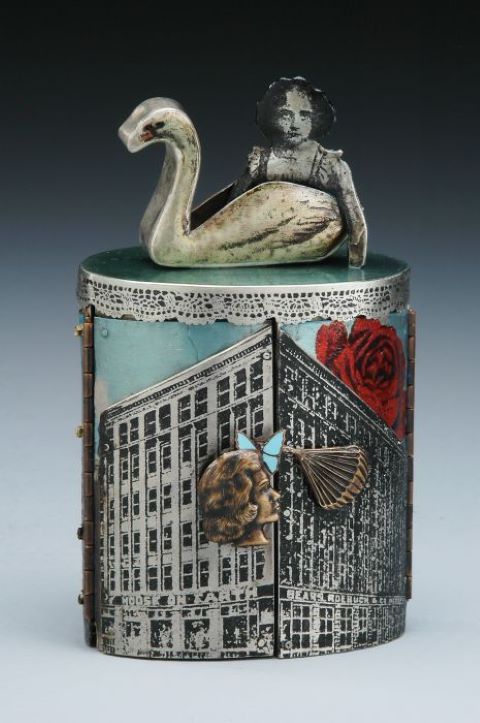 The detail within her resin jewellery is also exquisite: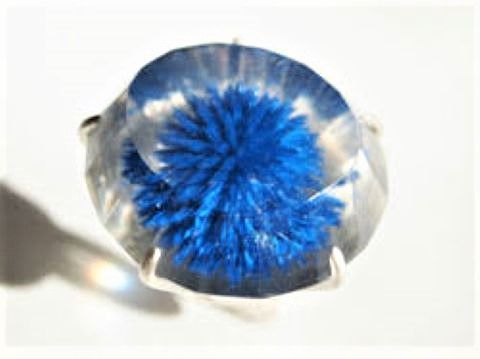 However, for the last 8 years or so, Mariko has worked with textile fibre. Her recent work with delicate, translucent fabrics and fine metal supports to recreate the beauty of the myriad of ocean corals has completely captured my attention.
They are so realistic and varied in form and structure, you can just imagine them gently swaying together in unison in the clear, sun-filled currents wafting through......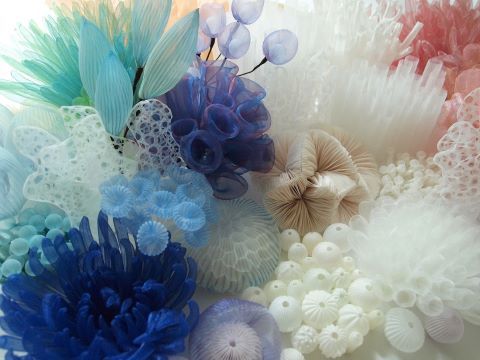 Mariko said in a recent interview with My Modern Met: "I'm interested in sea creatures, plants, the microscopic world, diatom, cells, etc. I'm always fascinated by systematically formed shapes and moved by the wonder of nature." 2
"I especially love sea creatures, they are artwork by themselves, and I'm always blown away by their beauty. Whenever I have the opportunity, I enjoy watching documentary films about the deep ocean. I'm constantly amazed by creatures that I've never seen before. There are so many creatures that we haven't discovered yet. The ocean is full of mysteries." 2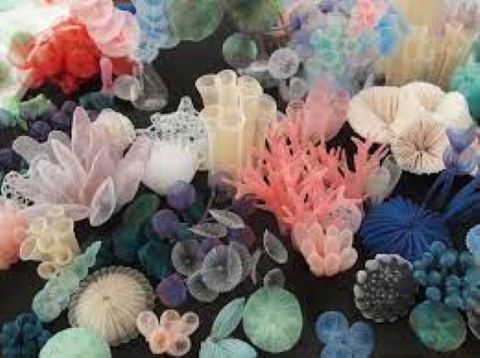 You can see more of Mariko's work, such as her collaboration with Jean Paul Gaultier in the 2019 Paris Fashion Week, at her website, click here..
Footnotes
marikokusumoto.com
Article by Sarah Barnes, My Modern Met.com, 22nd July 2021.