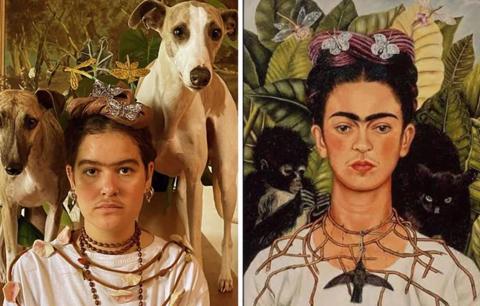 Like many countries Australia is facing lockdowns and restrictions due to the Covid pandemic. Some cities like Perth, Hobart and Darwin are managing well. The AnArt4Life team is based in Melbourne and we have lived through over 180 days of strict lockdowns since March last year. Currently our hearts go out to those in Sydney which is facing a significant crisis at present.
Behind every cloud though there is a silver lining. ABC Radio Sydney conducted a Household Lockdown Portrait Competition in which participants were asked to recreate a famous artwork, or submit an original one, using people and objects in their home.
More than 250 people took up the creative challenge and entered the competition on social media.
Karen Spencer and her daughter, Ellie, won for their recreation of Self Portrait with Necklace of Thorns by Mexican artist Frida Kahlo.
The picture captures Ellie dressed as Ms Kahlo, with her two dogs Wilbur and Mavis in the background. The 22-year-old retail employee has been out of work due to the lockdown and decided to enter the competition during her time off.2
Karen stated:
It's just a bit hard to stay busy, so this was a good distraction
I chose this painting because I thought it would be fun to give myself a monobrow.2
Check the link below to see and read about some of the other entries.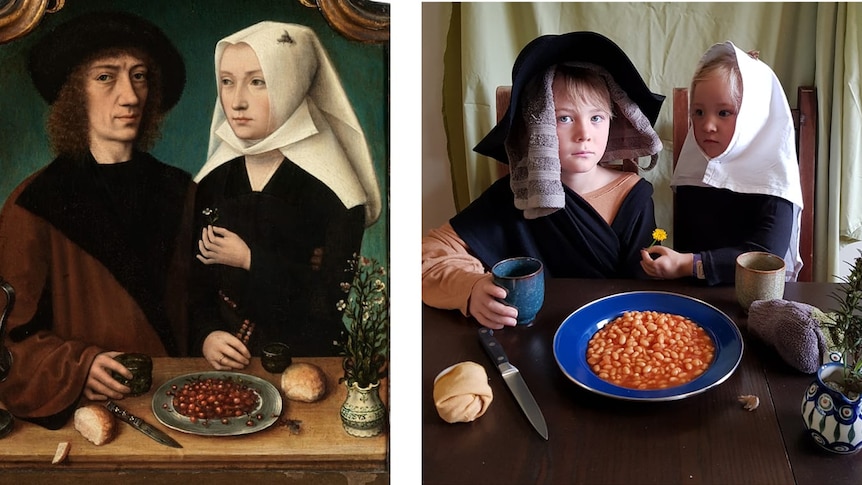 If you are at a loose end have some fun and come up with your own recreation of a famous artwork...
Credits:
1.Facebook: Karen Vincent Spencer
2 abc.net.au