Kevin McKay: seeking constancy in an ever changing city
The remarkable paintings of Sydney artist Kevin McKay came to the notice of the AnArt4Life blog a year ago when I posted Kevin McKay's Broken Hill paintings. I was immediately engaged with the Kevin McKay style because he has the rare gift of capturing the soul of the buildings he recreates as works of art.
Today I have the pleasure to bring you some of his latest paintings created at a time where much of our world bears little similarity to the world we knew 18 months ago.
But buildings hold for us, not only the narrative of the past and the present, but a reminder that many of these structures are symbols of permanence, stability and hope.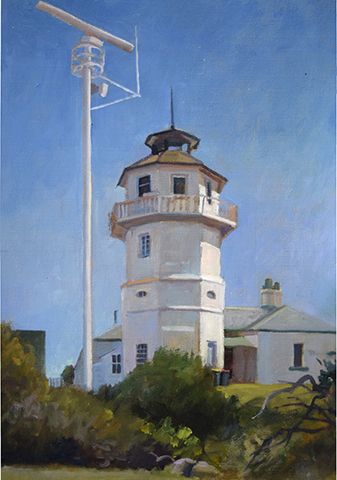 The paintings you will see today come from Kevin Mckay's South Head Peninsula series featuring an area of Sydney around Watsons Bay that has historical significance to both indigenous communities and colonial settlement. There is an excellent online account of the area by Robin Derricourt titled South Head Sydney and The Origins of Watsons Bay.
From the European angle the settlement of Watsons Bay represents the earliest European occupation on the peninsula that extends to South Head, marking the entrance ...to the harbour, Port Jackson, in which lay the centre of the new colony, Sydney Cove. Here, through the establishment of its lookout,
flagstaff, signal station, pilot base and lighthouses, lay keys to the colony's link with the outside world.2
However, even though many of the early buildings remain, life doesn't stand still and a changing narrative is being constantly woven around the environment of a building: Kevin's creative perspective captures the changing narrative as so clearly exemplified in Blue car - South Head Signal Station 2021 (below).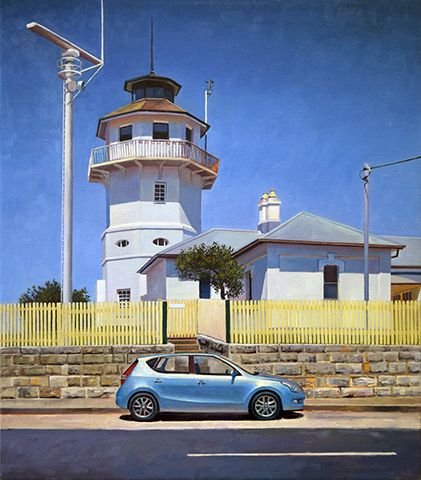 Kevin explains how he weaves historical and contemporary narratives into artistic masterpieces:
I am attracted to a sense of history at the South Head Signal Station (above). Soon after the Union Jack was hoisted at Sydney Cove, a flagstaff was erected here to serve as a beacon for incoming ships. An observation tower was built in 1838, followed by the Keepers Cottage. A radar mast replaces the Semaphore flags. A parked car provides a current time marker, alluding to the service of a Coast Guard volunteer who continue an enduring service of vigilance. I like the way it echoed the eternal blue of the sky.3
Recently Kevin and I brought you some of the pavement paintings being created by Daniel Bodey and although very different in style there are similarities in the way these two artists approach their works.
Like Daniel: Kevin enjoys finding ready-made compositions in urban environments and applies the formal concerns of compositional design with the particularity of place as he seeks a theatrical intensity in the ordinary.
Stillness and transience compliment each other in his road-based paintings where architectural forms provide a fixed point in contrast with the flux of light; a momentarily parked car; or randomly placed 'street furniture' (wheelie bin, witches hat, road sign etc); or indeed the conduit of the road itself, a constant in the ever changing city. 4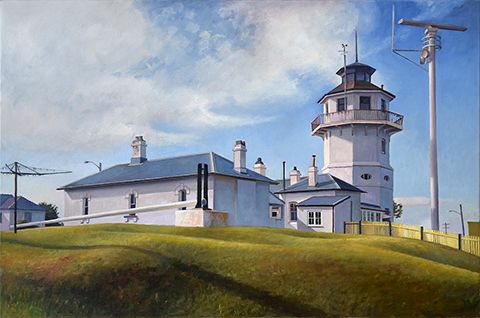 In Mast down - South Head Signal Station, 2021 (above) Kevin explains:
There is a stoic, noble aspect to a lighthouse whose purpose is to guide ships to safety. The Signal Station on Sydney's South Head Peninsula has hosted a beacon since the earliest years of settlement. A radar mast has replaced the prostrate Semaphore mast, once used to convey messages about incoming ships, cargo, the presence of infectious disease etc.
I chose the view that makes the watch keepers cottages more prominent, including the Hill hoist clothesline, as the home is our bastion during the pandemic lockdown. 3
I like the stoic qualities of the tower, but the signal mast was down when I painted this which I associated with the interruption caused by Covid to international travel.3
Most of the time we just paint something because it looks good, but perhaps the spirit of our time, the zeitgeist, influences us in ways that are not always conscious of. 3
Back in the 1840s a village was being built to give hope and new life to the early settlers of Sydney Town. Homes and the signal station were not the only structures to give protection; the other bastion was the local parish church which gave comfort to many during torrid times.
Recognising this, Kevin set out to paint a plein air study of St Peters Watsons Bay (below).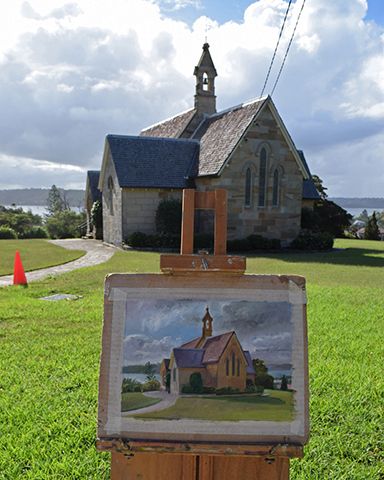 And then later completed a more formal work (below) for the forthcoming exhibition of his South Head Peninsula Series.
Kevin explains:
This modest church was built in 1865 on a rock above a fishing village and is named after the patron saint of shipbuilders and fishermen. It stands as a landmark in space and time with a commanding view of Sydney Harbour.3
Kevin's painting of St Peters has recently been selected as a finalist in the 2021 KAAF (Korea-Australia Arts Foundation) Art Prize.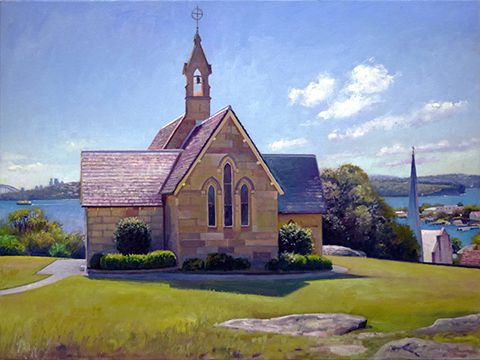 As Kevin expounds, there is far more to being an artist than creating a piece of art work. It is equally important to acknowledge and be part of the narrative that can be traced back as far as you want. Kevin continues:
I enjoyed sitting approximately where Roland Wakelin painted it almost 70 years ago, watching the fleeting changes in light and the repeating passage of the Mosman ferry that mark the passing of the day. There was a contemplative aspect in experiencing the flux of its constancy and in seeing my act of painting as a moment in that history. 3
The Roland Shakespeare Wakelin (1887-1971) that Kevin refers to was a New Zealand born Australian artist regarded as one of the founders of the modern art movement in Sydney. Wakelin's view of St Peters is shown below and was painted in 1954.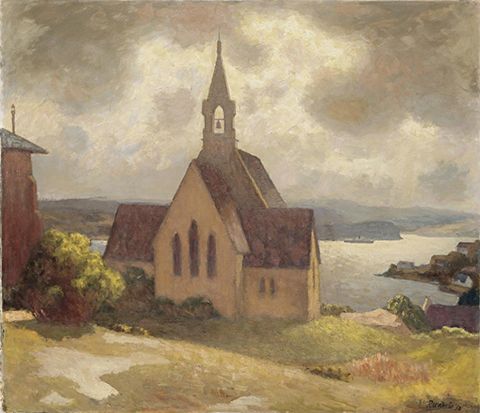 I totally concur with Kevin's sagacious comment and wish more people would acknowledge that art is grounded in culture and inspiration isn't born in a vacuum: learnings must come from mentoring and modelling. Kevin emphasises:
I think too much emphasis is placed on originality in art. We are engaged in a cultural practice and it is good to acknowledge that we are, inspired by and in many ways continuing the work of others.3
---
© Thank you to Kevin McKay who kindly gave permission for the images of his work to be shared on AnArt4Life. A special thank you also for the contribution Kevin made to the explanatory text accompanying the images of his paintings.
We will return to show you the remaining works Kevin is exhibiting in the May▲Space Online showing in November. We wish him well in all his endeavours which, as Kevin is also a teacher, includes tending to the needs of his students.
Late Mail
A special welcome to H.S in Australia - our newest subscriber. We love getting new subscribers and hearing from our on-line community. Don't forget - if you would like us to feature a particular art topic please email me at hello@anart4life.com.
Credits
1. Images provided by Kevin Mckay - kevinmckayart.com
2. Robin Derricourt titled South Head Sydney and The Origins of Watsons Bay
3. Explanation provided by Kevin McKay
4. kaaf.org.au