Jyll Bradley enhances our sense of space and place
When art evolves from everyday life and enhances and expands it's culture, it satisfies our desire to appreciate beautiful things. Further, it also feeds our desire to engage in the world around us - be it natural or human made or indeed a combination of both.
An artist who has the gift to create this synergy is Jyll Bradley, born in 1966 in the seaside town of Folkestone, Kent, on the English Channel, and now living and working in London.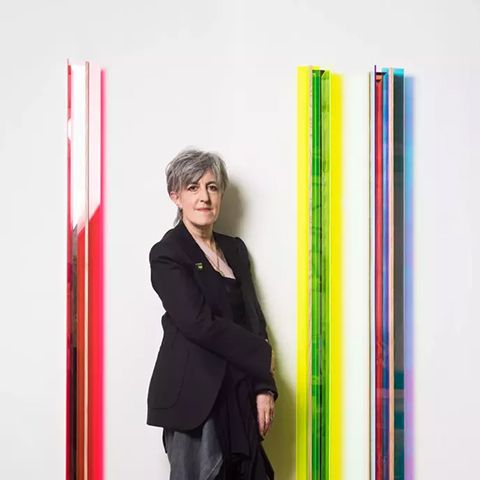 Jyll Bradley makes installations, films, drawings and sculptures. Her work first emerged in the late 1980s within a cohort of artists interested in combining the formal vigour of Minimalism with ideas of identity and place.1
Recently Jane, of the Art4Life blog, presented for you posts on the Light and Space Movement with examples through the works of James Turrell and Olafur Eliasson. These posts act as an excellent introduction to Jyll's work which is influenced greatly by light, and the effect it has on structures and people.
Light has been a constant protagonist in Jyll Bradley's practice, from her early photographic light-box installations to her work with fluorescent plexiglas. Her work often pairs organic and industrial materials, reflecting a desire to bring together different aspects of self – for instance her rural childhood and urban adulthood.1
An example of this work is Jyll's Light Box Installation titled: Le Jardin Hospitalier (2015) involving 15 light boxes, Duratrans mounted on Perspex, LED light panels, Douglas Fir panels, powder-coated steel panels and painted texts. Each light box and element measures 2.5 x 1.7m1
The work was a major permanent light box installation transforming a 100-metre-long windowless corridor in Hôpital Roger Salengro in Lille, France. Inspired by the city's history of botanical medicine, the work makes a correlation between caring for plants with caring for people.1 You can learn more about this specific work by clicking here.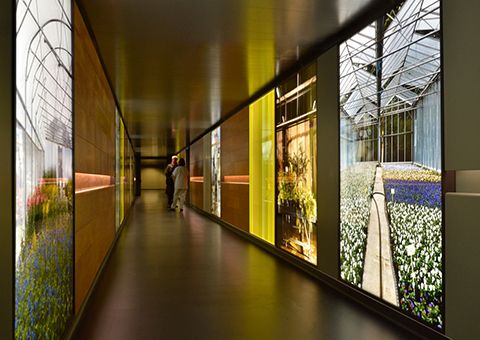 Jyll Bradley's academic studies are from Goldsmith's College, University of London 1985–1988 with a BA (Hons) Fine Art, First class, and the Slade School of Art, University of London (1991–1993) Higher Diploma, Fine Art. This very talented and versatile artist has utilised her writing talent in her work including a distinct body of work for BBC Radio 4 between 1998 and 2004, which included the first ever radio adaptation of Kate Chopin's banned novel The Awakening, marking the centenary of its publication, and her original drama Filet de Sole Veronique which won the European Broadcasting Award for Best Script in 1998. 1
Bradley's writing is widely praised for its innovation and playfulness with language, and the bringing to light of neglected texts and narratives concerning women's lives and experience.1
In 2006 Bradley was invited to explore Liverpool with a view to making a project to mark the city's year as European Capital of Culture in 2008. Conversations with a local gardening group inspired her to embark on a journey of discovery through the city's botanical history. Bradley was drawn to the work of remarkable Liverpudlian figure William Roscoe, who founded the Liverpool Botanic Garden, which was, in its Georgian heyday, one of the most significant gardens of its kind in the world.
Bradley made the first artist's response to Roscoe's work – her book Mr Roscoe's Garden (published by Liverpool University Press) – and collaborated with the city's botanical gardeners to create an award-winning garden of the same name for the Chelsea Flower Show. As part of her project Bradley also created a light-box installation The Botanic Garden, which was presented at the Walker Art Gallery during Liverpool Biennial in 2008.1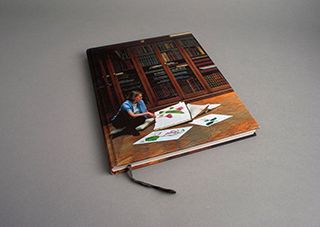 Jyll Bradley has even travelled as far as Australia.
In 2010 Bradley was invited to Canberra, Australia with a view to creating a new project for the city's centenary in 2013. This major exhibition at the National Library of Australia (designed by Bradley working with the National Library's designer Isobel Trundle and London-based architect Deborah Nagan) showed the work she made over the course of those three years, all of which explored the identity of Canberra through its remarkable tree-scapes and those people for whom the city's trees played a large role in their lives. Bradley was the only international artist commissioned to help mark this civic milestone.1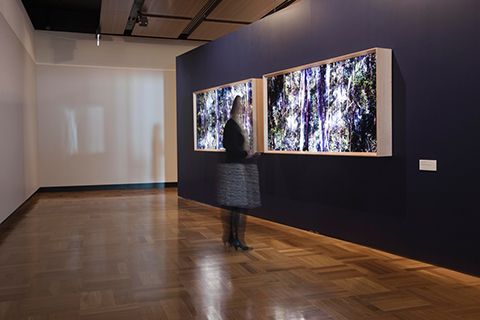 Forming the centrepiece of the exhibition was a group of 'sound portals': architectural forms fabricated by Canberra-based firm Thylaine that were designed for listening to an individual audio work. Reflecting the library outside the exhibition space, references to printing and works on paper, card and cardboard ran through the exhibition, as did references to light: the key to all green growth.1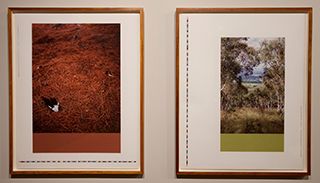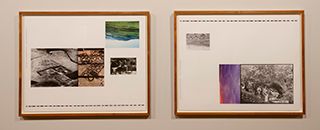 For more information on The City of Trees exhibition Click Here.
In 2018 Jyll created an installation in St Helen's Square, London titled Opening the Air which was a three-dimensional drawing made up of a geometric field of fluorescent Plexiglas discs or 'coins'. The coins bear intricate etchings derived from plans of early eighteenth-century glasshouse design and are planted on a low workaday wooden table. As the City-scape becomes ever more glassy, Opening the Air reflects upon the original glasshouses whose currency was green growth. Activated by light and the sun's passage, the work changes in appearance throughout the day.1
If you watch the video below where Jyll Bradley is interviewed by Paul Carey, you will gain a greater insight into and understanding of her work.
Fiona Bradley, in conversation with artist, Jyll  Bradley (see video below),  discussed her work Pardes – the first standalone installation in the Fruitmarket Warehouse.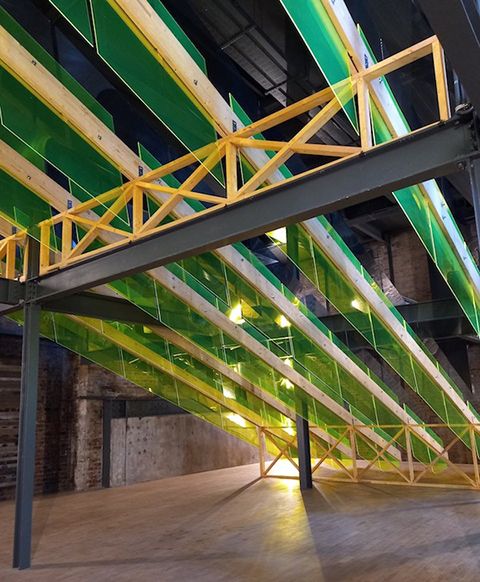 Pardes has evolved over several years, with the artist watching the transformation of, and delving into the history of, the Fruitmarket's new Warehouse.
Bradley's art draws on systems and structures of growth as metaphors for cultural exchange, place and identity. Here, she has taken inspiration from the structures created by historic Scottish fruit growers to make the most of both the light and the natural warmth in the bricks of a walled fruit orchard, as well as the cultural heritage of the Fruitmarket as an old fruit and vegetable warehouse. The title comes from an ancient name for a walled fruit garden that gave rise to the familiar word 'paradise'.
While its form owes something to the leaning design of historic glasshouses for growing fruit, Pardes's impact is primarily that of a minimal abstract sculpture. Six beams made in wood and live-edged Perspex fly through the space from ceiling to floor. Lit from within, they create a canopy that envelops the viewer in warm, green light, sustaining us through the darkest time of the year from Autumn to Spring.
Bradley is interested in the life her sculptures take on once they are installed and outside her control: 'Far from being a passive thing in the world, the work is a living part of it – changed by light, weather and time … The sculpture will be a meditation upon the inter-connectedness of nature, culture, people and place: the ethical connection we have to art and each other.'
Bradley is keen for Pardes to be a welcoming, gathering place, an invitation as much as a sculpture. She invites us to inhabit it individually and in groups, in silent contemplation, individual and collective creation, or joyous, noisy celebration.1
Bradley's work frequently engages with site and the creation of new spaces.
Her acclaimed public realm commissions – including Green/Light (for M.R.) for The Folkestone Triennial and Dutch/Light for Turner Contemporary – reference generative structures such as hop gardens and glasshouses, expressing what she sees as the practical, spiritual and emotional work involved in growing a sense of self, place or community.
Bradley's sculptures have increasingly become sites of activity such as dance and performance. Recently this has further developed through the creation of new films such as M.R. (2021) and Woman Holding a Balance (2021) which explore the works' 'world' and ecology. These innovations reflect Bradley's interest in sculpture as a potent gathering place of people and ideas.1
Jyll Bradley's latest work for 2022 is The Hop commissioned by The Hayward Gallery, London, UK. But before we look at The Hop tomorrow, I am going to take you to Kent, UK, to see the hop growing culture so that you can then appreciate Jyll's installation with a greater understanding.
© Thank you to Jyll Bradley who kindly gave permission for the images of her work to be shared on AnArt4Life.
Bradley's work is held in numerous national and international private and public collections including the Government Art Collection, UK; Folkestone Art Works, UK (long terms loan), the Walker Art Gallery, Liverpool; the National Library of Australia and Canberra Museum and Art Gallery.
If you have the time to explore her work in more detail please follow this link to Jyll Bradley's website.
Credits
1.jyllbradley.com
2. en.wikipedia.org