Understanding installation art
Tomorrow I am going to introduce you to English artist Jyll Bradley who, amongst her many innovative ventures, creates extraordinary installation works.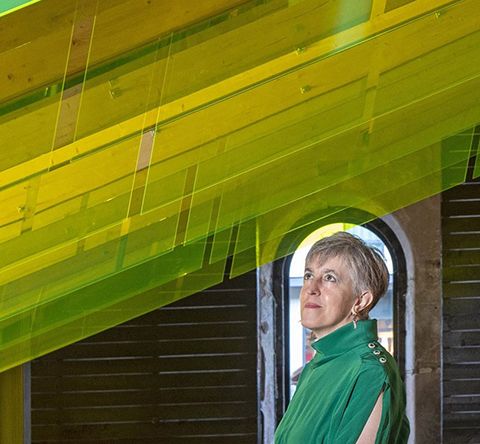 But first we need a greater understanding of Installation Art, which is an artistic genre of three-dimensional works that are often site-specific and designed to transform the perception of a space. Generally, the term is applied to interior spaces, whereas exterior interventions are often called public art, land art or art intervention; however, the boundaries between these terms overlap.1
La Menesunda (Lunfardo for "mayhem") is an installation art work by Argentine artists Marta Minujín and Rubén Santantonín, made in collaboration with Pablo Suárez, David Lamelas, Rodolfo Prayón, Floreal Amor and Leopoldo Maler. It was presented on May 27, 1965 at the Torcuato di Tella Institute in Buenos Aires.1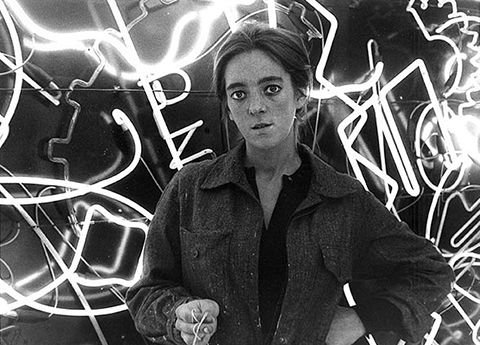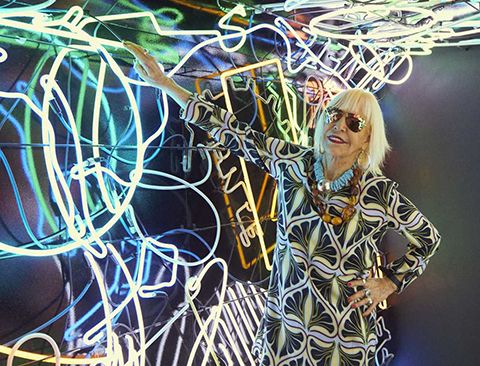 Marta Minujín (b. 1943) emerged in the 1960s as one of the strongest voices in Latin American art. She created performances, video works and installations, often collaborating with other artists including Andy Warhol.2
La Menesunda was recreated for the first time in 2015 and exhibited at the Buenos Aires Museum of Modern Art. Since then, the installation has also been recreated in June 2019 in New York City's New Museum (its first-ever presentation in the United States), and in October 2020 at Tate Liverpool. 1
La Menesunda's maze-like structure (inspired by the city's vibrant street life) is designed to stimulate all five senses. Visitors (to one of the recreations) can journey through eleven spaces including a tunnel of neon lights and rooms populated with performers (and even) visit La Menesunda's beauty salon complete with nail technicians.2
Below are three images from the installation recreation in Buenos Aires.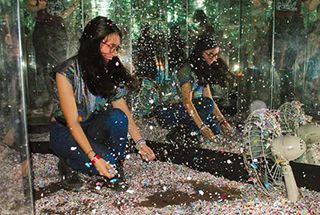 And to see a few more images from the recreation exhibitions Please Click Here.
Marta Minujín and Rubén Santantonín's work, alongside that of Niki de Saint Phalle, and Christo and Claes Oldenburg, counts among the earliest large-scale environments or installations in art history. La Menesunda revolutionized Buenos Aires, attracting a large number of visitors and several news reports, and is now considered one of the greatest milestones in the history of Argentine art.1
Niki de Saint Phalle, born Catherine Marie-Agnès Fal de Saint Phalle (1930- 2002) was a French-American sculptor, painter, filmmaker, and author of colorful hand-illustrated books. Widely noted as one of the few female monumental sculptors, Saint Phalle was also known for her social commitment and work.1
She had a difficult and traumatic childhood and a much-disrupted education, which she wrote about many decades later. After an early marriage and two children, she began creating art in a naïve, experimental style. She first received worldwide attention for angry, violent assemblages which had been shot by firearms. These evolved into Nanas, light-hearted, whimsical, colorful, large-scale sculptures of animals, monsters, and female figures. Her most comprehensive work was the Tarot Garden, a large sculpture garden containing numerous works ranging up to house-sized creations.1
Here is a video describing Niki de Saint Phalle's Tarot Garden - it is nearly 30 minutes long but well worth watching if you have time.
Saint Phalle's idiosyncratic style has been called "outsider art." She had no formal training in art, but associated freely with many other contemporary artists, writers, and composers. Her books and abundant correspondence were written and brightly-colored in a childish style, but throughout her lifetime she addressed many controversial and important global problems in the bold way in which children often question and call out unacceptable neglect. 1
Christo (Christo Vladimirov Javacheff, 1935–2020) is probably the best known of these early installation artists. However his wife Jeanne-Claude Denat de Guillebon, 1935–2009) worked alongside him and now the works are credited to Christo and Jeanne-Claude.1
Christo and Jeanne-Claude were noted for their large-scale, site-specific environmental installations, often large landmarks and landscape elements wrapped in fabric, including the Wrapped Reichstag, The Pont Neuf Wrapped, Running Fence in California, and The Gates in New York City's Central Park. 1
Their work was typically large, visually impressive, and controversial, often taking years and sometimes decades of careful preparation – including technical solutions, political negotiation, permits and environmental approval, hearings and public persuasion. The pair refused grants, scholarships, donations or public money, instead financing the work via the sale of their own artwork.
Christo and Jeanne-Claude described the myriad elements that brought the projects to fruition as integral to the artwork itself, and said their projects contained no deeper meaning than their immediate aesthetic impact; their purpose being simply for joy, beauty, and new ways of seeing the familiar.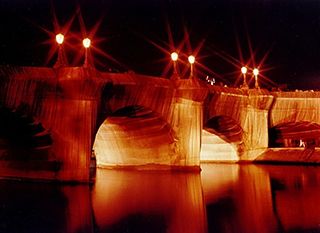 Installations take thousands of hours to create and erect. If you would like to gain a greater understanding of how Christo and Jeanne-Claude created the Wrapped Coast (Project for Little Bay, Sydney, Australia) Please Click Here.
The last early installation artist I want to look at today is Claes Oldenburg who ironically died two days before I wrote this post so it is definitely time we launch into understanding installation art and return to review his work in detail.
Claes Oldenburg (January 28, 1929 – July 18, 2022) was a Swedish-born American sculptor, best known for his public art installations typically featuring large replicas of everyday objects. Another theme in his work is soft sculpture versions of everyday objects. Many of his works were made in collaboration with his wife, Coosje van Bruggen, who died in 2009; they had been married for 32 years. Oldenburg lived and worked in New York City.1

Please follow this link to see more of the amazing works by Claes Oldenburg and Coosje van Bruggen.
Installation art is a term generally used to describe artwork located in three-dimensional interior space as the word "install" means putting something inside of something else.3
It is often site-specific - designed to have a particular relationship, whether temporary or permanent, with its spatial environment on an architectural, conceptual, or social level.3
It also creates a high level of intimacy between itself and the viewer as it exists not as a precious object to be merely looked at but as a presence within the overall context of its container, whether that is a building, museum, or designated room.3
Artworks are meant to evoke a mood or a feeling, and as such, ask for a commitment from the viewer. The movement remains separate from its similar forms such as Land art, Intervention art, and Public art, yet there are often overlaps between them. The ideas behind a piece of Installation art, and the responses it elicits, tend to be more important than the quality of its medium or technical merit. Artists champion this genre for its potential to transform the art world by surprising audiences and engaging viewers in new ways.3
This video will give you a greater understanding of the work of Claes Oldenburg.
Tomorrow we are going to commence looking at the creative works being produced by Jyll Bradley.
It is my hope that not only will we gain a greater understanding of art works but, in particular, gain a greater understanding of the importance of a sense of space and place and the effect of these on the art work and how the audience is engaged - as a viewer and even as a participant.
Credits
1. en.wikipedia.org
3. tate.org.uk
3. theartstory.org