John Pickup OAM (1931-2023)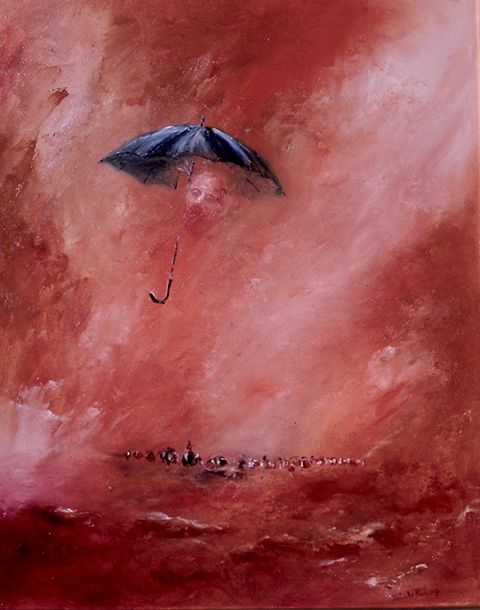 It is with deep regret and sadness that we have to inform all our wonderful subscribers and followers that our dear friend and team member John Pickup OAM died peacefully in his sleep in his 92nd year.
He was known as a brilliant radio broadcaster and the last surviving member of the Brushmen of the Bush - the famous five artists from Broken Hill who spent the better part of 20 years exhibiting their paintings of outback Australia throughout the world to raise money for charities.
We will be showcasing a series of posts in his memory in a little while. In the meantime we send our deepest sympathy to his three daughters, their families and all John's friends who will be grieving deeply the loss of such a remarkable man.
The painting of Nat Buchanan's Spirit was chosen because it represents so much about John's artistic ability to capture the essential character of the people who contributed so much to the country he loved so dearly.
Nat Buchanan was a Scot who came to Australia and opened up several of the Stock Routes across much of the northern regions of Australia. Being a Scot the hot Australian sun paid havoc with his fair skin. And so, as Nat rode across Australia opening up the stock routes he always carried an umbrella for protection from the blazing sun. This fact amused John no end and hence his painting - that when Nat died his umbrella went with his spirit to float above the land he grew to love so much.
And so tonight we can see John Pickup also floating above the landscape with a canvas on his knee and a palette knife and box of oil paints ready at his side.
Rest in Peace Dear Friend
For those of you who are new to the blog and not familiar with John Pickup, the ABC Broken Hill posted on Wednesday a news item on John titled ABC broadcast pioneer and Brushmen of the Bush painter John Pickup dies aged 91 which you might like to read to begin to understand how talented he was across so many fields.
And we have two new subscribers to welcome in to the AnArt4Life online community. We have Janice in Australia and D.D.P. in the U.K. - a country John loved dearly and where he had an exhibition with the other Brushmen of the Bush.