John Winter Pickup OAM (1931-2023): A Good and Noble Man Part One
We follow on today from yesterday's post on John Winter Pickup OAM: Renaissance Man to explore a little about the man behind the microphone, camera and brush.
There is no better way to get to know John Pickup than through the landscapes he painted of the Australian outback because this is where his love of country was firmly planted.
The huge expanse of the Australian sky, towering clouds which John loved to paint, dancing and swirling above the rugged terrain beneath, could only have been painted by an artist who was in love with country - in all its beauty and terror!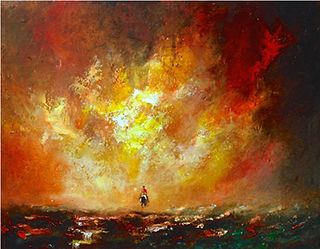 This love of country saw John, who was a man of great passion and commitment to his values, join the successful protest in 1976 to stop the siting of a transmission line from Dederang to Wodonga (Victoria) across some of the most picturesque landscape in Australia. He recreated this protest through his alter ego in Don Quixote Challenges the Kiewa Valley Powerline ready to "fight the good fight". Don Quixote held a special place in John Pickup's heart and for a very special reason - they shared a great desire and indeed passion to revive chivalry and serve the nation for the better good for everyone.
Also below is John's painting of Franklin Journey created as a result of a protest in 1982 against a decision by the Tasmanian Government to dam the Franklin River to generate hydro-electricity.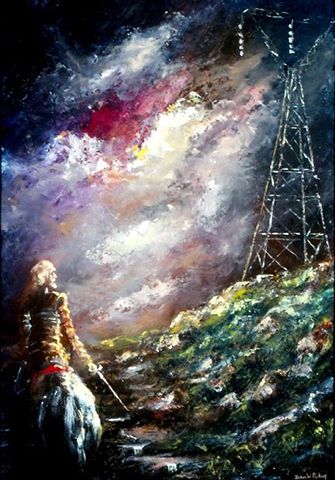 Andrew (the art collector) has put a few words together about the Franklin Journey painting telling us that: This painting also tells us a lot about John.
I would just like to add a few words as to why I believe this painting of John's reaches out to us on several levels.
Obviously JP's artistic mastery is paramount, but more than that, the protest against the damming of the Franklin River occurred in 1982 when John was in Broken Hill and even though thousands of kms away was able to show his objection to the damming of this majestic river. The painting is undated but I believe would have been painted around the time of the protests which shows that John, in his own clever artistic way was also partaking in the protests, along with Bob Brown and the thousands of other protesters.
This painting to me is a constant reminder of how we cannot let short sighted politicians together with greedy developers think that they can get away with destroying our beautiful country. I believe that John saw this emerging travesty very clearly, and so the painting was born. To me it is a constant reminder of what could have happened, so thank you John for painting it.
P.S. Look very carefully into the painting and you will find a tiny yellow canoe being paddled down the river.
Interestingly, John rarely painted a landscape without a figure, no doubt because he wanted to recognise the intrepidness and courage of the people who had chosen to live in the outback. And remember John Pickup was a story teller. The two characters from John's paintings who stand out are, as seen above, Don Quixote, the legendary character created by Spanish writer Miguel de Cervantes and definitely John's alter ego.
You can learn about how Don Quixote came to be in JP's paintings and see more of these wonderful imaginary works by checking out John Pickup brings Don Quixote to the Australian Outback.
Nat Buchanan (below) represents John's interest and love of the characters who arrived in outback Australia, often from foreign lands, and who fell in love with this country using all their courage to carve, literally in many cases, a life from this earth.
You can read more about this remarkable Australian and why John used an umbrella to symbolise Nat in the AnArt4Life post - Nat Buchanan and Australian stock routes through the eyes and hands of John Pickup.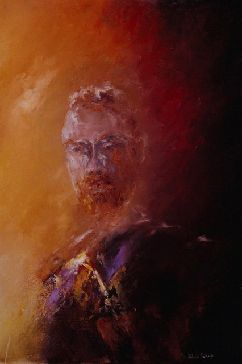 Another intrepid real life outback character John chose to immortalise in his paintings was Daisy Bates (1863-1951), an early anthropoligist and welfare worker among Aboriginals. Born in Tipperary, Ireland Daisy migrated to Australia in 1884 and for a short period in time was married to poet and horseman Breaker Morant (Harry Morant aka Edwin Murrant) made famous by the film on his arrest and execution during the Second Anglo-Boer War.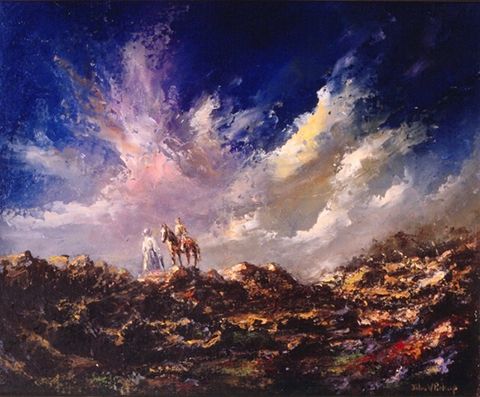 John Pickup loved these Australian characters and although he has become know for his landscapes there are several paintings of people who were travelling a different journey to us ordinary folk.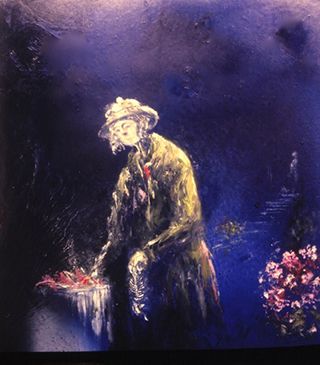 John Pickup's desire to give back to his community and to assist those who wanted to extend their skill in broadcasting, painting and photography began (to our knowledge) when he was a broadcaster with the ABC in Broken Hill.
On the 1st April 1980, in Broken Hill, John launched the Youth on the Hill Program which gave secondary students interested in broadcasting, the opportunity to learn about broadcasting on air. For the next five years, once a week (including holidays), the students presented the Youth on the Hill program which won several awards including the Sydney Morning Herald Youth Achievement Award. You can read more about this here.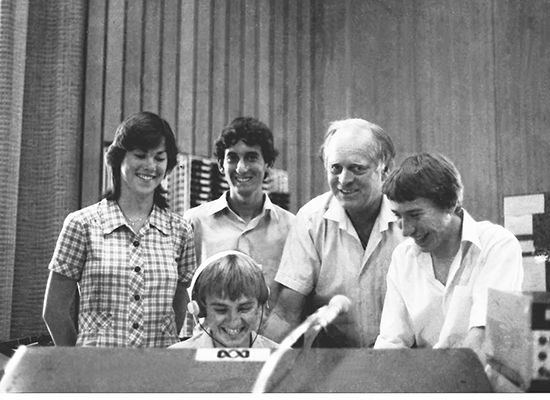 For the rest of his life, right up until his health began to fail him severely as he neared 90 years, John was engaged in the community giving talks on coping with macular degeneration and losing your car licence and running workshops in photography and painting for people who had become disabled in some way (particularly with a loss of limbs) and also for refugees.
He seldom spoke about this work and so if there is anyone out there who would like to provide us with more information about this side of John Pickup OAM please email Anne at [email protected].
Immediately after retiring from the ABC John also became involved in establishing a community radio station in Mackay. It was for his work in Broadcasting that he was awarded the Order of Australia medal in 2020 which you can read about here.
One of the blog team, John "Rowdy" Wylie from South Australia, found himself getting to know the character and soul of the man behind the mic and brush when he began to be "remotely mentored" by John Pickup in Rowdy's newly acquired passion of painting the rich red desert landscapes of the Australian outback.
Rowdy recounts: at one time JP suggested to me a most memorable challenge to paint… an Indigenous Mother and Child on "country"… feeding a fish to a pelican while standing in a "wet lands" lake scene… Prior to this.. we had had a conversation about Mungo Woman who was found out in south western New South Wales … JP's support provided me with much positive "grounding"… developing my confidence, individuality of style and recognizable works… His generosity in giving his time and knowledge over long conversations by phone or email will never be forgotten.
In 1972 John joined up with four of his friends - Hugh Schulz, Pro Hart, Jack Absalom and Eric Minchin to paint together and they became to be known as The Brushmen of the Bush. You will learn more about this group of artists in tomorrow's post.
In recognition of JP's contribution to his artistic activities Rowdy created the painting Gems of the Desert as shown below.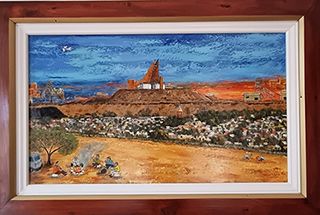 John Pickup was was so very generous in sharing his knowledge and always happy to make time to have conversations on so many topics. And some of those conversations he would tell us were with his furry friends because JP loved animals as much as he loved people. Here he is with a possum who decided to learn the art of broadcasting and photography - not quite sure if he also took up painting! And on the bottom right Winston - John's beloved companion in the last two years of his life.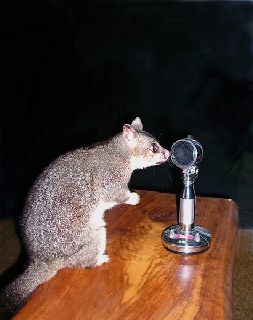 Signing off today with a painting of which in a way ties many threads together - an outback character with his beloved dog watching the Flying Doctor - a remarkable service for those who do live in remote areas of Australia and a service that John Pickup and his fellow Brushmen of the Bush worked tirelessly to raise money for. Read all about it tomorrow.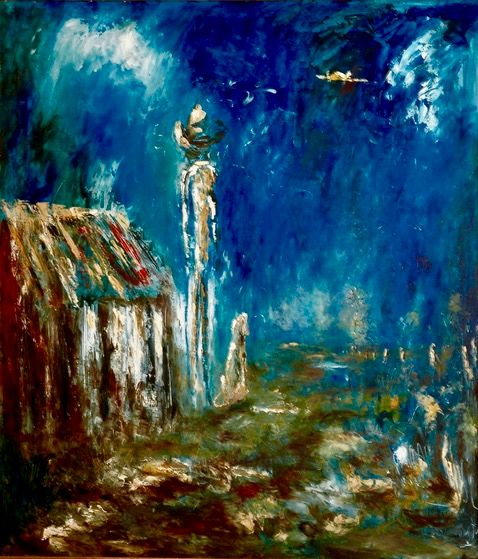 © John Pickup made a wonderful contribution to the AnArt4Life for over four years and we are so privileged that he gave his permission to share the images of his paintings so that others could enjoy his remarkable ability to capture the essence of the Australian landscape in all its forms and the characters who call it home.