John Winter Pickup OAM (1931-2023): Renaissance Man
Today we pay tribute to our dear friend and member of the AnArt4Life blog team John Pickup who was, as you will learn, truly a renaissance man with many talents and interests.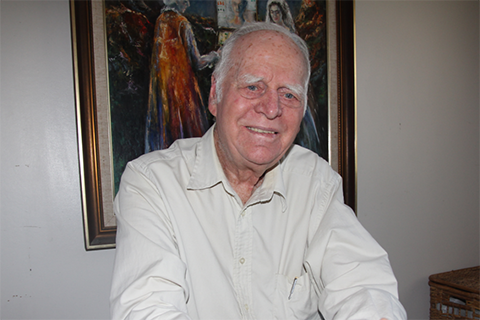 It is unusual to hear of an artist's name and to be triggered into memories of an auditory nature not visual. But for so many of us our strongest most personal memory of John Pickup OAM is of his glorious radio voice.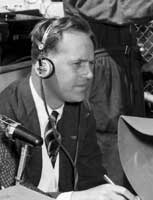 The AnArt4Life blog's first encounter with John Pickup was hearing the timbre of his radio voice. Anne tells how this happened:
I had written a post in March 2019 announcing the death of Jack Absalom, one of the Brushmen of the Bush saying something to the effect that Jack was the last of the Brushmen. A couple of days later my phone rang and when I answered the most melodious and deeply "professional" radio voice said (quoting Mark Twain): "The news of my demise is highly exaggerated". I drew a deep breath and said "Who on earth are you?" And the beautiful ABC voice answered "I'm John Pickup – and you have written that I am dead – and as you can hear – I am certainly not!"
From memory I then said something along the lines of it was his own fault that we all thought he was dead as there was no "internet footprint" of his work. He muttered something about not quite sure how to go about this – and well, yes, the rest is history – over the next four years the AnArt4Life blog team worked to make sure that an internet footprint of his remarkable life and paintings was established.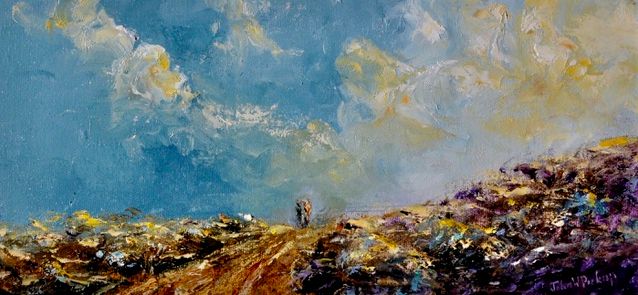 John quickly connected with the blog team through our mutual love of art and when Anne suggested he join the team he jumped at the opportunity – and the contribution he made was enormous because there was little he didn't know about both the history of art and the process of painting – especially with a palette knife laden with oil paint: his love of creating the visual was as strong as his love of audio.
Below are two of his early paintings, the one on the right being his first oil painting.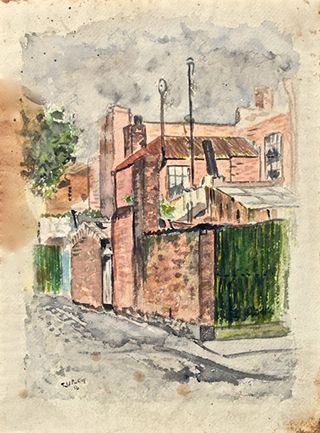 What is wonderful is that we have John's verbatim description of these two paintings: He wrote back in 2019 to Anne saying:
This has been an interesting journey back in time and I'm finding lost painting photos that I can now put into my files, including what I remember is my very first oil painting, looking out of our lounge room window at St Andrews Church and church hall and the view beyond. I've also included the watercolour I did when I was in Melbourne in 1956. I was living in a small hotel in Exhibition Street called the "Clare Castle' a three-storey hotel built in 1885 and long ago replaced by a tall concrete and glass office block. I used to go for a walk around the backstreets and did this watercolour to pass the weekends.1
John Pickup's interests and vision however went much wider and deeper than painting: he loved and embraced nearly every corner of life on offer.
Many people aren't aware that John wrote a musical with Broken Hill resident and pianist Roy Mitchell about mining in Broken Hill. Titled The Roaring Days! the work premiered in Broken Hill, New South Wales on 21 October 1964. Below is a copy of the article written by Penny Lye and published in The Australian Women's Weekly (1933 - 1982) on 4 November 1964.
Apologies for the poor image but if you are interested here is a link to the article as found on Trove.
John has, at some time or another, expressed in paint on canvas his passion for all his fields of interest. Below he has captured that memorable moment when the tent theatre came to town - painted after attending a production in a circus-sized tent that had come to Broken Hill.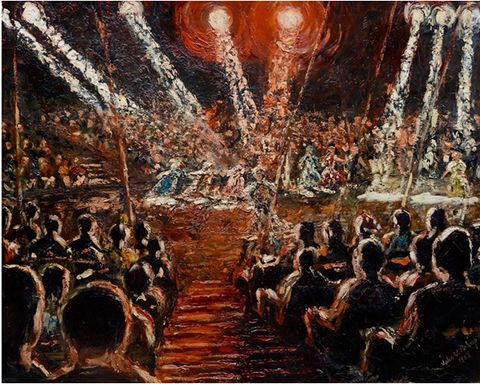 Also within a theatrical theme are the paintings of: The Jester and the Lady, Matador and The Queen's Troubadour as shown below.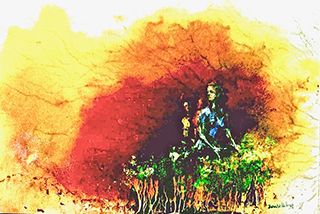 John Pickup was predominantly a story teller and those of us who have been blessed knowing him will treasure the stories he loved to recount in his broadcasting voice - and without a moment's hesitation. If you would like to experience John Pickup the Story Teller please check out this link where John was interviewed by Phillip Adams (Presenter of Late Night Live, a radio show) to mark the 90th birthday of the ABC and where John shares just some of the many stories from his brilliant ABC career.
John's also had a life long interest and love of anything at all that flew - becoming a glider pilot and a hot air balloon pilot as exemplied below. Tomorrow you will see more of his paintings of aeroplanes.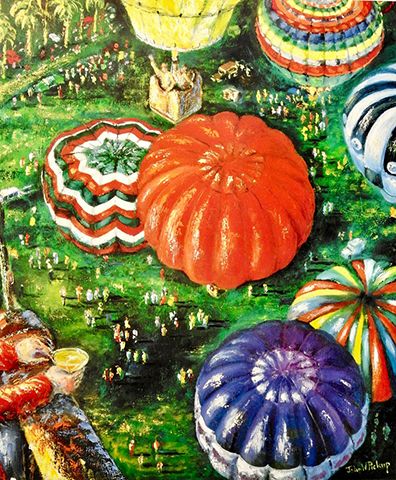 Julie from the AnArt4Life team, had many shared interests with John, and loved her long talks with JP and hearing how he was present at so many momentous occasions in Australia's history from - being in Sydney when the Japanese "midget subs" entered Sydney Harbour and, as a school boy, participating in the VE and VJ celebrations in Sydney when the war ended in 1945. John was involved in the restoration of old planes, and even flew in a flying boat from Australia's first International airport, on the water at Rose Bay, Sydney.
Julie and John combined to write posts on Various Perspectives on VP Day and A tribute to the restoration of aeroplanes and All Steamed up with John Pickup, the latter a result of their mutual passion for steam trains.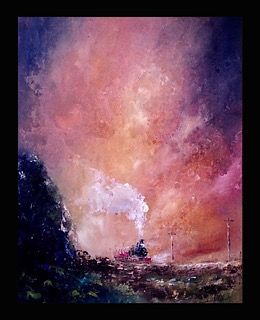 For the AnArt4Life blog team however, ultimately it was John's gift as a painter which gave us the most inspiration. John Rowdy Wylie, as a fellow artist and equally passionate about the Australian outback landscape commented on JP's remarkable individual creative style of art... painting compositions from his memory of his day to day life experiences... One of JP's incredible compositions was titled… "She's playing a Flaming Piano in a Creek" … Absolutely amazing work and Title!!!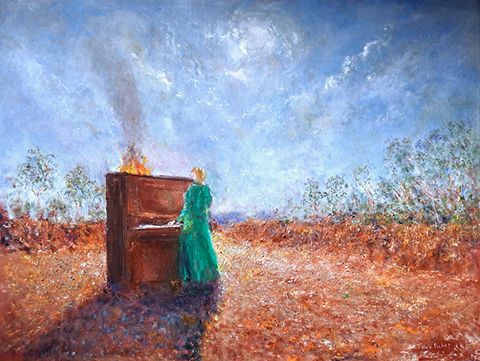 The painting of the woman playing a piano on fire in the middle of a dry river bed in the outback of Australia in many ways epitomises John Pickup. His skill in capturing the texture and colour of the Australian outback landscape is exceptional. But what is also embedded deep in this painting is John's love of music, theatre, storytelling and the unique characters who live beyond the boundaries, some of whom you will see in tomorrow's post.
To know that this painting was produced not far short of John's 90th birthday and with very little eye sight shows the indominatable spirit of a great man and artist.
Broadcaster, Thespian, Pilot, Artist. What more could one man be? Tomorrow we will explore a little of John Pickup - a good and noble man - and learn more of his generosity in sharing his talent and time.
To conclude we are going to let JP have the last word as so beautifully expressed in paint on canvas in A Time to Savour its Serenity.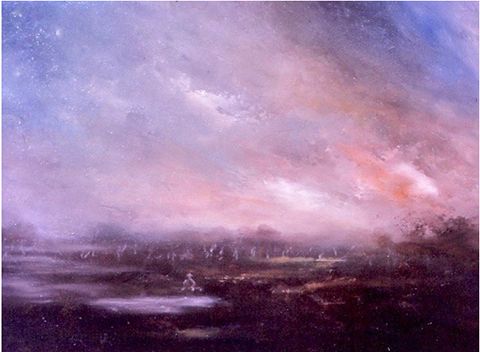 Credit
1. Correspondence between Anne Newman and John Pickup. Note the Clare Castle hotel was actually in Mornane Place, off Exhibition Street.
© John Pickup made a wonderful contribution to the AnArt4Life for over four years and we are so privileged that he gave his permission to share the images of his paintings so that others could enjoy his remarkable ability to capture the essence of the Australian landscape in all its forms and the characters who call it home.