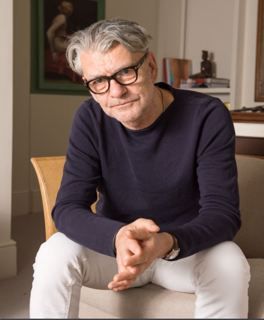 With a name like Vettriano you would expect Jack to be Italian, however Sam, the Art Gallery Manager on board our cruise ship explained he was born Jack Hoggan in 1951 of Scottish parents living in Fife, Scotland. His father was a miner, as was his grandfather before him. Jack had a flair for drawing, however he was not interested in school – he was to follow in his forebears footsteps working as a miner.
It was apparent to Jack on his first day down in the mine, that there was no way he could spend his life underground. At a complete loss, he looked for other work and survived on meagre earnings. For his 21st birthday, his girlfriend gave him as set of watercolours. Sam claims Jack thought this a weird gift and stashed the paints in a corner, until finally one day he dragged them out and indeed tried his hand a painting some birds.
To his surprise he seemed to have some talent!
He became passionate about wanting to paint and applied to the University of Edinburgh Fine Arts program, however he was rejected. He continued to paint in his spare time and sold these paintings locally. Today these paintings are often an embarrassment to Jack, as he openly admits, that back then, he could not paint.
He changed his name from Hoggan in 1987, and took his mother's maiden name, Vettriano. He submitted two paintings (below) to a show at the Royal Scottish Academy's annual show in 1989 and sold both, effectively launching his career.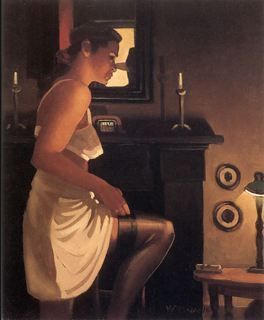 His most famous work, The Singing Butler (1992), later sold for nearly £750,000 at Sotheby's in 2004 to become best-selling fine art print in the United Kingdom at the time. It depicts a man dancing with a woman in a red dress, accompanied by a butler and maid holding umbrellas.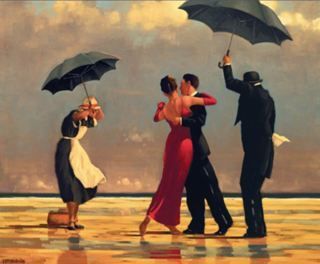 Despite being rejected by art critics and galleries, over the last twenty years, interest in Vettriano's work has grown consistently. There have been sell-out solo exhibitions in Edinburgh, London, Hong Kong and New York.
Jack is known for his film noir-style, erotic paintings of men and women. His work employs a pared-down realism reminiscent of Edward Hopper, often featuring smooth brushwork and lonely interior settings where his subjects appear disconnected from their environment and each other. (artnet.com).
In 2013, a major exhibition devoted to his work opened in Glasgow. More than 100 paintings - many from private collections were gathered together for the show in Kelvingrove Art Gallery and Museum.
BBC News reported:
Jack Vettriano, one of the most popular and successful artists in the world and yet his work was dismissed by critics as "badly conceived soft porn". His paintings sell for huge sums and he shifts prints and postcards in vast quantities, but he has been called the Jeffrey Archer of the art world.
A previous director of the Scottish National Gallery of Modern Art said Vettriano was "an indifferent painter" whose popularity rested on "cheap, commercial reproductions" and another Scottish art world figure said he "doesn't paint, he colours in".
"Unfortunately some of the people in the Scottish establishment don't think I'm worthy of this," says the artist, who is completely self-taught. But Vettriano says the fact that Kelvingrove is owned by Glasgow City Council appeals to him and not by the National Galleries of Scotland, with whom he has always been at odds.
Here are some examples of his 2010 exhibition of over forty new paintings, Days of Wine & Roses, at the Kirkcaldy Museum & Art Gallery in Fife.
You can decide - are they soft porn or simply provocative?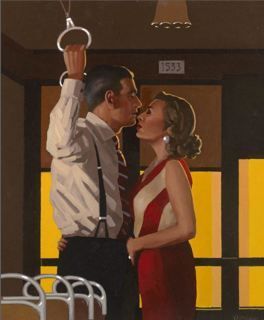 Back in 2009, Vettriano was commissioned by the Yacht Club of Monaco to create a series of paintings to mark the centenary of their world famous yacht, Tuiga. The subsequent exhibition, Homage a Tuiga, premiered in Monaco as part of Classic Yacht Week in September 2009, before touring to the UK in 2010.
Soft porn or provocactive?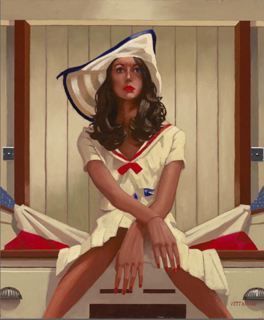 Finally in December 2011, Vettriano's self-portrait, The Weight, went on long-term display at the Scottish National Portrait Gallery in Edinburgh, when it re-opened after a major three-year refurbishment programme. Finally some recognition by the establishment!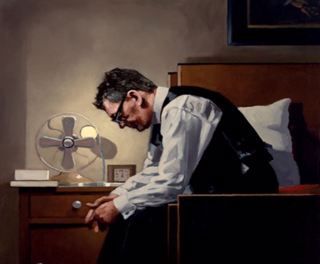 In April 2015, Vettriano established his own publishing company called Jack Vettriano Publishing Limited. His prints and postcards are available from his website
https://www.jackvettriano.com/
Credits: text taken from jackvettriano.com and from the lecture given by Sam, Art Gallery Manager, representing Clarendon Fine Art, on board Cunard's Queen Elizabeth.
Photos: My own unless otherwise stated.