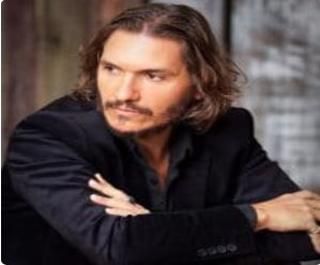 As I alluded to a week or so ago in the blog featuring Josie Martin and her mosaic garden in Akaroa, I want to tell you about some living artists, famous today, as described by Sam, the Art Gallery Manager for Clarendon Art Galleries who ran lecture options as part of my cruise around New Zealand.
Sam captured our imaginations as he described the life of Fabian Perez: Sam's belief is very much the same as our Anne's who said in her blog on Chagall:
…to begin to understand an artist and their works you must start at the roots of their existence: where they were born, where they lived and under what influences did their perception of the world develop as a child and into their adult years.
Today Fabian Perez takes centre stage. He was born in 1967 and lived with his family outside Buenos Aires. His father slept through the day and left the house each evening, immaculately dressed, to attend his business in the city. Sam told us that for Fabian, his dad's job was a mystery and his mother raised him. With an artistic bent herself, she encouraged him to paint and draw.
In many ways it seemed an idyllic life, until sadly Fabian's mother passed away unexpectedly, with his father lapsing into a terrible depression at the loss of the love of his life.
It's at this stage, Sam revealed to us the true nature of the business owned by Fabian's father –illegal night clubs, tango bars and brothels. When I read Fabian's bio, it seems he was aware of his father's livelihood, as the police often hauled his dad off to gaol. I guess a little poetic licence shouldn't get in the way of a good story!
In any event Fabian was enticed into the business; however it was not to his liking and his father eventually lost everything, as he fell into constant depression.
As Anne and Sam's tenet teaches us: it is this perception of his early life that influenced some of Fabian's initial works – the heady atmospheric and passionate air in the night clubs and tango bars of Buenos Aires. Fabian would start with a black canvas – using just a few colours and capturing the light to give us moody paintings.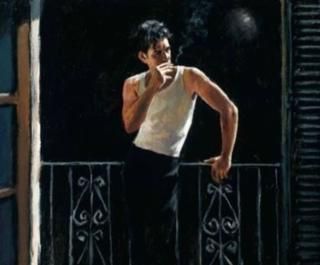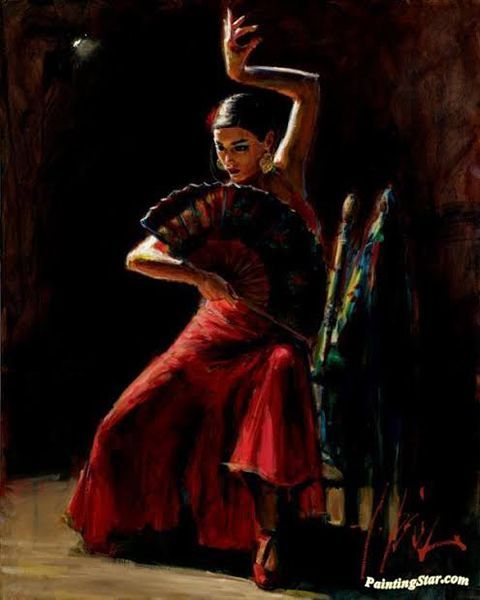 Perez says the figure portrayed outside the nightclubs and bordellos in several of his works is based on his father, while the sensual, brooding women are inspired by those he saw at his father's establishments.
While his inspiration draws on a painful past, Perez's works do not exude darkness or despair. Instead, they portray a romanticized time; a world that, while firmly based in reality, is idealistic and beautiful. (Credit: FabianPerez.com)
After the death of his parents, in his early 20s, Fabian moved to Venice where he worked in a café, washing dishes. In addition, he split his time between painting and teaching martial arts in order to support himself. To spruce up the café, the owner humoured Fabian by allowing some of his paintings to grace the walls.
By sheer chance, due to a flight being rescheduled, a well-known American art gallery owner, dropped into the café for a coffee – he demanded to know how to contact the artist of such fabulous art works.
Fabian's career then sky rocketed – his accomplishments include Official Artist for the 2010 Winter Olympics in Vancouver and 2012 Summer Olympics in London; a portrait of Pope Francis commissioned by The Vatican; he was also commissioned to paint a portrait of Mauricio Macri, President of Argentina.
Fabian is a family man with wife Luciana and 3 children, living and working in Los Angeles. His wife features in many of his paintings. In the Art Gallery on board my cruise liner, I especially liked these two portraits hanging side by side – Lucy and Fabian – I hope you can feel the same passion between them as I did.

Perez is influenced by legendary artists such as Henri de Toulouse-Lautrec, Pablo Picasso, John Singer Sargent, and Paul Cézanne, but his style is truly his own.
Perez created a new style of painting called Neo Emotionalism, which focuses on dramatic narratives and atmospheres characterized by heavily contrasted light and shadow.(Credit ParkWestGallery).
I searched the internet but could find no other references to Neo Emotionalism. You never know - we may be witnessing the birth of a new art movement!
To read more about Fabian's life and to view his extensive collection, visit his website.
Tomorrow we explore the life and art of Jack Vettriano.
Credits: text taken from fabianperez.com and from the lecture given by Sam, Art Gallery Manager on board, representing Clarendon Fine Art, on Cunard's Queen Elizabeth.
Photos: My own unless otherwise stated.