Ishq Jeffrey: Journey beyond a digital world
As something completely different on the AnArt4Life blog I would like you to meet Ishq Jeffrey from Kuala Lumpur who describes herself as A Verisart-Certified Creator from Kuala Lumpur. Inspired by ancient history, beautiful curios, antiques, old books and magic. She also adds Driving life on the slow lane.
Her Twitter account (@IshqJeffrey) states:
I love to read books...will read anything - even cereal boxes, medicine labels, fine tiny prints on that contract..indeed, anything. Oh, I paint too!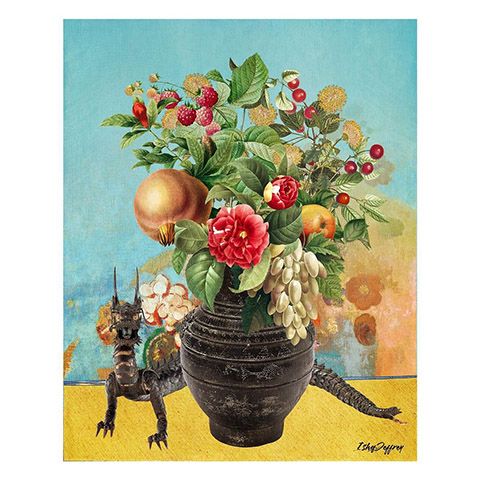 Meet the 'Little Iron Dragon', a museum-inspired NFT⁂ digital collage from Ishq Jeffrey's 'Teatime at the Museum' series. This artwork features a 19th century Edo Period articulated iron myochin dragon made by Myochin Kiyoharu and a hu bronze jar from the Warring States period of China. There's a little bit of Van Gogh and Odilon Redon mashed in the background. Redoute's and Hasegawa's floral elements are arranged and layered piece by piece. 1/1 edition, Verisart-certified and available at @opensea.1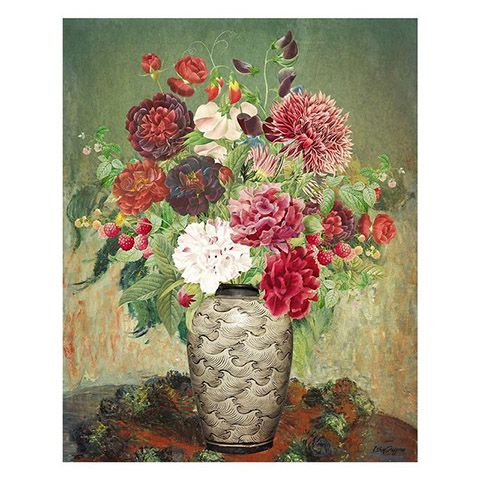 'Tea With Monet' is a digital collage featuring the artist's favourite things- antiques, flowers and museums. This piece is part of her 'Teatime at the Museum' NFT artwork series, a special tribute to all the museum nerds out there and everyone else who loves visiting art galleries and museums.
Inspired by antique ceramics, impressionist masters of the past, and vintage florals. Elements in this collage are taken from Redoute's and Hasegawa's flowers, antique Jizhou porcelain vase and old master's paintings. The floral bouquet is composed of layer upon layer of individual flower element. The background is a mash-up of Monet's brushwork. 1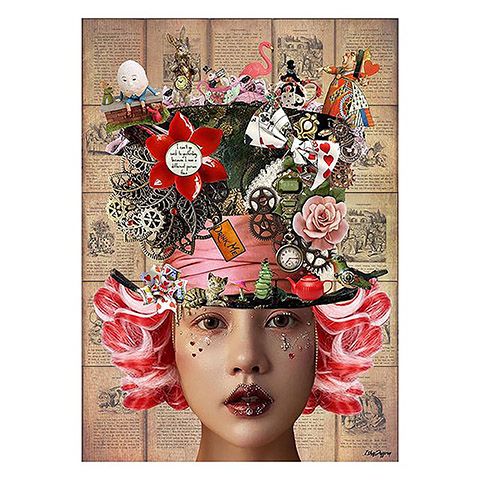 'Alice: In Wonderland' is part of Ishq Jeffrey's 'Trippy Alice' NFT digital collage collection. The background of this #artwork is made up of random pages from the digitized second edition of Alice's Adventures in Wonderland book published in 1866 by Macmillan and Co. of London.
The artist believes that we can learn something about ourselves from Alice if we look in the right direction. Alice is the seeker or initiator who finally masters the Unseen (Wonderland or The Looking Glass World). She awakens to her true 'be-ing' and full potential as a human being. She comes to know Truth. We can, too.
The 'Trippy Alice' collection is available 1/1 on OpenSea. Downloadable high resolution image files and mystery gifts are included with each NFT artwork. 1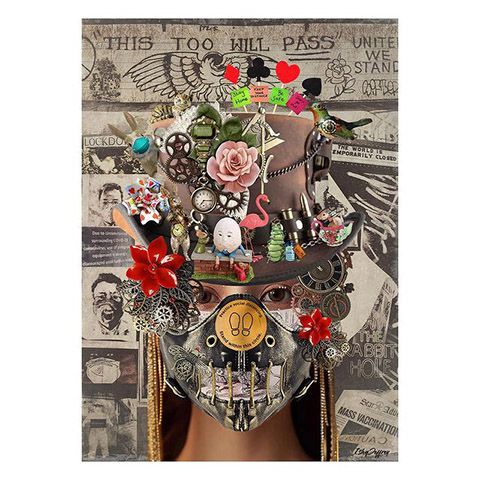 "Dear, dear! How queer everything is to-day! And yesterday things went on just as usual. I wonder if I've been changed in the night? Let me think: was I the same when I got up this morning? I almost think I can remember feeling a little different. But if I'm not the same, the next question is, Who in the world am I? Ah, that's the great puzzle!"― Lewis Carroll, Alice's Adventures in Wonderland.
Meet 'Lockdown Alice', another installment in Ishq Jeffrey's 'Trippy Alice' NFT artwork series. Lockdown Alice conveys the artist's frustrations and anxieties being forced into several long lockdowns due to the COVID-19 pandemic. To her, the pandemic is like experiencing Alice's fall down the rabbit hole. The minuscule bit of virus makes the artist realized that what she thought was real and sane may not be so. The pandemic open up a door to unchartered territories. "Down, down, down. Would the fall never come to an end?" writes Lewis Carrol, as Alice plunges down the rabbit hole.
The collection is available 1/1 on OpenSea. Downloadable high resolution image files and mystery gifts are included with each NFT artwork. 1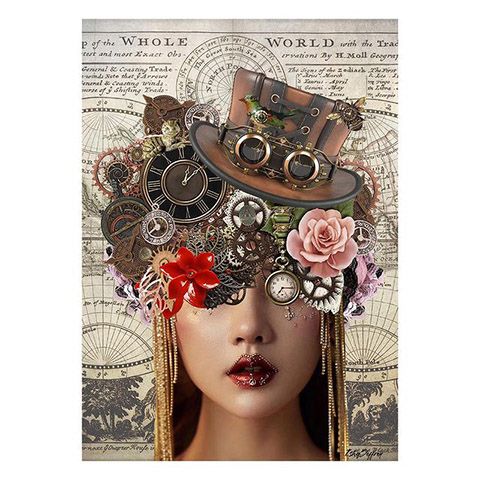 'The All-Seeing Alice' is conceived upon the realization that the Eye of Providence has always existed within each and everyone of us. This is Alice looking inward towards herself. With her eyes covered, blocking out mundane human distractions, her mind's senses became enlightened and she is able to penetrate the essence of things. The limited human vision simply does not truly capture the hidden reality of the world, and what is unnecessary must be filtered out. By seeing through the Eye of Providence, the ever watchful eye that sees things as they really are- Alice finally gained self-realization and illumination.
This artwork is part of Ishq Jeffrey's 'Trippy Alice' NFT artwork collection and available 1/1 on Opensea. Downloadable high resolution files and mystery gifts are included with each NFT artwork. 1
'Trippy Alice' is a series of digital artwork by Ishq Jeffrey, a digital creative based in Kuala Lumpur, inspired by Lewis Carrol's Alice, and all the inhabitants of the Wonderland. It's about following your imagination and being in a perpetual childlike state of free-association, while living in a world that constantly attempts to censor imagination and put a limit over the inner child-like wonder. This artwork series is the artist's first creative project made available to the public. Each artwork is created manually from scratch, and the final composition is intentionally done layer-by-layer in Fireworks CS6. It's the artist's nostalgic ode to the now discontinued software. Each artwork in this collection is Verisart-certified and comes with unlockable high-resolution image files and a mystery gift. 2
⁂ Ishq's images are created using digital technology of which I know very little. But I will attempt to explain what I understand a Verisart-Certified Creator to be.
Versiart is a platform that certifies and verifies artworks and collectibles using the Bitcoin blockchain. Artists can generate permanent certificates of authenticity and reduce the scope for fraudulent activity. The artist can procure a one-of-a-kind token called an NFT ("Non-Fungible Token") that represents a unique good or asset, like digital art. If you are interested to understand more you could start by clicking here.
If anyone can explain more about this new way of dealing with art works please email me at [email protected].
© Thank you to Ishq Jeffrey who kindly gave permission for the images of her work to be shared on the AnArt4Life blog.
Credits
1. ishqjeffrey instagram page
2. opensea.io/ishqjeffrey