Hilda Rix Nicholas Wright - Part One
Have you ever had the experience of reading about a person's life, and you just can't believe the amount of living, both happy and sad, that that person manages to fit into their one life? When you read about their prolific achievements, travel, and events in their personal life, you wonder how they managed to combine it all – a life lived to the full.
Today I would like to tell you a little bit about one such person, an Australian artist named Hilda Rix Nicholas Wright. She is one of the artists included in the Know My Name inititiative by the Australian National Gallery, which we learnt about a few days ago. (Click here if you missed it.) I had never heard of Hilda, but think she had an amazing life. Not only was she extremely talented as an artist and musician, but she also endured great personal tragedy which she turned to good account. We will learn more about that tomorrow, as well as how she acquired her various surnames.
To set the scene for that, today we will begin with an overview of her creative, artistic life.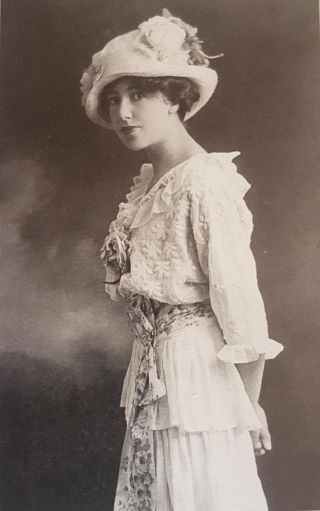 Emily Hilda Nicholas was born on 1 September 1884 at Ballarat, in Central Victoria. Known as Hilda, she was the second daughter of English-born parents Henry Finch Rix, and his wife Elizabeth, née Sutton, an amateur artist and musician. Her sister Elsie was some seven years older, born in 1877.
The Rix girls grew up in a family of high achievers. Their father, Henry, a mathematics teacher, was appointed a district Inspector of Schools in the 1880s; he was also a poet who wrote in support of Australian Federation, and he played Australian rules football for the Carlton Football Club. Their mother, Elizabeth, had grown up assisting in her parents' thriving music business in Ballarat, and was a singer who performed with the Ballarat Harmonic Society. In addition, she had a studio in Melbourne's Flinders Street, and was a committee member of the Austral Salon in Collins Street, Melbourne, which was "a meeting place for intellectual women interested in the fine arts." Elizabeth also painted, in an academic style, generally choosing still lifes and flowers as subjects, though she painted some large landscapes in the Beechworth region of country Victoria. 1
As a result, both Hilda and her sister Elsie played musical instruments as children, performing songs and dances at regional shows. Elsie was also a singer and actor and performed at the meetings of the Austral Salon. Both girls liked drawing and collaborated in designing posters for the Salon. 1
Hilda was educated at Melbourne Girls Grammer, known as Merton Hall, in Melbourne, and between 1902 and 1905, attended drawing classes at the National Gallery of Victoria (NGV) under Frederick McCubbin, the famous Heidelberg School Impressionist. She was also an early member of The Victorian Artists' Society, and exhibited there between 1904 and 1906. She also did illustration work to earn some income.
After her father's death in 1907, Hilda and her sister and mother went to England. She briefly studied drawing in London, then in Paris, where she met Australian artists E. Phillips Fox, and Ethel Carrick Fox (both of whom we will meet in future posts). Hilda travelled extensively in Western Europe. and painted in Spain and Morocco. She held a one-woman exhibition in 1912 at which the pastel drawing, 'Grand Marché Tanger', was bought by the French government. This made her just the second Australian to have a work acquired by the French government, and considered to be, "without doubt, the most successful of the Australian artists in France. " 1 Hilda was fascinated with Moroccan life – the people, the markets and the hustle and bustle , and returned there to soak up the atmosphere for a second visit.
In her correspondence, she wrote:
Picture me in this market-place – I spend nearly every day there for it fascinates me completely – have done 16 drawings and two oil things so far – Am feeling thoroughly at home now so am going to take out my big oil box – wanted to get used to people and things first – Oh how I do love it all! ... Oh, the sun is shining I must out to work.... 1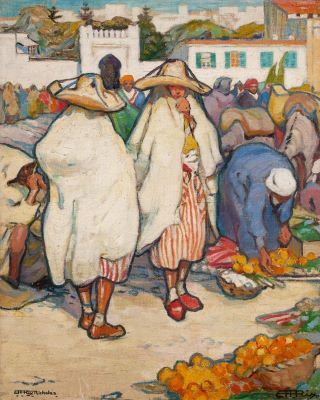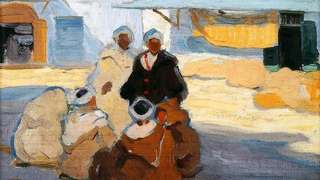 Click here to see other works by Hilda Rix that are held by the National Gallery of Victoria.
Hilda set up a studio in Paris as her base, and in 1908, after travelling through France and Italy, she established another studio at the artists' colony in the fishing village of Étaples, in northern France. Among the artists active there was Frenchman Jules Adler, who took an interest in Rix's work, as well as many Australians, including Rupert Bunny, James Peter Quinn, Edward Officer and one of the colony's longest-term residents, Iso Rae. 1
After the start of the First World War in 1914, Hilda and her mother and sister Elsie went to London for safety. It was here in London that a number of tragedies occurred which greatly influenced her and her art. But more about that tomorrow.
In 1918, Hilda returned to Melbourne Australia, and then in 1919, moved to Sydney where she set up a studio in Mosman, but she exhibited frequently in both capital cities.
The following link to Google will give you an appreciation of the scope of Hilda's work....click here......
Hilda also organised an Exhibition of Paintings and Drawings of Australian Life and Landscape to tour the provincial English galleries between February 1926 and August 1928. These idealized images of the Australian 'country, its beauty and types of virile manhood' did much to stimulate migration to Australia. 2
At age 43, on 2 June 1928, Hilda married Edgar Percy Wright, a grazier, and went to live at Knockalong station at a place called Delegate, just over the Victorian border in southern New South Wales. Her son, Barrie Rix Wright, was born in September 1930, when Hilda was 46.
From then on, Hilda concentrated on painting the people and landscapes of her rural environment, determined to celebrate 'the life and land from which our splendid men had come'. Here are some of her paintings from that time. Her style is described as having strength and vigour. I think that is true – what do you think?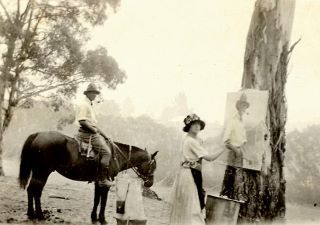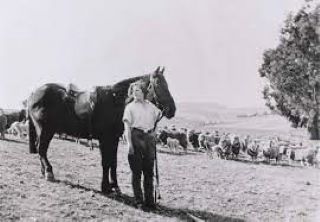 In her later years, Hilda suffered from Parkinson's disease and by the mid-1950s could no longer see to paint. She died on 3 August 1961 and was buried at the Knockalong property in New South Wales after a very productive career and life.
Tomorrow we will return to look at another aspect of Hilda's life which influenced much of her work, in addition to the beautiful images we have seen above.
Footnotes
With thanks to Wikipedia
With thanks to Female Artists in History, Facebook.