It's Frieze Week in London and if you are in London you have time to catch some of the activities before the Art Fair concludes on the 7 October.
Frieze Week describes the week in the cultural calendar when the fairs take place in London, New York and Los Angeles. Frieze Week encompasses gallery, museum and institution show openings as well as myriad collateral events taking place directly related to the fair and in an auxiliary capacity.(Frieze.com)
Here are some suggestions for places to visit.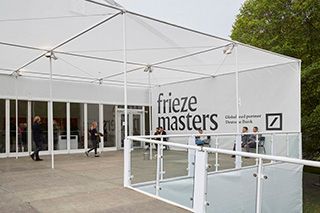 Please follow this link to 15 Must-See Gallery Shows During the Fair.
And you might enjoy this overview from The Guardian.
Sometimes I do run out of time to write a detailed blog and this is one of those days. And time was against me as the Frieze Week ends on Monday 7 October.
However, next week I will showcase some of the artists who have been on exhibition. Meantime if you are lucky enough to be in London- ENJOY!