Frank Bowling: Part Three
Whilst viewing the Frank Bowling Paintings at the Tate Britain I had to resist the desire to touch the paintings. I have never felt this about any other paintings except perhaps Jackson Pollock's Blue Poles which hangs in the National Gallery of Australia, Canberra. I have to confess I set off the security alarms when looking at Blue Poles as I stood too close. There are some paintings that elicit the same response in me as whe I see a beauitful scultpure- I want to run my hands over the surface. Frank Bowling's paintings have this effect on me.
All images unless otherwise stated are from my own photographs.
Room Seven: Water and Light
This room brings together four paintings completed in 1989.
They demonstrate Bowling's engagement with both the gestural handling and expanses of colour of abstract expressionism and with his interest in English landscape painting.
The painting below Great Thames 11 is part of a series that shows the influence of J.M.W.Turner. And don't forget, if you are visiting the Tate Britain, please take time to pay homage to Mr Turner - one of the greatest painters of all time.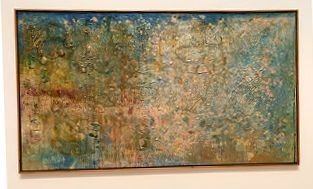 Fishes, Wishes and Uncle Jack is one of those paintings you will remmeber forever. In discussing paintings from this period, Bowling likened the quality of the light to the seascape of Guyana.
Bowling's handling of his medium can be likened to John Constable's sweeping brushstrokes and smatterings of white paint that suggest flickering light.
The Uncle Jack in the title refers to Jack O'Connell, landlord of the Finches pub in Fulham, London and father figure ot Bowling.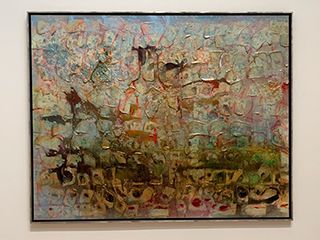 But I promised some up close and personal images and we will do these through Bowling's Sacha Jason Guyana Dreams, the surface of which is richly textured.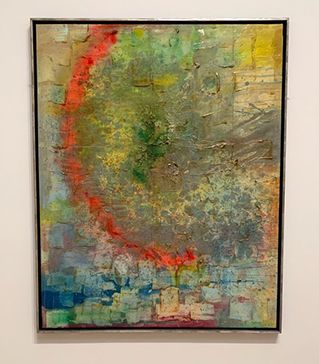 Up close you can see and feel the acrylic paint which has been mixed with gel and applied using a spatula. The intricate texture and patterns combined with the colours are amazing. As you can tell- I just love Bowling's creative genius.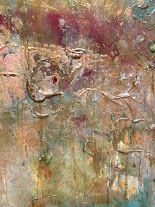 Room Eight: Layering and Stitching
In the 1990s, Bowling continued to work with acrylic paint and gel, incorporating different materials and objects into his paintings. His interest in the painting as an object prompted him to stitch canvases together. He started to attach his main canvas to brightly-coloured strips of secondary canvas, which created a border.
Three examples of this style are given below.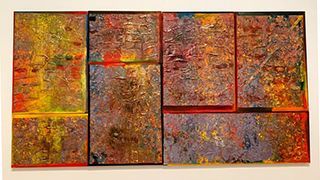 Room Nine: Explosive Experimentation
Frank Bowling is now 85 and still working every day in his London studio.
Bowling continues to experiment with techniques adopted over many decades, combining them into an infinite number of variations.

We can see washes of thin paint, poured paint, blotched paint, stencilled applications, use of acrylic gels, insertion of found objects, and stitching of different sections of canvas.
The remarkable painting below was created in 2017.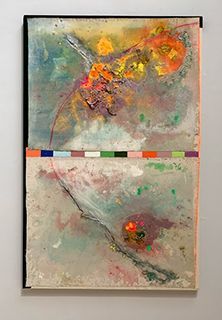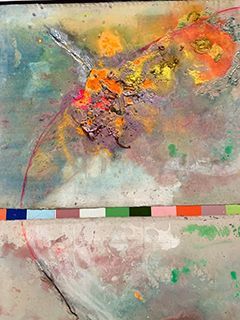 I don't know about you- but I have been seduced by these paintings.
Frank Bowling is up there with the greatest painters of all time.
Credit:
All images unless otherwise stated are from my own photographs. The notes that accompanying the images above have been taken from the Tate Britain Exhibition Booklet.