February 2022 Mailbag No 2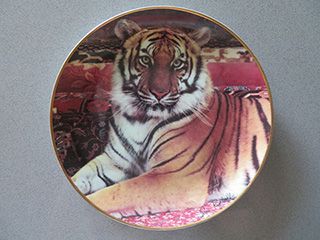 Julie sent in a beautiful reminder (above) that Chinese New Year is still being celebrated by showcasing this glorious Franklin Mint plate of The Imperial Tiger painted by Ron Kimball.
And also on a plate, from our FB Follower Soumya Kundu in Kolkata, India comes this delightful painting of Siraj-ud-Daulah the last independent Nawab of Bengal who made Nizamat Imambara in Murshidabad West Bengal in 1740.1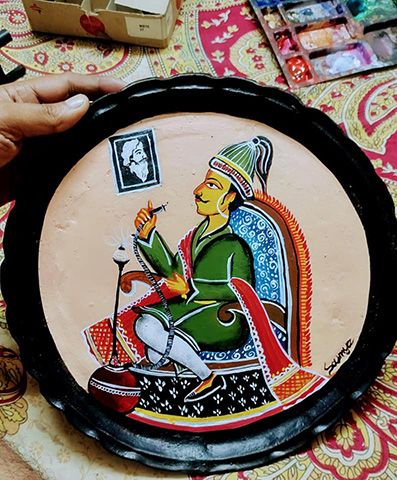 And I thought you would enjoy watching Soumya create a couple of winter scenes in watercolour one of which contains the remnants of Christmas.
And our last mailbag item today is from England where E in London wrote in response to a recent post that Rowdy Wylie and I wrote on Fences, Posts and Gates - Storyline to Country: Focus on Posts. The post featured a couple of paintings with barbed wire wound around fence posts.
E alterted me to the existence of a Barbed Wire Museum in the USA. Here is a little information about it.
The Kansas Barbed Wire Museum is a barbed wire museum located in La Crosse, Kansas, United States, known as the "Barbed Wire Capital of the World." The museum focuses on barbed wire and its history, displaying over 2,000 different forms of the wire and its history. Barbed wire played a significant role in the history of the settlement of the United States and forever changed the face of the prairie.
The museum was established in 1970 in a small storefront on Main Street in downtown La Crosse, Kansas. By 1990, the collections had grown so much that a new building was constructed adjacent to the Post Rock Museum and Rush County Historical Museum in Grass Park at the south edge of the community. In 2004, an addition was constructed on the building to house the headquarters of the Antique Barbed Wire Society and the Larry Greer Research Center. The Antique Barbed Wire Society is an international organization "committed to collecting, preserving, exhibiting, and interpreting the historical heritage of barb wire and barbed wire related items." The Larry Greer Research Center houses collections of publications related to the history of barbed wire and a complete collection of patents related to barbed wire and related items. The Kansas Barbed Wire Museum is located at 120 W. 1st Street, La Crosse, KS 67548. 1
And whilst barbed wire changed the nature of farming especially in the US and Australia where the enormous expanse of country made the management of cattle and sheep almost impossible.
But barbed wire (along with galvanised wire) has also been used in art especially sculpture. Please enjoy the short video below about a couple of Colorado artists who made a sculpture from barbed wire.
Late Mail from D. our Roving Reporter in Central Victoria who has found another photograph to celebrate local artist Peggy Shaw turning 100 on 9 January 2022.
To read about the remarkable Peggy please follow this link to Celebrating 100 years for Castlemaine artist Peggy Shaw.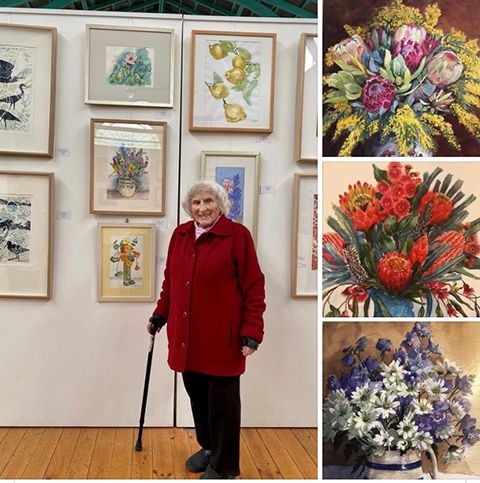 The text from the Castlemaine, Maldon and Surrounds Facebook Page reads:
One of our most prolific local artists recently turned 100. Peggy Shaw has been painting exquisite watercolours for more than half of those years, in addition to teaching and gardening like the best of them. Her artwork can be purchasaed in Castlemaine's regular Market Building Art exhibitions or on beautiful gift cards all year round. A living legend really. Well done Peggy.2
Late Mail
We also have just received a new subscriber from the USA in our mailbag -
a very warm welcome to P.F. in Massachusetts.
I've had an enquiry about how we know the country and state (if appropriate) where a new subscriber resides. When you register to be a subscriber to the AnArt4Life blog your email address includes the place where that email originates from. We use the place name so as to give some indication of the location of our subscribers.
This is also a good time to also clarify that when you see the full name of a subscriber used in a blog post it is done with the permission of the subscriber.
The welcome letter you get when you join up to be subscriber is not automated - I send it personally from my email. We value our community of subcribers enormously and thank you for your on-going support.
And a very special hello and thank you to those of you who have been with us since we launched the post in 2017. Yes we are into our fifth year of sending out a post about all things art every morning.
None of this would have been possible without the support of the wonderful team I have of - Jane, Caroline (The Keeper), Julie, Rowdy (John Wylie), John Pickup, Andrew, and the Interwebs Wizard - the remarkable Matt Cameron who tends to all the technical work behind the scene.
And a special shout out to our Facebook Book Chat Room community - we have a wonderful group of people who share each day their thoughts about our posts and also items that are on interet to them.
Credit
1. en.wikipedia.org
2. Castlemaine, Maldon and Surrounds Facebook Page