The beautiful, quintessentially British scenes of artist Paul Gribble
The February Mailbag included an item about a decorative plate of the Flying Scotsman, which was given to me by my parents following our trips on the Flying Scotsman when it came out to Australia in 1988 and 1989. It is a lovely reminder of the fun we had on those unique trips behind this iconic train (the first to reach 100 miles per hour on the trip from London to Edinburgh).
The artist of the painting on the plate is Paul Gribble, and so I decided to find out a little bit about him and his art.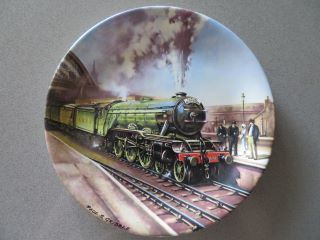 Paul Gribble was born in Bristol, England, in 1938. His talent was recognised at a very early age and as a young boy, he won various competitions for his art. His art master, recognising his talent, suggested that he apply for a place at the prestigious Royal West of England Academy of art - (The RWA). Paul sat a rigorous entrance examination and was awarded a scholarship.1
After his time at the Academy, Paul served a five year apprenticeship, qualifying as a graphic designer, studying under the highly acclaimed wild life artist Edwin Penny.1
Following a successful career as a graphic designer, Paul returned to full time painting in 1978, as there was an increasing demand for his paintings. His work covers a wide variety of subjects including beach scenes, children at play, social events, railways and sport.1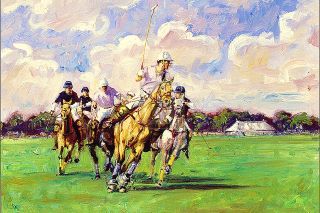 The influence of The Newlyn School is apparent in his work.1
The Newlyn School of Art is a dynamic and innovative art school situated in the heart of the famous artistic colony of Newlyn in Cornwall, a few hundred yards from where the Forbes School of Painting was run by Stanhope Forbes, the 'Father' of the Newlyn School of Painters, between 1899 and 1938.2
In some of Paul's work I can also see similarities with some of the French Impressionists, particularly Renoir, in the play of light and shadows on some of the outdoor scenes. What do you think?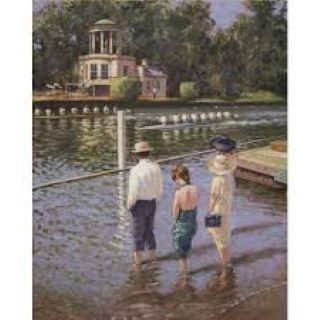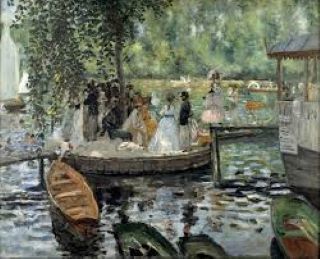 Paul has exhibited throughout Europe, the United States, the Middle and Far East. His paintings are highly sought-after and are represented in many noteworthy private collections and organizations, including a 'Red Arrows' painting, which hangs in the House of Commons. 1 (The Red Arrows are the Royal Airforce Aerobatic Team, who have been delighting crowds at flyover celebrations since 1965.)
In a recent post here, we mentioned The Mallard, the first steam train to reach 126 miles per hour, in 1938. The Mallard is also the subject of a painting by Paul Gribble as well (below), which was chosen by the contemporary rock band, Blur for the cover of their best selling album 'Modern Life is Rubbish.' 1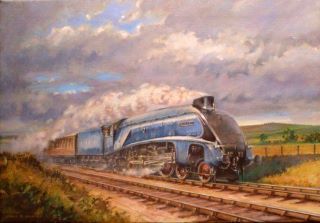 We leave you now with a sample of some of the variation in Paul Gribbles work, in this short video by AnArt4Life.........
Footnotes
With thanks to
Angela Hardy at Burlington.co.uk and Paul Gribble Art.
newlynartschool.co.uk