Falling out of Love with a Work of Art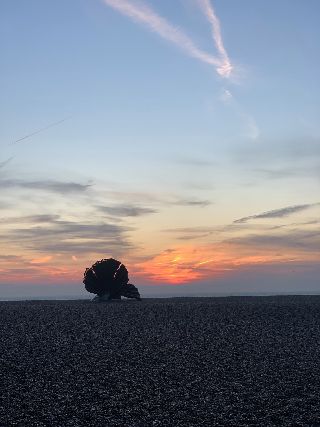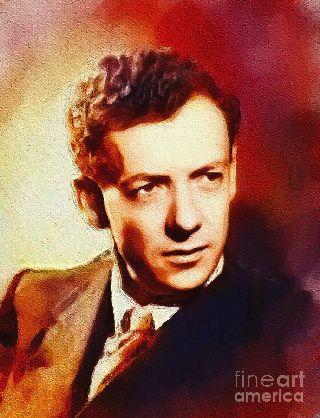 Edward Benjamin Britten, Baron Britten (1913 – 1976) was an English composer, conductor and pianist. He was a central figure of 20th-century British classical music, with a range of works including opera, other vocal music, orchestral and chamber pieces. His best-known works include the opera Peter Grimes (1945), the War Requiem (1962) and the orchestral showpiece The Young Person's Guide to the Orchestra (1945). (Wikipedia)
In a way the sculpture shown above has a similar narrative to Rachael Long's Light Boat Horse in that it was made to commemorate a significant aspect of British history: in this case a person not an animal. And there is no doubt that Benjamin Britten made an enormous contribution to the world of classical music.
The Scallop Sculpture is 13 ft (4 metres) high and made of 10mm thick stainless steel, designed to withstand 100mph winds. The sculpture consists of two, broken, interlocking scallop shells.  Cut into the rim of the upright shell are the words I hear those voices that will not be drowned from Britten's opera Peter Grimes.  The Scallop was installed in 2003.  It is rumoured to have cost around £75,000 and was paid for by donations, largely due to the fund-raising efforts of the Chairman of Adnams brewery. (bitaboutbritain.com)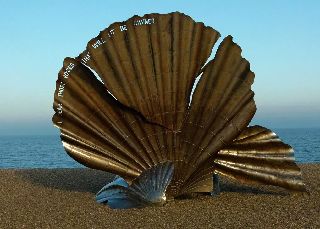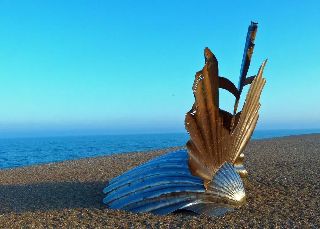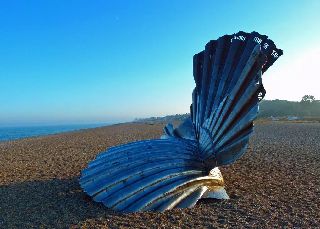 The use of stainless steel is understandable as I'm sure its creator Maggi Hambling doesn't want it to blow away. And there is no doubt that local Aldeburgh craftsmen Sam and Dennis Pegg have made a remarkable object to the artist's specifications. However I do have a problem with the colours used (bronze and silver), though the patina will no doubt weather over the years. But scallop shells are quite beautiful as is the music of Benjamin Britten so why not represent the changing melodies in the tones of colour ?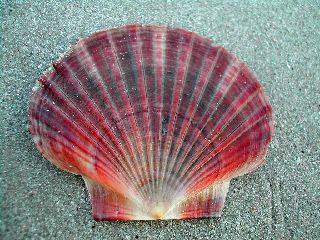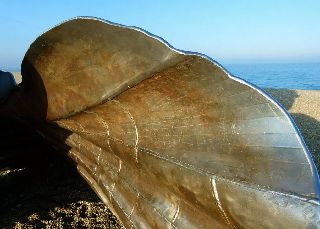 I also have a huge problem with the shell being broken. Why would you do that?
I like the words cut into the metal and the idea as the artist Maggi Hambling described it, as having a conversation with the sea. Hambling explained that An important part of my concept is that at the centre of the sculpture, where the sound of the waves and the winds are focused, a visitor may sit and contemplate the mysterious power of the sea. And this does give the work a certain harmony with its environment. (bitaboutbritain.com)
However unlike the support for the Light Boat Horse, the community of Aldeburgh, in Suffolk, is not united in their opinion about the sculpture on their beach and many want it gone from their beautiful shoreline. If we continue to consider our Congruence and Integrity test we might find out why some people don't want the Scallop Sculpture on their beach. Does it sit harmoniously and honestly on the sand in this particular environment?
Benjamin Britten lived a good deal of his life at Aldeburgh which is the reason Hambling chose this particular location to erect her memorial. From all accounts Britten frequently walked the local beach.
Regrettably however there is no connection whatsoever between scallops and the Aldeburgh beach as scallops are not found off the shores where the giant shell sits. It is an imposter to the environment. We can't tick this as an honest representation of the environment. And to be frank there is no association of scallops with Benjamin Britten at all. I'm tempted to be flippant and suggest perhaps he liked to eat them but that would expose how crass I can become! A musical instrument would have been far more appropriate in my opinion.
I have two other problems with the statue. Where it sits on the 2 mile long pristine beach is where the planes crossed when returning from World War 11, many of the pilots ditching on this shoreline. There is already in place a historical narrative which must be considered if any new element is to be introduced. I can find nothing in the sculpture that harmonises with this highly emotional and significant narrative footprint on this shoreline. And at the risk of shocking you all, sadly the scallop shell looks (to me anyway) a little like the wreckage of a plane which I find disturbing. Perhaps I'm being too brutal in my criticism. Please let me know what you think.
My final criticism is to do with my perspective on the world which is to want as much of our pristine landscape preserved without being encumbered by any modern artifacts, regardless of how artistic or how deserving. I'm an Australian so of course I'm in love with the concept of a beach. There are just some places where humans should not be allowed to leave a permanent marker. I am sure as I continue to write this blog my feelings about this issue will be challenged and I could very well change my mind.
A creative work might be beautiful in its own right but if it doesn't resonate with its surrounds the artist has failed the true definition of art.
If you would like to read a positive account of the Scallop Sculpture please check out this article.
Benjamin Britten along with singer Peter Pears and  librettist/producer Eric Crozier founded the Aldeburgh Festival in 1948. There are several statues commemorating Benjamin Britten throughout the UK.