Illustrators in the Golden Age of English Children's Books
I can't travel around England without thinking of the wonderful worlds created by the English illustrators such asErnest Howard Shepard, Randolph Caldecott, Kate Greenaway, John Tenniel and Arthur Rackham - especially those from the late 1800s to the early 1900s- The Golden Age of Children's Illustrated Books. It doesn't matter where you were raised, most of us had a literary diet which included books these artists helped to create. Sadly sometimes the illustrator's name has been lost in the fame of the writer. Some of you will be saying, "Who is John Tenniel?" You might be surprised to know he was the illustrator who helped bring Lewis Carroll's Alice series to us.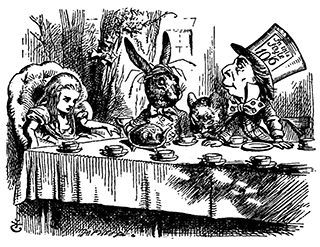 (Credit: Medium)
There is of course a strong connection between Cornwall where I have just visited and English writers. I stayed in Flowey for two days- the home of Daphne du Maurier and before this I had two nights in Falmouth where Kenneth Grahame commenced writing the Wind in the Willows for his son which was first published in 1908. In fact Cornwall features greatly in the stories about the four anthropomorphised animals- Mole, Rat (a European water vole), Toad, and Badger. We even went past Fowey Hall which is purported to be the building that Toad Hall was based on.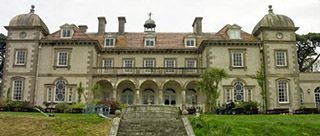 (Credit: Trip Advisor)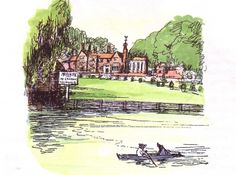 (Pinterest)
Ernest Howard Shepard (1879–1976) is probably the best known of the illustrators of the Wind in the Willows. In 2016 one of his illustrations of Ratty and Mole (below) sold for more than £15,000.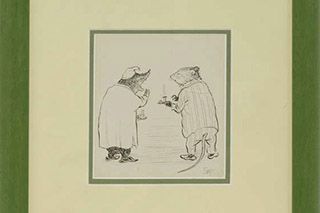 (Credit: getsurrey.co.uk)
Here are three of Shepard's sketches for Wind in the Willows.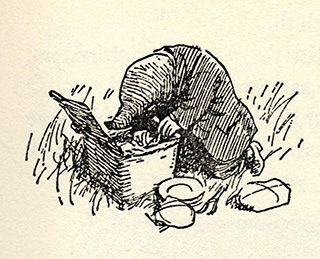 And of course, Shepard also illustrated A.A. Milne's Winnie the Pooh.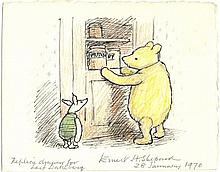 Randolph Caldecott (1846-1886) is one of my favourite English illustrators and at one time I collected prints of his works.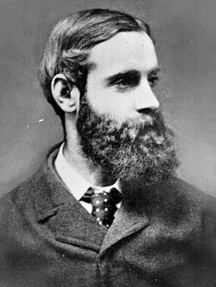 (Credit: Wikipedia)
Caldecott, born in Chester, greatly influenced the illustration of children's books during the nineteenth century and the Randolph Caldecott Medal is annually presented for the most distinguished American picture book for children, beginning with 1937 publications.
Caldecott also illustrated novels and accounts of foreign travel, made humorous drawings depicting hunting and fashionable life, drew cartoons and made sketches of the Houses of Parliament inside and out. In addition to all of this he exhibited sculptures and paintings in oil and watercolour in the Royal Academy and galleries. (Wikipedia)
Here is a selection of the range of his illustrations and as I am in the English countryside at the moment it seemed appropriate to commence with Caldecott's Three Jolly Huntsmen followed by other examples of his vast range of subjects.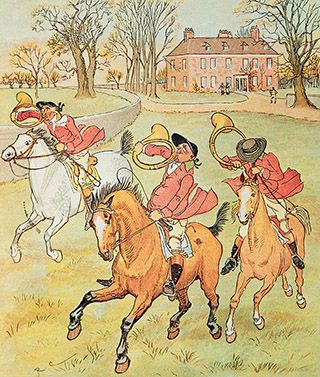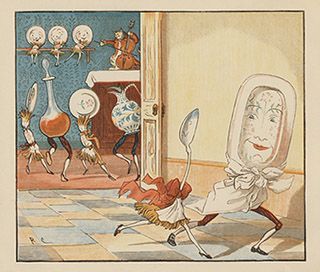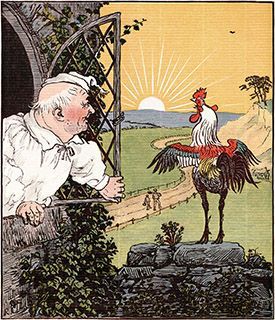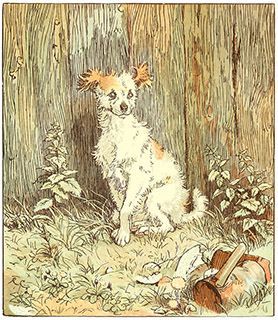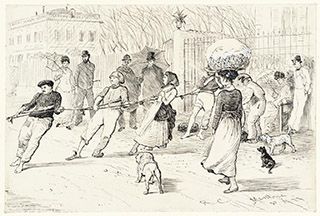 Now let's us look at some of the works of Kate Greenaway who like Caldecott has a medal awarded in memory of her illustrious career. The CILIP Kate Greenaway Medal was established in 1955 for distinguished illustration in a children's book.
Catherine Greenaway (1846–1901) received her education in graphic design and art between 1858 and 1871 from South Kensington School of Art, the Royal Female School of Art, and the Slade School of Fine Art. She began her career designing for the burgeoning holiday card market, producing Christmas and Valentine's cards. In 1879 wood-block engraver and printer, Edmund Evans, printed Under the Window, an instant best-seller, which established her reputation.The depictions of children in imaginary 18th-century costumes in a Queen Anne style were extremely popular in England and internationally, sparking the Kate Greenaway style.(Wikipedia)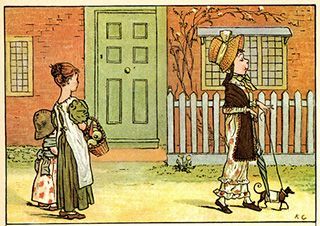 Arthur Rackham (1867–1939) is recognized as one of the leading literary figures during the Golden Age of British book illustration. His work is noted for its robust pen and ink drawings, which were combined with the use of watercolour. Rackham's 51 color pieces for the Early American tale became a turning point in the production of books since - through color-separated printing - it featured the accurate reproduction of color artwork. Some of his best-known works include the illustrations for Rip Van Winkle, Peter Pan in Kensington Gardens, the Fairy Tales of the Brothers Grimm and I have also learnt recently that he did illustrations for one of the editions of The Wind in the Willows by Kenneth Grahame.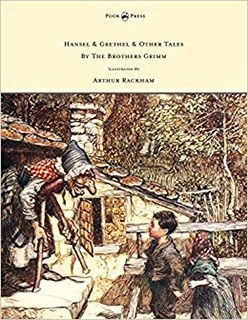 For further information you might like to read Golden Age of Children's Illustrated Books.
Tomorrow Caroline is going to take us into the world of Pixie Harris who brought much joy to children and especially those who were suffering ill health.