Debby Kirby: innovative & inspirational
Whilst I was in the UK on holiday I was introduced to a new and exciting artist who is engaged in an art form we haven't showcased before. I would like you to meet Debby Kirby who is a silk weaver from Dorset in England.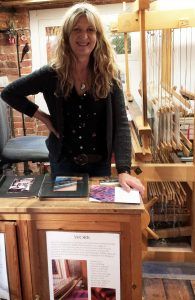 In 1983 Debby graduated from the West Surrey College of Art, with a degree in woven textiles. She started selling her scarves through a number of London's leading retailers including Liberty & Co, Fortnum & Mason and since then she has exhibited widely throughout the UK.1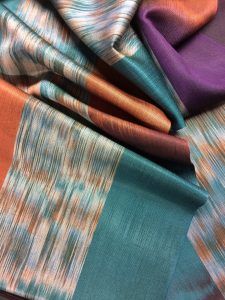 Debby's inspiration comes from many sources: architecture, skylines, colour in both nature and in the modern world.1
As you can imagine the creative process to produce these wonderful art products is complicated and involves many stages.
Below are examples of Debby's beautiful hand painted and screen printed paper images.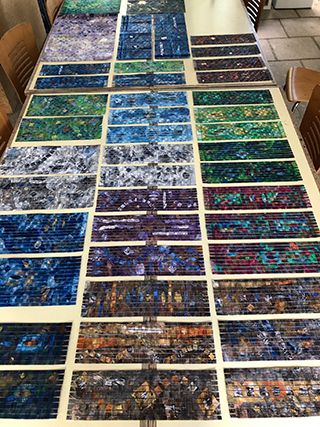 Debby has developed a method of screen printing handmade paper and weaving it through silk, using design in a more abstract style, playing with dimensions and non-representational shapes.1
Paper is collaged, decorated and gilded before cutting it into strips and woven through coloured silks on the loom. The silk and paper woven work allows Debby to pursue her love of colour and design to create pieces of art for the walls, windows and interior decoration. This technique works equally well on smaller pieces such as framed pictures as well as large scale wall hangings, screens and room dividers.1
Dimensions are specific to each piece, with a maximum width of 90cm and no restrictions on length. The pieces are fade resistant in sunlight and durable in their construction.1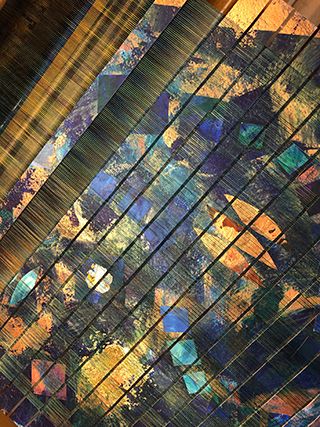 More representational works (as shown below) are also produced from photographs taken by Debby's husband Jez Randell which are then printed on to watercolour paper, and woven through silk threads dyed to complement each image which is only used once. The unique process used is the same as used to produce the more abstract works shown above. 2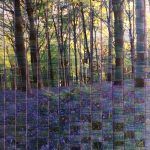 Using the ideas gained from architecture, skylines, colour in both nature and in the modern world Debby sketches out her designs to calculate the quantity of silk threads needed. She then winds the silk to the required length – up to 250ft of silk can be needed to weave a run of scarves – the silk threads are then dyed using colour and lightfast acid dyes. 1
The silk is immersed in to the dye and simmered until the intensity of the colour is to Debby's design. The threads are plaited and tied to create distinctive layers. This way of dyeing, almost painterly in effect, ensures that no two lengths of silk will be the same. 1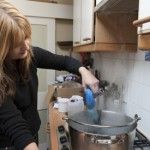 The woven silk is very fine in texture, on average 100 threads are used per inch. Each strand has to be threaded individually on to the loom before the weaving can begin and a hand woven scarf can take up to two hours to weave. In addition to this, however, the preparation for every length of silk can take up to two days.1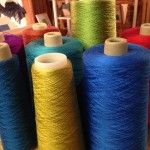 Aren't the colours just amazing? The contrasting brilliance with the subtly of nature is so alluring and if you listen carefully you can hear Debby Kirby's colours sing to you!
Apart from the Wall Hangings and Pictures and the Scarves Debbie produces Jewellery in collaboration with Caroline Parrott.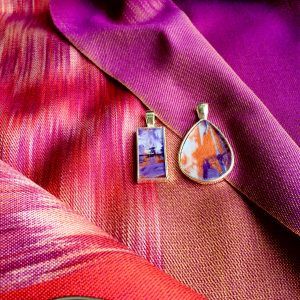 Debby and Caroline regularly create collections of beautifully vibrant resin and paper jewellery. Debby's abstract paintings, created especially for the jewellery, are cast in resin and attached to sterling silver findings.1
And from every run of silk scarves on the loom, Debby weaves extra pieces, which are then transformed into a lovely range of one-off purses, mobile phone cases, spectacle cases and bags. Aren't they just super? So appealing to all tastes and purposes.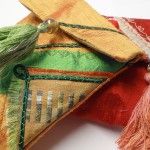 And who wouldn't love to purchase a quirky Bow Tie for the beloved in their life - or for yourself of course?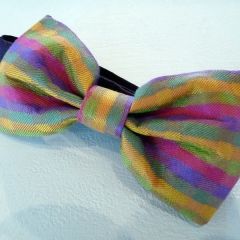 Debby offers two styles of bow tie, pre-tied and tie yourself. The tie yourself range are made in such a way that the ends of the bow can be tied in up to 8 different colour combinations!1 And you will be relieved to know that each bow tie comes with tying instructions!
For more information about Debby and to see more examples of her innovative and inspirational works please go to the website for Debby Kirby.
If you are interested you can also follow Debby on Facebook or Twitter.
And for those of you who live in England perhaps you might be able to call in at the Walford Mill in Dorset to view Debby's textile collections first hand. Walford Mill has the works of many artists on show and for purchase
© Thank you to Debby Kirby who kindly gave permission for the images of her work to be shared on AnArt4Life.
Credit
1. debbykirby.co.uk/about
2. Correspondence with Debby Kirby