David Zinn .... charming chalk art
Anne introduced us to the fun street art of Michigan (USA) chalk artist David Zinn through a video showcasing his work included in the July 2020 Mailbag: click here.
David can see pictures just about anywhere around him - in the cracks of paths, in missing bricks, manhole covers or tree stumps! He draws for the sheer fun of creating and bringing pleasure to people, and then his pictures wash away in the next shower of rain!
His skill in creating three dimensional pictures on a two dimensional surface is quite incredible!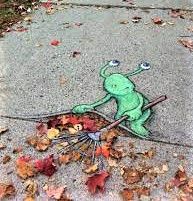 David commented in the video (link above) about the value of art, in whatever form that takes, particularly during covid times. He said:
"All creativity is good for the soul" and "Science is how we solve problems, but art is how we cope with them."
Let's spend a relaxing few minutes looking at David's latest offering of fun and so very clever chalk drawings: