Enjoying more Folk Art from North Carolina with Benny Carter
To complete our posts on Folk Art in North Carolina, today I am going to show you some of the paintings created by Binford Taylor Carter, Jr., known as Benny Carter (1943-2014).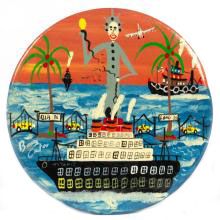 This painting (above) is only 3¼" in diameter. The detail is amazing. The painting was done on a pin-back button - a button that you attach to your clothing with a safety pin. Although tiny, I love this painting with Benny Carter's interpretation of the Statue of Liberty dominating, with the Ocean Liner, the scene. To be able to wear on your lapel a representation of a history that is so close to many of us is wonderful.
I am a fourth generation Australian but many of my English family migrated to America and as recently as the early C20th all of my maternal grandfather's siblings migrated to American and made their lives in California.
Benny has captured in miniature a significant moment in personal family history. And this is what folk artists do.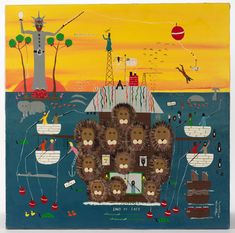 The Statue of Liberty appears again in Benny Carter's oil painting Land at Last (above) which shows Noah's Ark approaching the shore of New York which I find delightful.
Although a North Carolina boy, Benny painted many scenes of New York in his later life featuring skylines, taxi cabs, and the Statue of Liberty as a favourite. He created a collection of work depicting New York City after the September 11 attacks, featuring scenes of the attack and memorials to the victims.2
Below two more Carter interpretations of the Statue of Liberty and note that the one on the right is wearing pin-back buttons!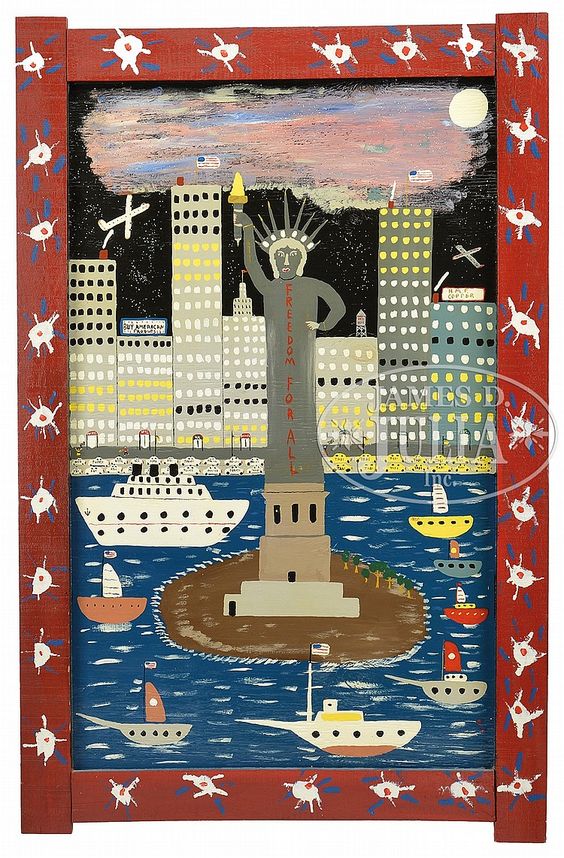 Benny Carter is known as a painter and sculptor within the genres of folk art and outsider art.❁
Carter, who was suffering from depression, began painting in 1991 after he lost his job at Halstead Metal Products due to a layoff. The subjects of his work included waterfront landscapes, Biblical stories, and farm landscapes. Carter also designed birdhouses, clocks, totems, and metal sculptures. Carter's work was influenced by his Baptist upbringing, including a painting that depicted Elvis Presley and Dolly Parton as Adam and Eve, and a series of portraits depicting Jesus as African-American. He also painted a series of portraits depicting the Statue of Liberty as an African-American woman. 2
It would appear from the examples of his works that I located on the internet that although Benny Carter lived in North Carolina his heart was in New York.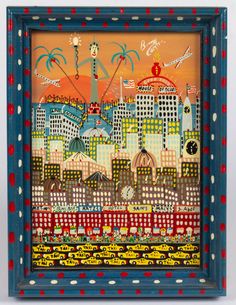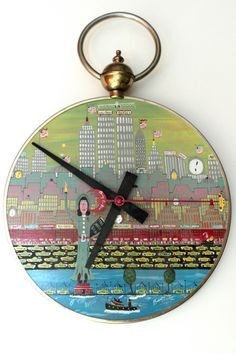 I have found some examples of his whimsical bird houses a reminder that much of folk art continues to marry function with creativity.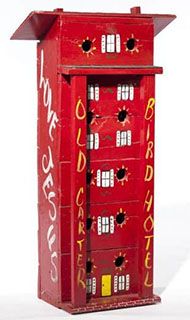 ❁ Outsider art is art by self-taught or naïve art makers. Typically, those labeled as outsider artists have little or no contact with the mainstream art world or art institutions...Often, outsider art illustrates extreme mental states, unconventional ideas, or elaborate fantasy worlds.
The term outsider art was coined by art critic Roger Cardinal in 1972 as an English synonym for art brut, ("raw art" or "rough art"), a label created by French artist Jean Dubuffet to describe art created outside the boundaries of official culture; Dubuffet focused particularly on art by those on the outside of the established art scene, using as examples psychiatric hospital patients and children.
Outsider art has emerged as a successful art marketing category; an annual Outsider Art Fair has taken place in New York since 1993, and there are at least two regularly published journals dedicated to the subject. The term is sometimes misapplied as a catch-all marketing label for art created by people who are outside the mainstream "art world" or "art gallery system", regardless of their circumstances or the content of their work.2
Credits
1. invaluable.com
2. en.wikipedia.org
3. pinterst.au