Boxes for Boxing Day 2021
Boxing Day is a holiday celebrated the day after Christmas Day, occurring on the second day of Christmastide. Though it originated as a holiday to give gifts to the poor, today Boxing Day is primarily known as a shopping holiday. It originated in the United Kingdom and is celebrated in a number of countries that previously formed part of the British Empire. Boxing Day is on 26 December, although the attached bank holiday or public holiday may take place either on that day or one or two days later (if necessary to ensure it falls on a weekday). Boxing Day is also concurrent with the Christian holiday Saint Stephen's Day. 1
But today - no shopping- instead I have decided to show you the collection of boxes I have in my home from the large to the very small. Each box holds a story which as Kate Mears reminded us when we looked at her watercolour paintings recently - objects and their history are so important ... and so often have an interesting story attached.
Let me show you some of my boxes commencing with the largest.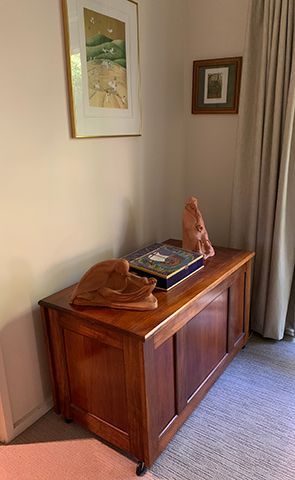 This beautiful Glory Box was made by my father as a wedding gift to my mother some 86 years ago. The wood used is Australian blackwood. It is very special because it represents the love my parents maintained for each other throughout their lives and also represents the wonderful craftsmanship of my father's woodwork skills.
You will notice that there is a smaller box on top on the Glory Box so let us have a look at this and two more I have that are similar. This is a wooden craft box I painted for a friend who was a medieval enthusiast - I chose to reproduce a page from a medieval manuscript featuring the C12th romance between Tristan and Iseult.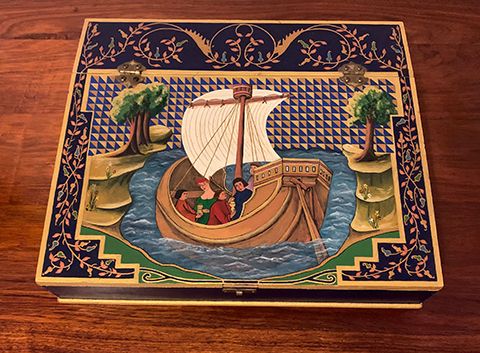 I painted each of these wooden craft boxes (two more below) as gifts for family and friends when I was first experimenting with learning to paint about 50 years ago. The two below represent, on the left, an imaginary English scene with thatched cottages and the one on the right, a scene from Central Victoria featuring miners' cottages.
Sadly all three boxes have come back to me as their owners have died so they remain very treasured. The images on the boxes represent my early attempts to paint - and to use paintings to tell a story which is the main characteristic of a composition done in a naive style.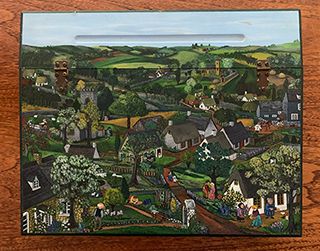 I have always been interested in naive art and folk art and at one time I collected American folk art. Below are three boxes from this period.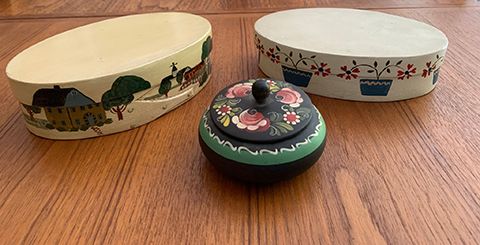 My love of boxes is closely attached to my love of wood - encouraged and enhanced by my father who worked in wood all his life. My favourite wooden box is undoubtedly my mother's Tunbridge Ware Victorian Sewing box.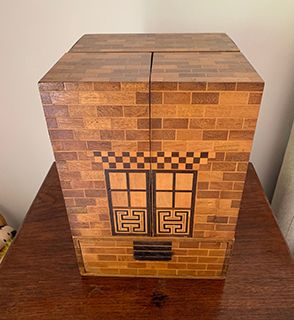 I also own a Victorian writing box which I find amusing as I can't imagine carting this rather heavy box about but then no doubt the servants carried it!! And was this any different to the way we carry our ipads, laptops, etc about today?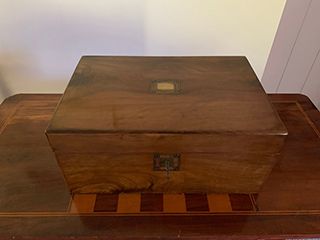 Below I can show you a beautiful wooden box to hold my chess set (top left below), a tiny music box made from Australian wood (top right), a handcrafted box made from Jarrah and Silky Oak by Robert Miller, Melbourne, and the smallest box - the tiny box on the right (bottom row) is a Tunbridge Ware stamp box.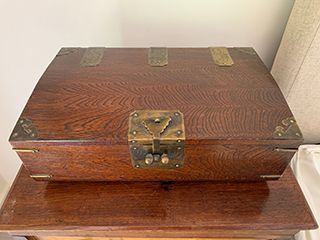 The most beautiful of the painted boxes must surely be those with a Russian origin. I have two in my collection. Regrettably I don't know anything about their history and so please if anyone can add any details I would be most appreciative.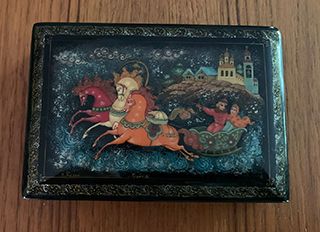 We sometimes forget that some boxes are made from pottery, china ware and glass. My two favourites in this group are - the one featuring L.S.Lowry images which I purchased from the Salford Museum & Art Gallery many years ago (top row left). My other treasured china ware box is a hand painted Staffordshire Enamels trinket box just a little over 2cms high and featuring penguins (top row centre).
Included below is also a box made by Peter Minko, a potter at the Bendigo Pottery. This has a special place because not only is it my birth home but one of my great uncles was a potter at this pottery. In the middle row we have on the left a Wedgewood box, a pretty glass box featuring a robin in the centre and on the right a Royal Doulton box made to celebrate the millennium. And on the bottom row a Berta Hummel ware box which was a line of Hummel ware was produced in Asia and less expensive than the official M. I. Hummel. And finally on the bottom row right is a small porcelain box again made by Peter Minko from the Bendigo Pottery.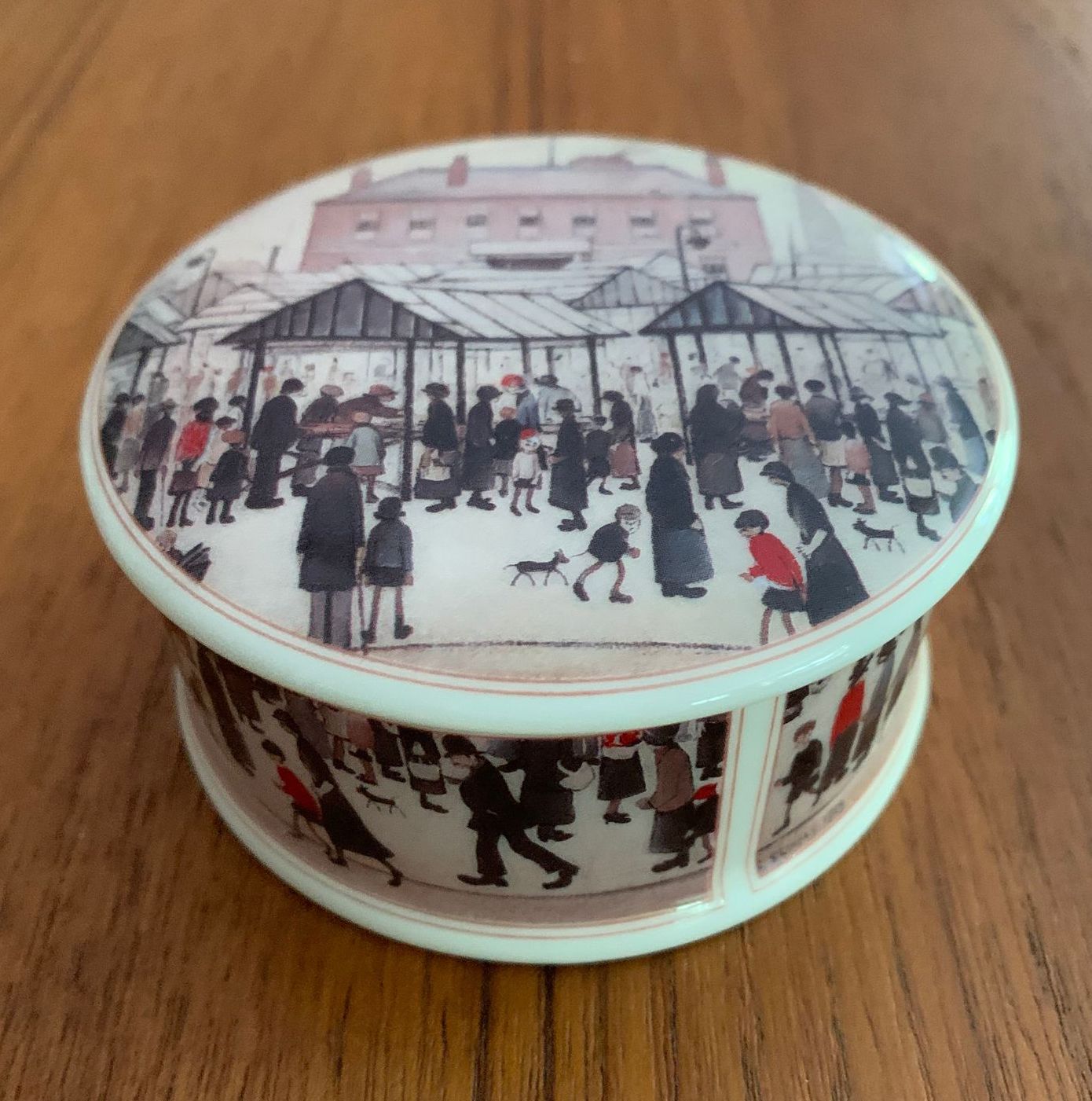 Finally, a collection of metal boxes (below) which includes a Michaela Frey pill box - top row left. Michaela Frey was an Austrian designer of jewellery and other small objects such as my box.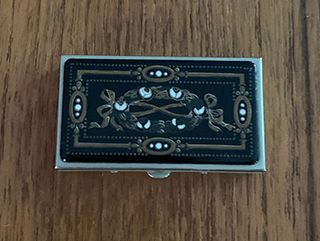 ---
If you have a collection you would like us to showcase on the AnArt4Life blog please email me with images to hello@anart4life.com. You can also leave a comment below describing one of your favourite objects. Or if you have any additional information about any of my boxes please leave a comment.
Credit
1. en.wikipedia.org