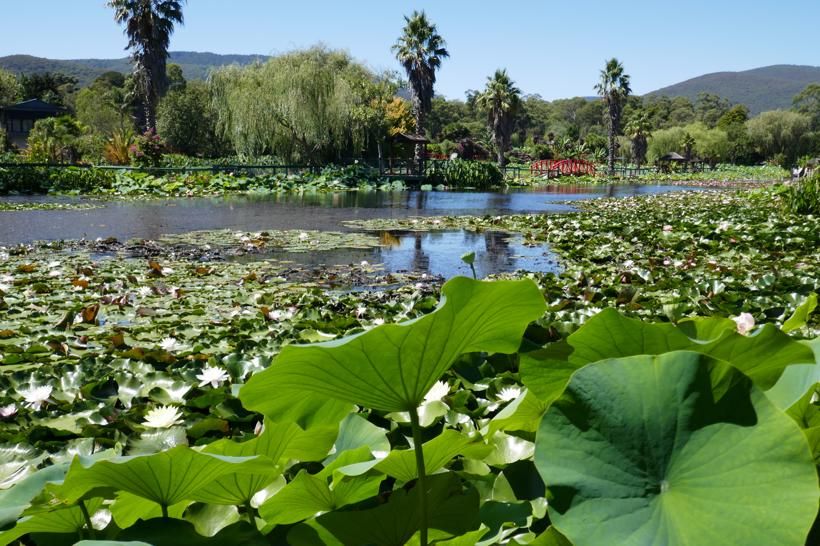 The Blue Lotus Water Gardens is nestled in the foothills of the Yarra Valley on the outskirts of Melbourne covering 14 acres with magnificent ponds and gardens features a range of waterlilies and lotus plants.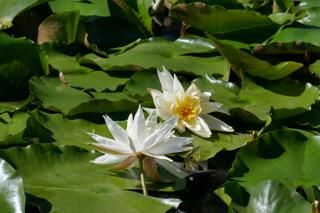 Owned by the Cochrane family for over 50 years it was originally developed as a market garden before they decided to diversify in 1990s. The conditions were perfect for commercial crops of waterlilies and lotus flowers and in the early 2000s Geoff Cochrane started landscaping the lakes and ponds.
Today the gardens are home to over 100 varieties of temperate (hardy) and 50+ tropical waterlilies along with 4 types of lake lotus and over 50 varieties of medium, small and miniature lotus.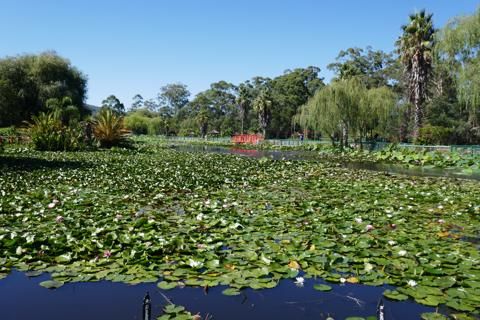 The Monet pond, named in honour of Claude Monet is the largest with a collection of 11 varieties of temperate water lilies bred by Joseph Letour Marliac - one of the original breeders of water lilies in the world).
Claude Monet and Joseph met at the 1889 world fair in Paris where Marliac had a display of new varieties of water lilies he had bred.
Monet was so impressed by the water flowers the meeting inspired him to build the famous waterlily water garden at Giverny, near Paris in France includes five of the seven original water lilies Claude Monet painted in his famous garden at Giverny, France.1

Monet was quoted as saying:
It took me a long time to understand my waterlilies. I had planted them for the pure pleasure of it and grew them without thinking of painting them. You don't absorb a landscape in a day and then all of a sudden. I had a revelation of enchantment of my pond. I took up my palate and since then I have had no other motive.
He painted waterlilies from that point on and produced over 250 canvasses featuring waterlilies. His most valued work The Grande Decorations completed towards of his life were donated to the state. These grand masterpieces are now on permanent show at The Orangerie museum in Paris, feature 22 large panels, each 22 feet long and 6.5 feet wide. 1
I had the pleasure of seeing these on 2 visits to Paris - the paintings are completely mesmerising and an incredible achievement.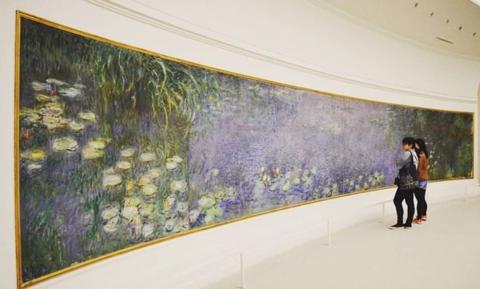 The gardens also include tropical water lilies bred by Charles Winch, one of the worlds foremost breeders of tropical waterlilies. For over 70 years he bred around 600 different hybrid waterlilies at his property in New South Wales.
His tropical hybrids are signified by large colourful flowers and amazing for variegated leaves. One of these waterlilies featured below is the Blue Aster, which was named waterlily of the year in 2005 by the International Waterlily and Water Gardening society.
The Giant Victoria Waterlily is one of the largest. The leaves are large and can reach over 2m in diameter. They may look tough but the leaves are delicate and can be easily damaged.1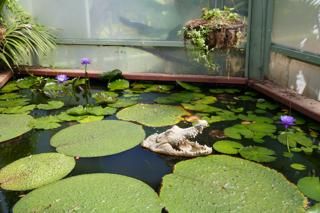 Lotus have been on earth for thousands of years and one pond contains the ancient Oga Lotus named after Japanese botanist Dr Ichiro Oga, who discovered the seeds during an archaeological dig in Japan. The seeds were located about 7M underground and carbon dated to be 2000 years old - the oldest known Lotus and flowering plant in the world.
Dr Oga germinated the seed and planted it at the Chiba Prefecture Agricultural Laboratory where it bloomed in the following July.
The Blue Lotus Water Gardens is a working farm harvesting up to 3000 lotus green seed pods and up to 1500 flowering buds per week and the main supplier of pods and flowers for ornamental purposes in flower arrangements to the wholesale flower markets in Melbourne and Sydney, between December and April. Over 95% of seed found in the pods are hollow and not viable.1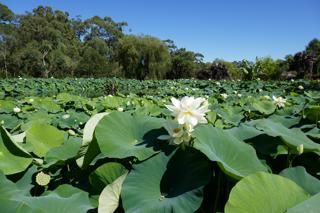 Join me on a stroll meandering past ponds and lagoons viewing hundreds of varieties of waterlilies and lotus plants, considered to be sacred to the Buddhist and Hindu communities used as offerings in temples and at festivals around the world.
If you live near Melbourne or are visitng the gardens are open from December to April.
Late Mail
Amd what a beautiful post to welcome in our newest subscriber - B.C. in Columbia, USA - we are delighted to have you join our online community and to share our love of all things art.
Credits
1. Details taken from the information boards at the Blue Lotus Water Gardens
2. viator.com