Everyone would be familiar with the Tour de France, the men's cycling race which commenced in 1903 and takes place over 21 days in various locations mainly in France. This race solidified the popularity of the bicycle which I will talk about in detail a little later.
Perhaps not so many are familiar with La Course by Le Tour de France the Women's race, a one-day race over approximately 96kms. This year Jane and I were riveted to see if the Dutchies would again take out the event.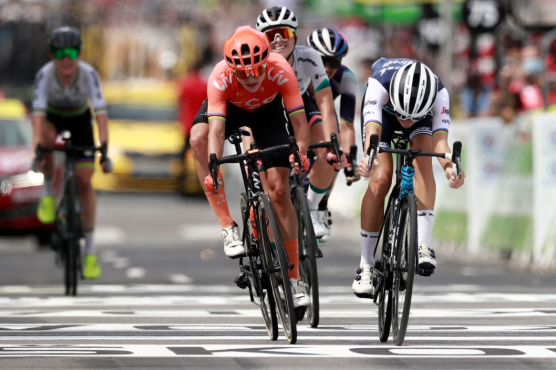 However, this year in beautiful Nice, Lizzie Deignan pipped Marianne Vos at the finishing line and as the photo above shows, it is by about one tyre tread! Alas, we were not to hear the "Wilhelmuss" the Dutch Anthem this year.
This race piqued my interest to find out more about the history of Women and the impact of the bicycle.
Around the 1890s cycling became immensely popular with both men and especially with women due to the advent of "The safety bike". This bike had a diamond shape frame, both wheels were of equal size, included the "Simpson Chain" and pneumatic tyres developed by J.B. Dunlop. The short clip below highlights the development of the bicycle from the early 1800s. Listen closely, many of the commentator's comments are quite funny… 'with a saddle like a shoulder of mutton'.
As it became safer and less expensive to own, the bicycle became the mainstream transportation tool for everyday use. For women, it also gave them new found freedom of movement. The previous generation of Victorian women were culturally expected to stay at home.
The bicycle afforded women an accepted way to be outside as part of society including when it came to business and politics. Through simple mobility, the bicycle also helped to accelerate many women's rights.
It's not surprising that many members of the women's suffrage movement were also bicycle riders. Bicycles gave the suffragettes independence of movement without chaperones. Women became more aware of the public climate and could meet each other freely to socialize as well as to organize.
Women's rights activist, Susan B. Anthony (1820-1906), said it best:
Let me tell you what I think of bicycling. I think it has done more to emancipate women than anything else in the world. It gives women a feeling of freedom and self-reliance. I stand and rejoice every time I see a woman ride by on a wheel — the picture of free, untrammeled womanhood.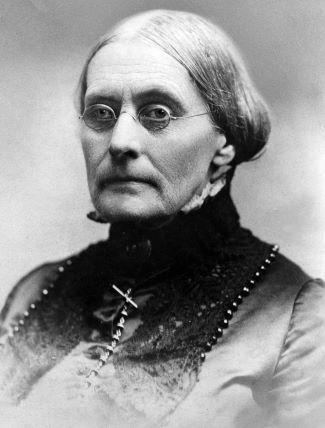 And now I want to highlight two incredibly famous women from around the 1890s, not widely known as 'cyclists' but who both were obviously in love with their bicycles.
ANNIE OAKLEY (1860 - 1926)
The famous American sharpshooter, Annie Oakley, was a big fan of the bicycle, or 'the wheel' as it was called at the time. Known for her performances in Buffalo Bill's Wild West show, Annie Oakley did not just shoot while riding horseback; she also taught herself to ride a bike without touching the handlebars in order to hit targets. (Photos and text courtesy worldbicyclerelief.org)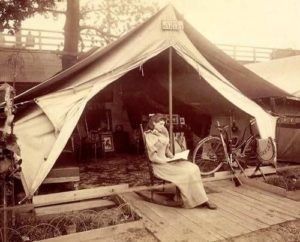 In 1892, this quote expressed Annie's enthusiasm:
"I am delighted with my wheel. I am equally as fond of it as my horse."  
In the picture below, Annie Oakley rides The Sterling Bicycle which was a 19th century American fixed gear safety bike, made by Sterling Bicycle Co. 'The Sterling has incredible craftsmanship and was known and sold as the Bicycle built like a watch'. Text credit: luxlow.com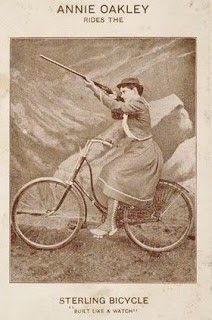 MARIE CURIE (1867-1934)
Most will know Marie Sklodowska as Marie or Madam Curie who discovered radioactivity and together with her husband Pierre, the radioactive elements polonium and radium while working with the mineral pitchblende. Credit photo below © Nationaal Archief of the Netherlands.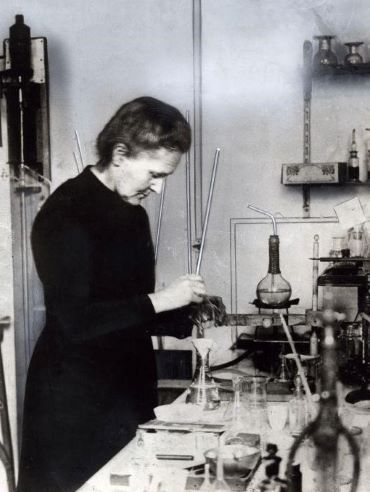 After Pierre's death, Marie championed the use of portable X-rays in the field during WW1 and these medical vehicles earned the nickname "Little Curies". Marie borrowed Renault trucks from rich people, installed the X-ray machines and then taught 150 women how to take x-rays, resulting in thousands of soldiers being X-rayed.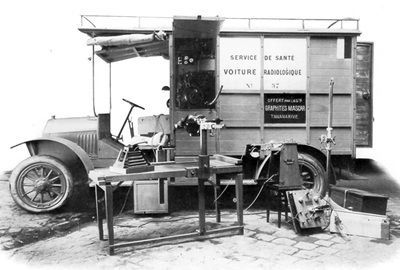 In 1903 Marie Curie was the first woman to win a Nobel Prize
In 1911 Marie Curie became the first person to win two Nobel Prizes
Curie's daughter Irene won a Nobel prize in chemistry in 1935
text and facts courtesy - The biography.com
In 2014, my partner and I explored the The Musée Curie and loved the fact that in the gardens, in a unique way, they pay homage to female scientists throughout the decades. Featuring a very large picture on one side and the biography on the reverse side.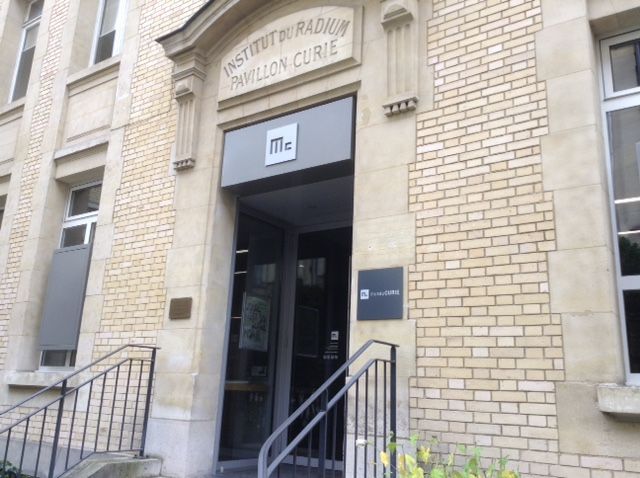 I can hear some saying, well this is very interesting about Marie Curie, but what does she have to do with bicycles, well, the answer lies below.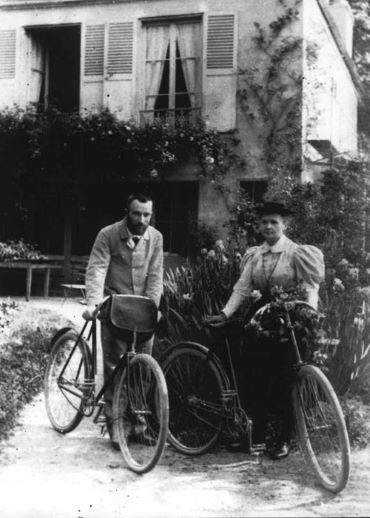 In the book Madame Curie, A Biography, authored by her daughter Eve Curie, there is a photo shown above of Marie with her husband Pierre. An excerpt from the book gives the photo a wonderful context.
"Marie loved the idea of her wedding, which was to be, in every detail of the great day, different from all other weddings. There would be no white dress, no gold ring, no "wedding breakfast". There would be no religious ceremony: Pierre was a freethinker and Marie, for a long time past, had ceased the practice of religion. There were no lawyers necessary, as the marriage pair possessed nothing in the world -- nothing but two glittering bicycles, bought the day before with money sent as a present from a cousin, with which they were going to roam the countryside in the coming summer".
I love the thought of Marie and Pierre leaving the laboratory behind to 'roam the country side' with their glittering bicycles, a simple photo and paragraph providing a personal glimpse of their life together.
Tomorrow we will take look at bicycle posters of this era including one from a famous artist more well known for his theatrical posters. Any guesses?
You will also meet an amazing woman: the world record-setting cyclist Hélène Dutrieu nicknamed "The Human Arrow".