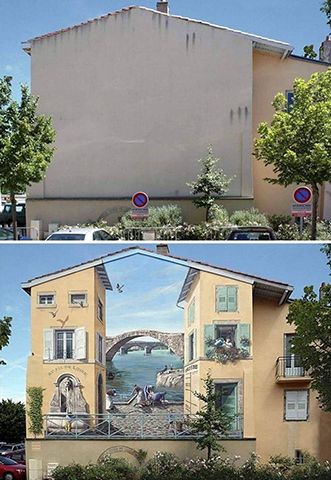 Who doesn't love wall art? One of our Facebook Followers reminded me of this lately with this great example of what can be done to improve a boring wall.
I think all boring walls the world over, should be given to artists to transform into something beautiful, interesting, or even provocative.
If you have a favourite example of wall art please send it to for our September Mailbag - the email to use when you want to communicate with anyone on the AnArt4Life blog team is [email protected].
Our roving art reporter in Central Victoria - D in Bendigo - sent in notice of a forthcoming exhibition, lecture and workshop exploring the drawings of Brett Whiteley and the significance of drawings to his oeuvre. If you are interested in seeing Drawing is Everything please check out possible opening dates due to the rolling lockdowns we are experiencing here in Victoria at the moment. Here is the link to the Bendigo Art Gallery.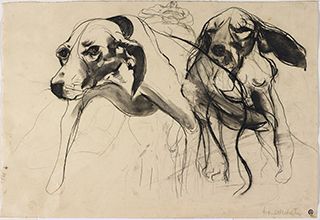 From Rowdy Wylie in Port Elliot, South Australia a lovely response to our posts on artist Troy Quinliven.
What an absolutely amazing and very special post & story about the very creative & talented Artist - Troy Quinliven… covering his life's journey where he experienced much personal loss & grief while living with a disability... & accomplishing outstanding portrait art works. Troy's portraits were inspired by his life's journey & so creative... each unique portrait that Troy painted… projects interesting facial expressions…..full of emotion & character… which encourages the observer to seek out the figures background life story…… (love the "Happy Hour" Portraits!!)... A "huge" congratulations & "heart felt" thanks to Anne the GAALS Team & especially "Master Artist" - Kevin McKay for sharing the inspiring story about his very dear friend & "Brother of the Brush"……… Artist - Troy Quinliven …. JW…
From Tendai Makufa in South Africa a link to meet 13 featured artists from across the globe. From South Africa to Ireland and South Carolina to California and many other places, these artists share inspiration and their artwork.
The combination of art work is intriguing. From whimsical to magical and expressive and deep, the art captures thoughts, moments in time and helps many of the artists to relieve stress.3
From Jane-
The Sulman prize this year was so vibrant, the colours and style, especially of the background, but also the abstract approach to the figures reminded me of John Pickup's work. The painting by Jude Ray has so much detail and not only is it similar to Bruegel but also Bob Marchant's Easter Show, all exceptionally detailed. Bob's work covers so many styles, the Bradman painting historically significant with the hand written note at the top. My favourite is the Remembrance Day painting - subdued colours and so many well rendered figures and just one lady looking out to the viewer, aptly selling poppies. The flags add an element of movement, to what would otherwise be a static image.
And now to India where our subscriber Soumya will conclude our mailbag with one of his videos demonstrating his painting in celebration of Rath Yatra 2021 which this year was celebrated on 12 July. Rath Yatra is one of the biggest Hindu festival and it's organized every year at famous Jagannatha temple in Puri, Odisha, India.4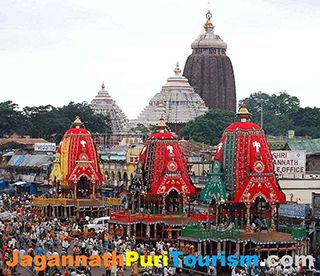 Credits
1. facebook.com
2. bendigoregion.com.au/bendigo-art-gallery
3. artanddesigninspiration.com
4. timesofindia.indiatimes.com