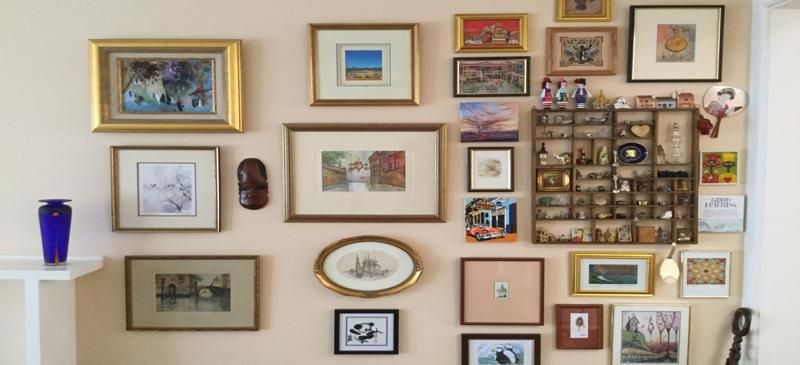 While spending more time at home, I've been enjoying the art works that decorate my own walls. None have any significant monetary value, however each has a story to tell - a memory of chatting with an artist at their stall in a local market, a visit to a studio or interesting shop; some handed down through my family and hold a special place in my heart.
Today I share with you some of my treasures and why they are special to me.
Regular subscribers would know one of my favourite artists is Vincent Van Gogh. I've had the pleasure of viewing many of his works when visiting the Musee D'Orsay in Paris, the Van Gogh Museum in Amsterdam several times and also the Kroller Muller Museum in southern holland near the town of Apeldoorn, close to the home of the Dutch Royal Family.
When I toured Vietnam in 2001 I passed a workshop in Ho Chi Minh city, where talented artists were painting copies of works by famous artists.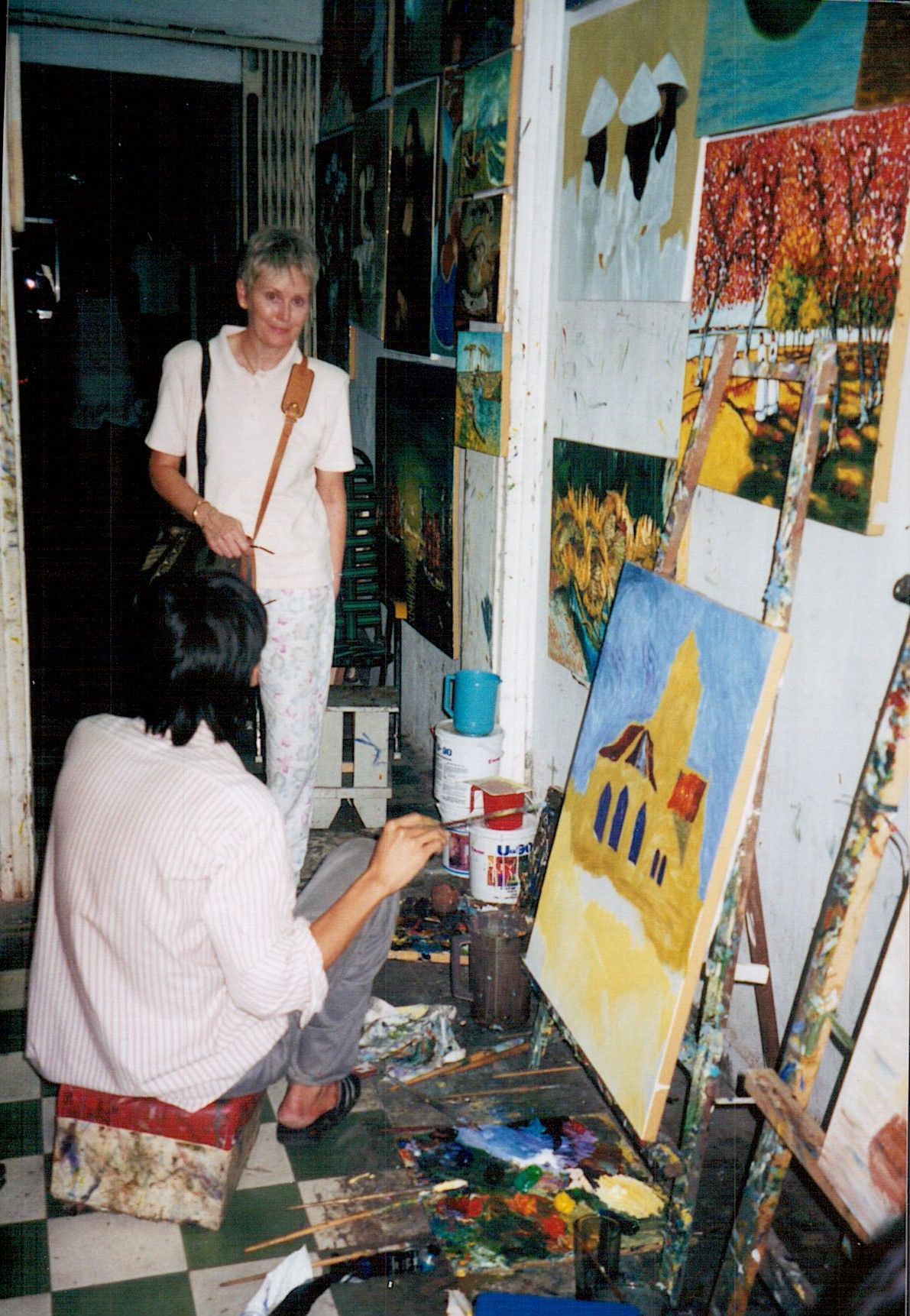 Top right is the original church, still in Auvers-sur-Oise to this day, that provided the inspiration for Vincent Van Gogh to paint L'eglise. Of the bottom 2 images one is a photo of the original, on display in the Musee D'Orsay and the other is the copy I purchased - can you tell which is which? Check the footnotes for the answer!
In Moscow street artists line The Arbat, an atmospheric historical street, buskers sing or play music, tourists can sit for a portrait or caricature, while painters display their art works. I struck up a conversation with an the artist and purchased a watercolour from her of a Russian church.
Later in the trip I visited my Uncle in Holland, he had a beautifully rendered sketch in black and white, of what we decided was the same church. I was thrilled when he gave it to me and now both paintings hang together.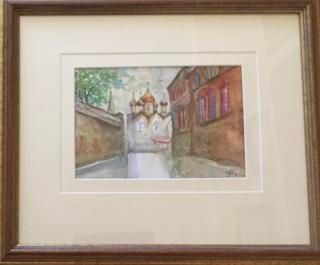 While travelling in the south of France with my Mother, we visited the small town of Gordes, where several galleries are located. We struck up an conversation with Capion Esmond a local artist with an impressionistic style and purchased a few paintings of the town - the one below is mine.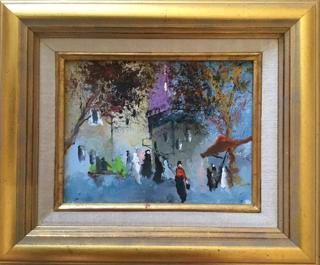 In Venice, artists prevail along the waterfront and like those on the Grand Tour centuries ago, I couldn't resist a colourful watercolour. The more subdued painting is a family heirloom and being from Dutch descent, of course I have a Dutch canal scene, inherited from my maternal grandparents.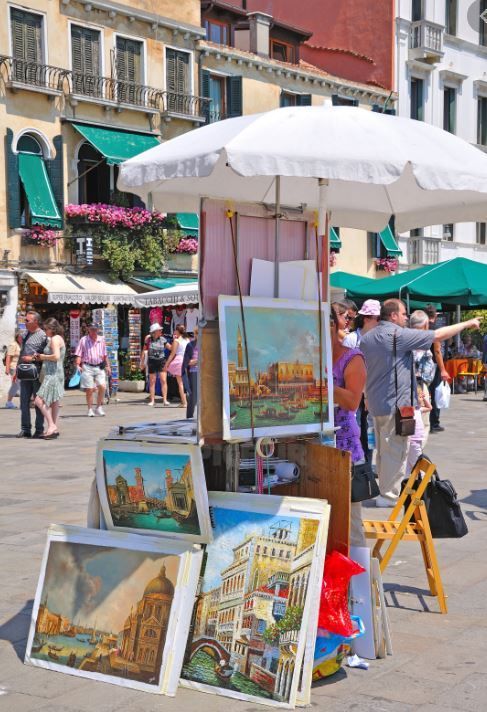 During other travels, I purchased a feather (below centre) painted by indigenous people in Panama. The feathers are naturally discarded and picked up from the jungle floor.
In Cuba the jalopies from the 1950s are ingeniously maintained as highlighted in a small oil (below centre) with a background of the bar, La Bode Quita Del Medio, made famous by patrons such as Salvador Allende, the poet Pablo Neruda, the artist Josignacio. Some say the mojito may have originated here too.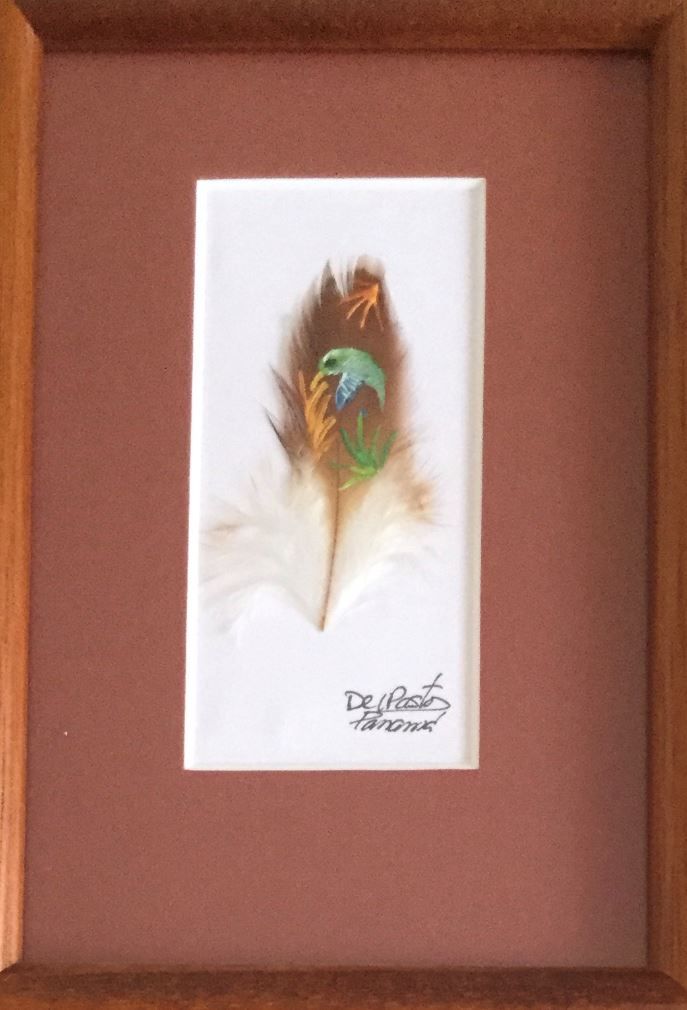 To me Cuba is synonymous with music. As I wandered around back in 2010 everytime I turned a corner a band was playing or music wafted from tenements and apartments. In the Capitolio a lone artist was selling unusual sketches of musical instruments (above right).
The Capitolio in Havana is a replica of the one in Washington DC, but taller, with more sumptuous fittings and ceilings and built in record time. Formerly the seat of the Cuban Congress and now houses the Academy of Science and Technology.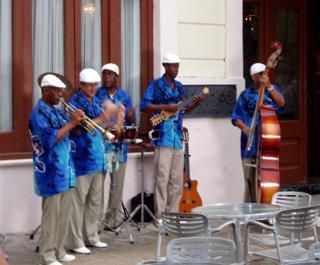 On a tour of Peru, I purchased a table runner with ladies heads – a common theme is to show them from the behind, with hats pulled low and lush black hair cascading down their shoulders.
A Peruvian friend in Sydney started importing art from his home country and I couldn't resist an oil painting on a similar theme.
I fell in love with a fabulous oil too - of an impressionist tree - I have Caroline to thank for surprising me with this treasured gift. Every time I look at it I see something different. Is there a man at top left or a dog... perhaps it is something else?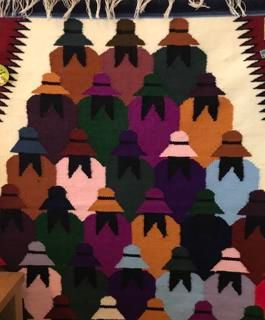 The 3 trio of media works below is a recent purchase from the same Peruvian friend in Sydney - they are quite small - perhasp 10cm x 10cm and remind me of Kandinsky's style.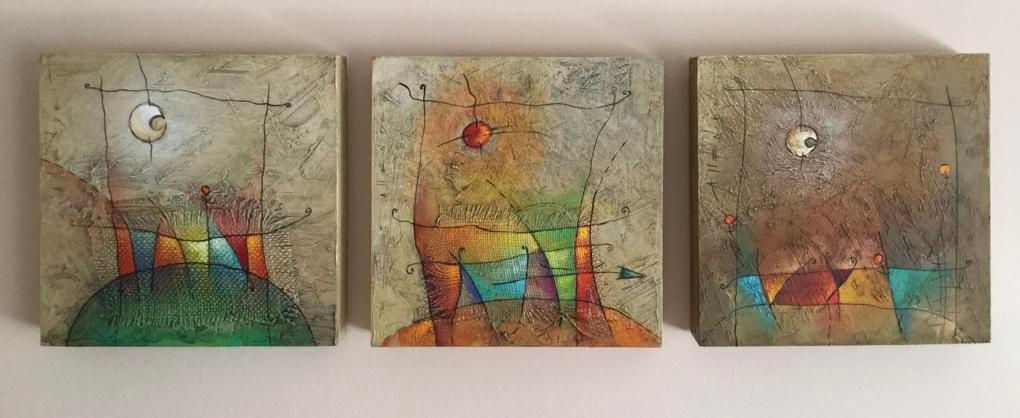 In 1988 I realised a dream to visit Egypt - like everyone else I came home with a papyrus painting and also a small silk rug which features the Tree of Life. The colours are as vibrant today as the day I bought it.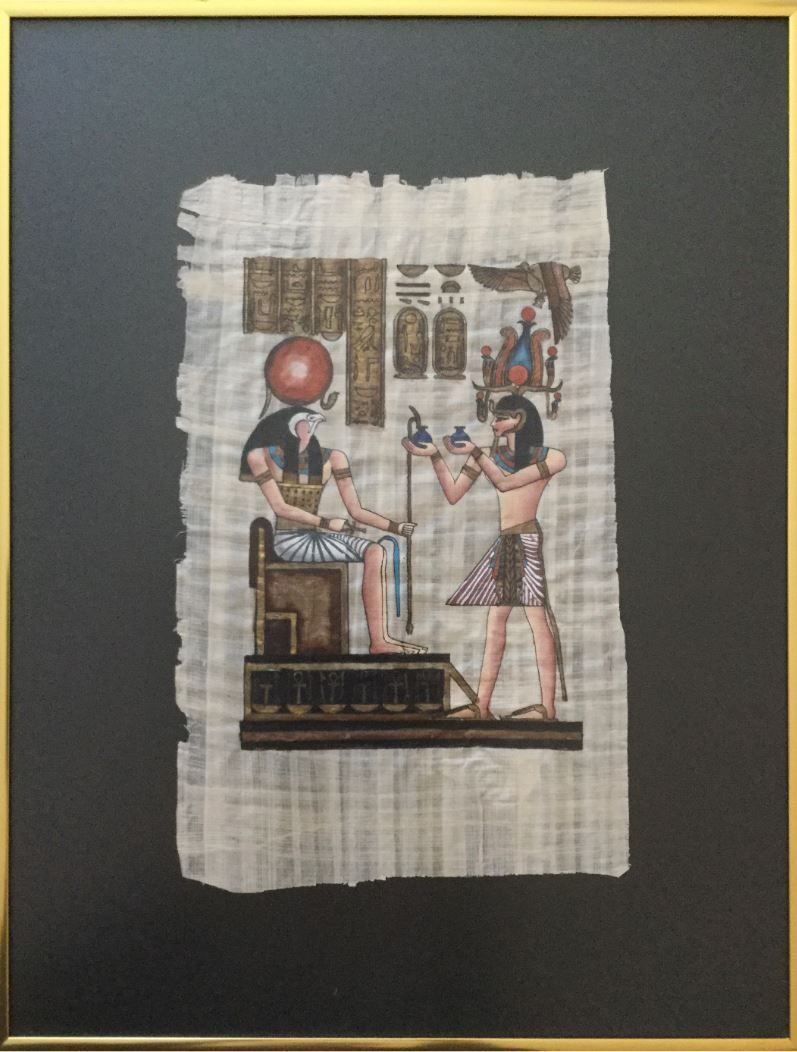 I'll finish with some favourites from closer to home, while lazing around Noosa, a well know beachside town in Queensland I stumbled on a small gallery and couldn't resist an Australian bush scene by Geoff L McKenzie, reminding me of McCubbin's work.
During trips to outback Australia, in Broken Hill I purchased oils by Pro Hart and Roxanne Minchin and in Cooper Pedy - a sunset by Helen Jenson - the sky filled with striking colours of the outback.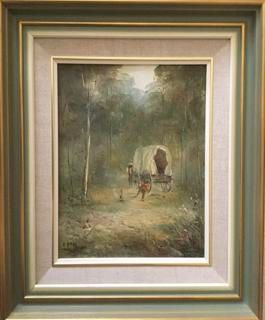 To finish two works which grace the walls of my bedroom. While I was preparing this post, I realised just how similar they are - the elongated nature of each woman, gracefully playing their musical instrument. The wonderfully long fingers of the hands and the serene expression of the faces.
The embroidery (left below)(60cm x 50cm) was painstakingly completed many years ago by an aunt on my Father's side of the family.
The other work is lacquerware (left below) from Vietnam – given to me by one of my best friends, just 20cm square - also created by hand. One item can take up to 4 months to complete, going through 20 stages in the lacquering process including 14 layers of coating.
I have included a close-up of the faces. I am not sure which piece took longer to create, but I love them both.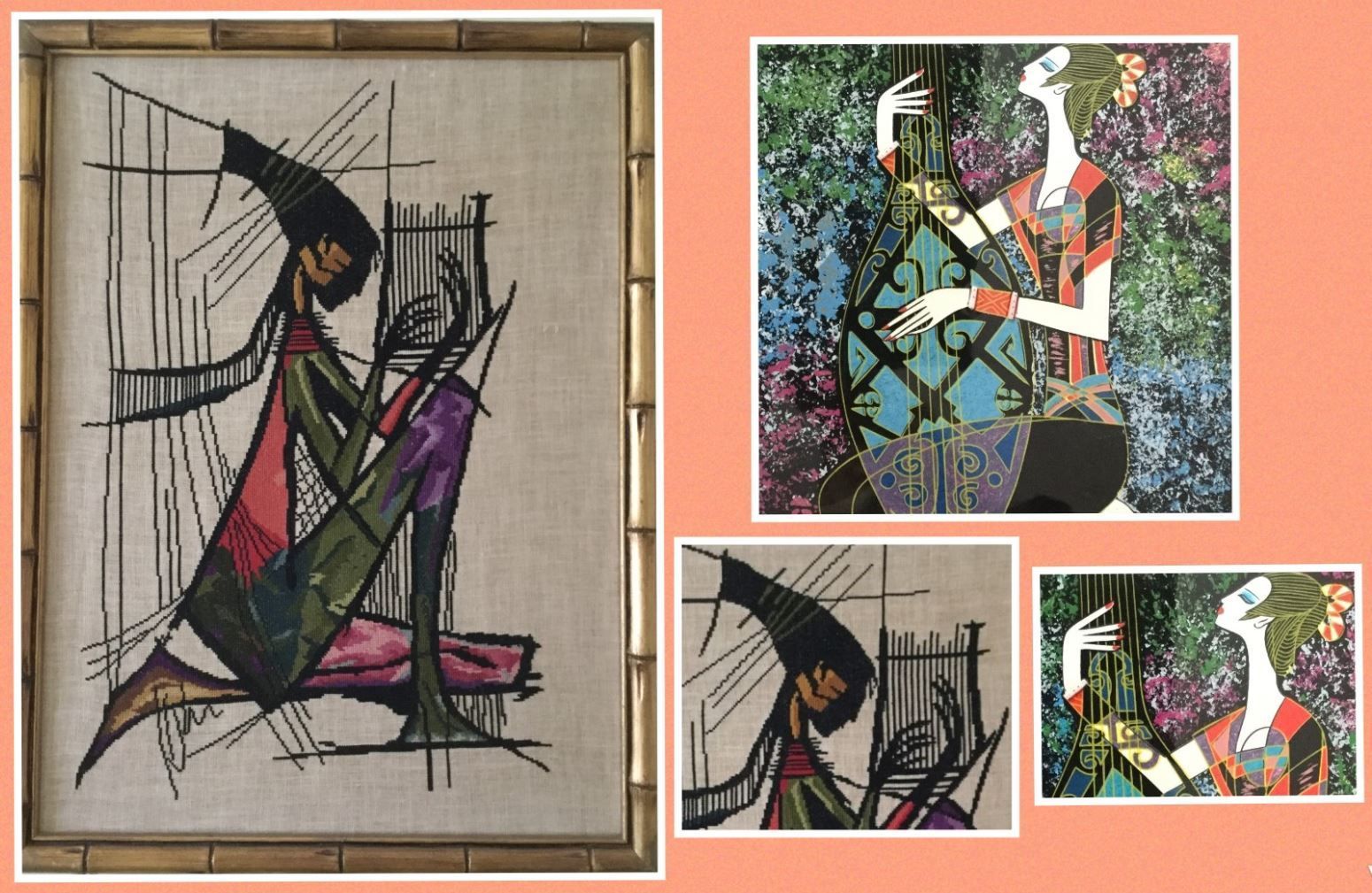 Footnotes
1 Parisblog.com
2 The painting on the left is mine; the painting on the right is a photo of the original (Credit: Musee D'Orsay). Did you guess correctly?
3 Picfair.com
Tomorrow we dip into the mail bag and see what others have been up to recently.