Strolling through Sandringham May 2020

As I stroll around my local area I usually admire the scenery and the gardens as I pass by; its very quiet and I rarely meet any passers-by. In recent weeks my friend and neighbour Dell has joined me for regular walks and we have both been delighted to encounter some fellow locals and to hear their stories.
For years I have wondered about the cement stepping stones embedded with hand prints, outside someone's home. This week we met R, now retired, who had been involved with the Rotary Youth Exchange program for some years and hosted a student each year.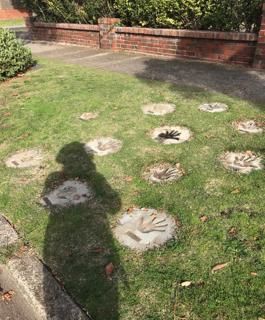 For about 12 years a student from, for example Japan, South Africa, would spend about 11 months in Australia, going to school and getting to know a bit about our country and our way of life. All had very different personalities – R mentioned one spent the entire year in the library reading the classics, while another threw her bag down and exclaimed lets start to live.
They all became a little emotional when they were invited to add a stepping stone with their hand print - complete with brass plate recording their name and the year they lived here. We will enjoy them all the more as we walk past in future as we know a little more about these young visitors to Australia.
In the next street we saw some hand painted lanterns, made from cut down milk cartons. As we admired and photographed them, we met the owner and we learned she was a budding artist.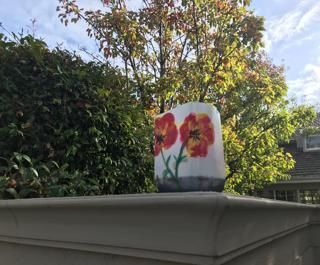 A week or so ago we met Jack, a young man selling his preloved treasures and regular subscribers may remember a post where I purchased a book about the Owl and Pussycat featuring illustrations and story.
Just before Anzac Day we met RW, part of the worldwide movement to knit/crochet poppies. Here are a few more images.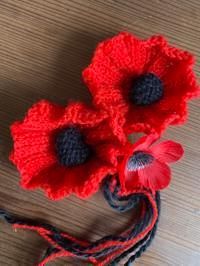 To cap off our morning we strolled through John Bateman Gardens, only a block or so from home. Its not on my usual walking route, so this was the first time I'd ever walked through it. Only small with well-maintained gardens and a few seats to rest or enjoy the peace and serenity.
One of the seats is dedicated to the Bissett family. I knew the late Ray Bissett –he sold Christmas trees during November and December to many people around Melbourne and in the winter timber for log fires. For years he mowed the lawns at my villa unit complex and was always happy to oblige when bushes needed trimming. The bench is a small tribute to the community work done by this family for almsot 100 years!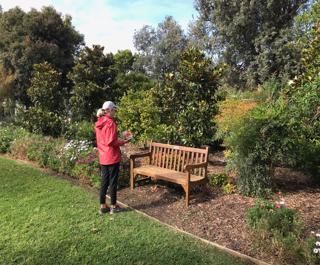 Dell and I both hope our joint karma continues as we enjoy chatting with those that live in our local 'hood.