Another Guiness Book record for the Miniatur Wunderland!
Today, for a bit of fun, we return to the Miniatur Wunderland which we visited a little while ago (click here if you missed that post.)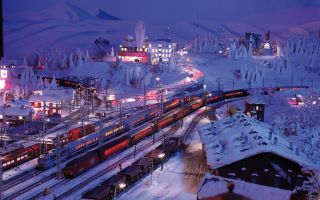 During the coronavirus lockdown in Germany in 2021, the Miniatur Wunderland was forced to close temporarily. This meant that founder Gerrit Braun and his team had time on their hands. So what did this creative team devise to pass the time?
They set up an ambitious new project where a model train chugs along a track lined with thousands of water-filled glasses, tapping out a medley of well known classical music hits as it goes past!
The team spent weeks building a separate, specialised track winding around the existing exhibits (which we saw in my first post), with water-filled wine and drinking glasses of different shapes and sizes placed along the track to be hit by tiny mallets attached to the train as it went past!
As you can imagine, this project was not without it's challenges! Firstly, determining the amount of water to put into each glass to produce each note, and then making sure that the tiny mallets did not shatter or knock over any glasses by hitting them too hard, and making sure that the speed of the train produced the correct tempo!
But their biggest challenge was that by the time they had finally filled all the glasses correctly to create each note, a slight amount of evaporation had occurred that was enough to alter the sound of each note, making it slightly off key!
Gerrit says: "We tried it with plastic wrap, to cover the surface, but in the end, we found out that a light oil ... creates a layer on top of the water that preserves it, and then there is barely any evaporation." Who'd have thought!
The 2,840 wine glasses were strategically set up to play 20 different classical tunes including Johann Strauss's Radetzky March, Ravel's Bolero and Beethoven's Für Elise.
You can see it for yourself, including the some shots of it being built, in this 1.34 minute video.
But the best thing of all is that this crazy, detailed project earned the Miniatur Wunderalnd another spot in the Guiness Book of World Records – this time for the Longest melody played by a miniature train! Can you believe it!
Footnotes
With thanks to miniatur-wunderland.com