One million hours to create a world in miniature!
Have you heard of the Miniatur Wunderland (which is German for 'miniature wonderland') in Hamburg, Germany? It is the largest model railway of its kind in the world, housed in an unassuming warehouse building. But it is so much more than just a model railway!
It is made up of over 16,000 metres (that's 16 kilometres!) of railway track, set out in 9 rooms which faithfully recreate the scenery of many famous countries around the world, such as the mountains of Austria, Switzerland, (the Alps), Italy (the Pyrenees), America ( The Grand Canyon), and Scandinavia. Well known places across the world are also included, such as Venice, the Colosseum, Las Vegas, St Peter's Basilica, Rio De Janeiro, Monaco and more.
The detail is just breathtaking!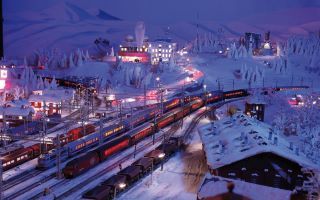 The exhibit was started in the year 2000 by German twin brothers Frederik and Gerrit Braun, who had a dream of building the largest model railway in the world.
They opened the first three sections (Knuffingen, (a mythical city), Central Germany and Austria) on August 16, 2001. Since then, new sections have been added one by one. By the time the train track length reached 15,400 meters in 2016, they had broken the Guinness Book of World Records. But this was not enough for the Brauns, and they have continued to build upon it, ever improving the realism and accurate detail of each display. Besides trains, it now includes a working airport, (complete with A380 Airbuses, Boeing 787 Dreamliners, Concorde and Space Shuttles), cruise and cargo ships in real water, and emergency services rushing to help in many life-like situations. All the action rotates through a regular day and night sequence.
The exhibit includes 1,300 trains made up of over 10,000 carriages, over 100,000 vehicles, approximately 500,000 lights, 130,000 trees, and 400,000 human figurines – all faithfully recreated in accurate, albeit in miniature, detail. The co-ordination of moving planes, trains, cars and ships across the whole enterprise happens in a central control room of over 40 computers.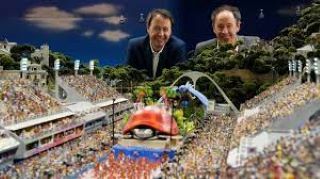 The best way to appreciate the scale of it all is to see it. Founder Gerrit Braun introduces it, and some of the 250 members of the team, in this 5 minute video:
The following 3 minute video details the hours that have gone into each section……over 1 million hours in total, as of August 2022!
The total length of 16,000 metres of track corresponds to over 1,400 km in real length, so this is now also the largest model railway layout in the world across all scales.
As you have probably gathered, the exhibit is not just for train buffs – it offers so much more! If you are interested to see Miniatur Wunderland in more detail, you may like the following 15 minute video:
As I seem to keep on saying, isn't it incredible what people do?
If you live in, or visit, Hamburg, you must visit this extraordinary installation and let us know what you think!
Footnotes
With thanks to miniatur-wunderland.com
Anne has just asked me to add a welcome to our newest subscriber - J.M. in Australia who has just joined up and we are delighted to have her become a member of our online art community.