A memorable trip in a restored "Red Rattler"!
From previous posts, regular readers will know that I am a bit of a plane and train nut. To me, there is so much romance and nostalgia in these proud icons from yesteryear! They almost have personalities!
In April 2022, I had the very great pleasure of travelling on the inaugural passenger run of a restored Tait train, here in Melbourne........otherwise known as a Red Rattler!
For many older Melburnians, this may bring back memories of train travel many years ago. This restoration is an electrified set of four carriages dating back to the 1910s, which have been lovingly restored at the Newport train works, in the south of Melbourne.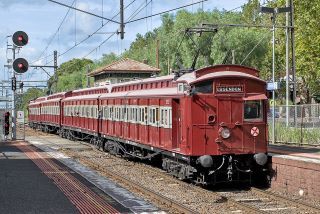 They were called "Tait" trains after Sir Thomas James Tait, the Chairman of Commissioners of the Victorian Railways from 1903 to 1910.
Originally these carriages were pulled by steam trains, but were converted to electric traction between 1917 and 1924.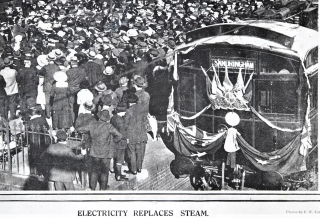 These Sliding Door trains replaced the original version of outward opening Swing Door trains, known as Dog Boxes, which started operating in Melbourne in the 1880s. But it was the Tait Trains that were affectionately known as Red Rattlers. Apart from their red colour, you will see why in the video below!
They remained in operation until 1984, by which time they had been fully replaced by blue Harris trains and the more modern silver Hitachi and Comeng trains.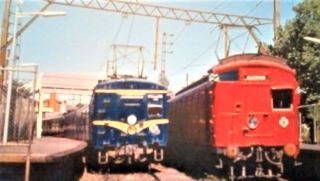 Tait trains had a partly open saloon layout, with bench seats running across the train, the saloon being divided by partitions into a number of smaller areas. Each seating aisle was provided with its own exterior sliding door. 1
I was very impressed that so much of the train was in its original condition, with the original seats, light fittings and lampshades (though the incandescent bulbs have been replaced with modern long life bulbs), the white painted ceiling of pressed tin patterns, the luggage racks above head height, and the beautifully stained woodgrain walls. There were even the original black and white photos of Melbourne scenes on the back wall!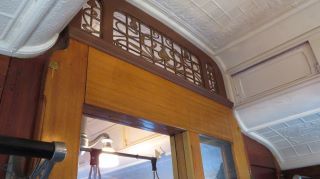 For some time, carriages were designated as First or Second class, up until 1958 when one class suburban travel was introduced.1
The carriages were also divided into smoking and non-smoking compartments until late 1978 when smoking was abolished on trains.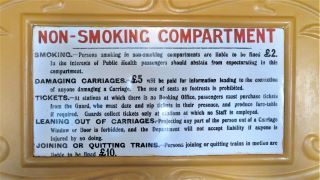 These carriages are four of 14 carriages which have been saved and are slowly being restored by a small group of volunteers.
They include 79-year-old twins Kevin and Tom Clark, who have helped restore and maintain old trains for 41 years, with Steamrail Victoria, based at Newport's railway workshops. They joined the Australian Railway Historical Society as teenagers.2 Like my own family, they would often go on steam-hauled day train trips as boys and have remained train enthusiasts ever since.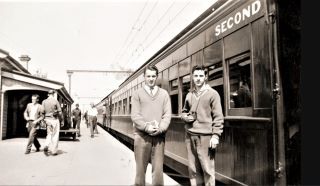 On this Red Rattler restoration, the Clarks have updated sign writing, oiled and cleaned the train and fixed leaks in the roof.2
Kevin says one elderly man referred to the train as "an old friend". 2
And now having ridden on one again after nearly 40 years absence, I totally agree!
The sliding door handles and window latches were the originals, and I well remember on hot days that every window and every door was open to let the fresh air in during the trip! No automatically closing doors in those days, yet there never seemed to be any mishaps!
I also laughed remembering the clackety-clack on the tracks, and the jerky starts which always took passengers by surprise, especially after an unscheduled stop! It was very common for someone standing to almost end up in a seated passenger's lap, despite the metal handles hanging on leather straps in every compartment!
It was certainly a thoroughly enjoyable trip down memory lane! Our enormous thanks to all the volunteers of Steamrail Victoria who have spent countless hours restoring these carriages!
I am sure they will give much pleasure to both young and old as they begin a new life of service in both steam and electric pleasure trips !
We leave you now with a video of some test runs of the restored Red Rattler in May 2021 (12.52 minutes). If you care to watch at around the 3.50 minute mark, you will see a very special treat – the Red Rattler travelling to Ballarat under triple steam! Magnificent !!
Footnotes
With thanks to Wikipedia

With thanks to Carolyn Webb, The Age, 18th September 2021