A Taste of The Hermitage - Downunder

Anne and I had the pleasure of experiencing a little taste of The Hermitage when we visited one of their travelling exhibitions at the Art Gallery of NSW in Sydney during early 2019 - Masters of Modern Art from the Hermitage.
We almost felt we were at The Hermitage as we passed by the huge posters leading into the exhibition (below) - you may recognise similar images from yesterday's post.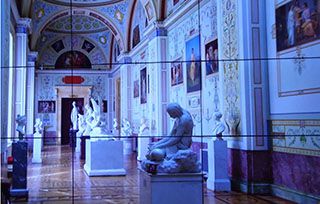 Capturing the ebullience, idealism and confidence of the European modern masters in the late 19th century and early years of the 20th century – among them Monet, Cézanne, Matisse, Picasso and Gauguin, and their equally celebrated Russian contemporaries Kandinsky and Malevich – are 65 paintings travelling to the Art Gallery of New South Wales from the State Hermitage Museum in St Petersburg for the Sydney International Art Series exhibition, Masters of modern art from The Hermitage. 1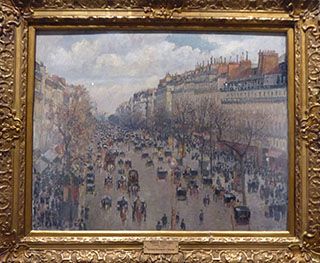 The exhibition also tells the story of the Russian collectors Sergey Shchukin and Ivan Morozov, both wealthy businessmen who first championed the ground-breaking works of the French modern masters, and brought their work together with great passion.
Shchukin, one of the most visionary art collectors of the 20th century, assembled a singular collection of the most radical French art of the day, opening his residence to the public so local art students, such as Malevich, could study the major works of European painters.
Over two thirds of the works in the exhibition are from the collections of Shchukin and Morozov, and archival photographs show how some of the works were displayed by Shchukin in his Trubetskoy Palace in Moscow, where Russian art lovers, intellectuals and artists were welcomed. 1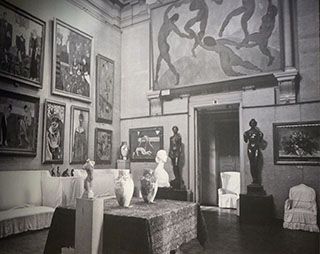 In the top centre (above) is Dance and Music by Matisse, which was featured in yesterday's post (below) - now proudly displayed in the Impressionist Gallery at The Hermitage. It became part of the collection in 1948 when handed over from the State Museum of New Western Art in Moscow; As we can see originally in the Sergei Shchukin collection.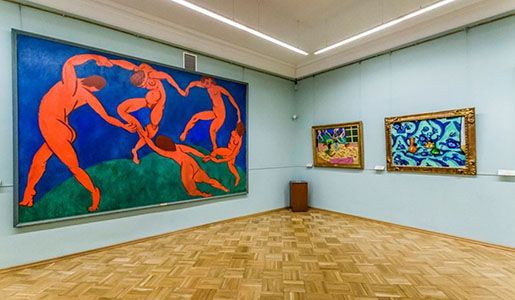 We learned more of the Russian collectors Sergey Shchukin and Ivan Morozov in the storyboard below.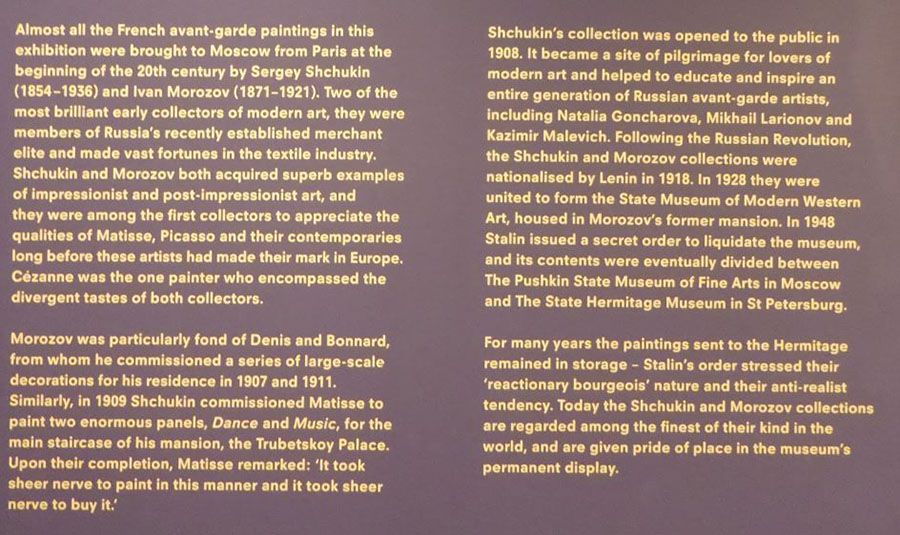 Anne was thrilled to see three Kandinsky paintings - which were included in a post at the time. Here is the link.
As we discussed so many aspects of this fabulous exhibition over lunch in the outdoor cafe at the gallery - we certainly knew we were back downunder in Oz - yet another delight to be entertained by these sweet rainbow lorikeets.

Credits
1 Extract from media release - artgallery.nsw.gov.au