Yumi Okita - celebrating the intricate detail of Mother Nature!
As you know, the Paralympic Games are currently happening in Tokyo (August 2021), so we thought it would be nice to feature some Japanese artists during this 2 week period.
Today we will look at the beautiful, detailed work of Yumi Okita, a Japanese born artist now based in North Carolina in the US. She creates sculptures of moths and butterflies using hand-painted fabric, embroidery thread, feathers, and faux fur. She uses multiple layers of fabric and embroidery to provide depth and substance to the wings, body, legs and antennae: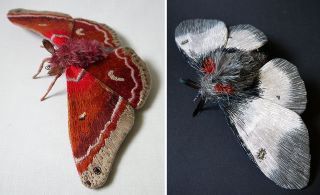 Each moth and butterfly is one-of-a-kind because they are handmade. They are based on real-life species, and designed to be hung from wires or displayed on stands ....... or even on wood, to look like tree bark!
They are larger than life, with the wing span up to 10 inches (25 cm) wide. But that just makes the detail in her work more apparent. What a celebration of the cleverness of Mother Nature in the feathery legs and antennae, and the beautiful colours and patterns of the wings!
Yumi says of her work: "I try to capture the realism of nature then manipulate it into the world of imagination."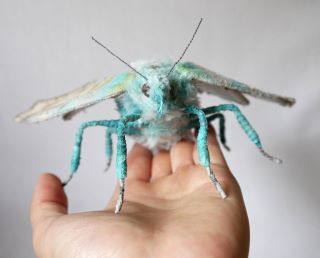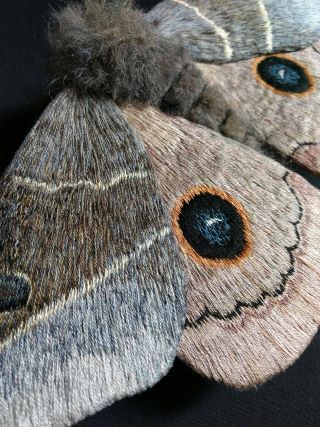 I wrote a post about moths and butterflies some time ago, and one of the questions I wanted to answer at the time was, what is the difference between moths and butterflies? You can find the answer to that, and more, by clicking here.
Some people find flying things quite scary as they are unpredictable. And moths can be unnerving because they just sit in the one spot for a long time, whereas butterflies flutter around.
What do you think? I have to say that I find them quite beautiful and fascinating!
You can watch this slideshow showcasing more examples of her work, courtesy of yumi.okita.fiber.art, on Instagram: