Wonderful woodwork in Wales!
Today we meet Simon O'Rourke, an environmental artist who specialises in wood sculpture in North Wales.
Simon produces fine pieces of artwork using waste timber or standing stumps, using a variety of power tools and hand tools. These works of art range from classical sculpture of human and animal form, to abstract work and re-creating logos in wood. 1
Simon says that he loves to inspire and fire people's imagination through his creations. "I create sculptures that beautifully compliment their surroundings and enhance gardens, homes, and public or commercial spaces."1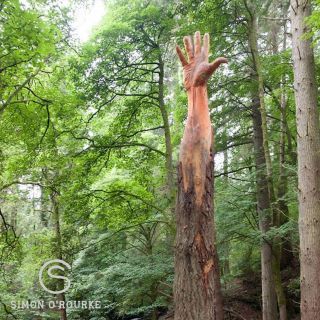 On Simon's website, he tells the story of how he came to become a tree carver:
"After gaining my degree with honours in Illustration; specialising in children's books, I became a tree surgeon for Acorn ArborCare. There's no connection really, but I needed a full time job, and wanted to slowly build up my illustration career outside of work!
I managed to get a children's book commission from a tree work customer which was published in America through Trafford Publishing. In the time that followed, I did not pursue my illustration career, but I realised I could actually be creative with the chainsaw and tried my hand at wood carving!
I carved for two years under the banner of Acorn Furniture and set up my own business in 2005. I now reside in North Wales, with my lovely wife Liz, and have worked in a wide variety of public places and private gardens.
My chainsaw carving exploits have taken me all around the world. I have now competed in chainsaw carving competitions in the USA, Japan, Canada, Holland, Germany, Denmark and the UK, placing highly in many of them."
Simon's work is amazing, with incredible detail and proportion. Apart from his commissions and competing in competitions all around the world, Simon's fame has even led to making a piece for the well known TV series Game of Thrones!
There is so much of his work to look at. I really think the best way is to spend a little bit of time browsing through his Portfolio on his website, here and some of his Case Studies of past projects, here. You will certainly gain an appreciation of his inspiring work.
Can you pick a favourite?
Footnotes
With thanks to Simon O'Rourke, at treecarving.co.uk