William Dexter from Melbourne Derbyshire stands with the Bendigo Diggers
I love it when I get caught up in dot to dot research. As our Keeper of the Rabbit Holes (Caroline) would say: "You never know what you might find down a rabbit hole or two and all the tunnels lead ... who knows where ...! But if you keeping looking, everything eventually joins up and makes a picture! Just like those dot to dot paintings we did when we were kids!
Last week I showed you some features of the city where the AnArt4Life blog team all live - Melbourne through the eyes of Englishman Sir Tony Robinson. This gave me the idea to have a look at other towns and cities named Melbourne.
Naturally I thought to start with Melbourne in Derbyshire, UK as our Melbourne is named after, in a fashion, this English market town. How come you ask?
A few shots of Melbourne in Derbyshire first and then I'll explain the link.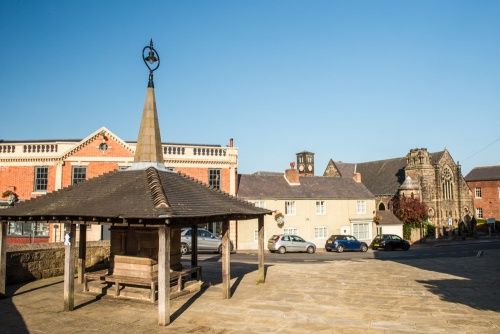 Melbourne in Victoria was home to Indigenous Australians for over 40,000 years before European settlers arrived. The area served as a popular meeting place for local Kulin nation clans.2
A short-lived penal settlement was established at Port Phillip in 1803 when the area was part of the British colony of New South Wales, but in 1835, free settlers from Van Diemen's Land (modern-day Tasmania) began settling around the bay where the modern city of Melbourne is located.2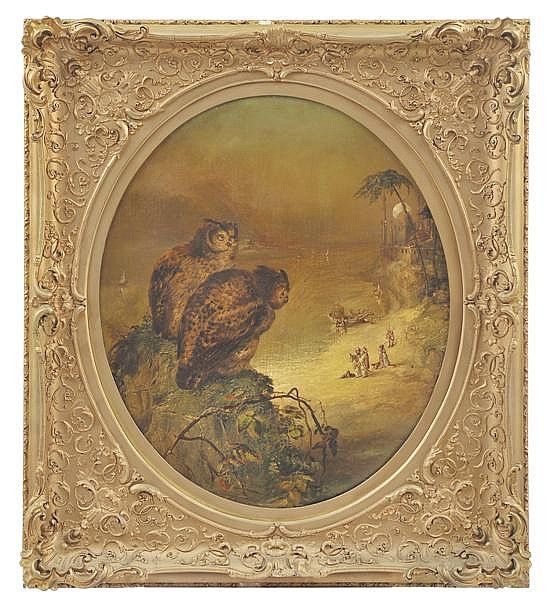 The young William studied for a bit in Paris and then went back to England to get married in 1843 to the feminist Caroline Harper - a little more on the remarkable Caroline later in the post.
Dexter was represented in the Royal Academy exhibition in 1851 with a painting titled Dead Birds and another in 1852 with The lark and her young from Aesop's Fables. I can't find either painting but I did find this one painted in 1849 which shows his style at the time and obsession with dead birds, which was also quite popular at the time!!!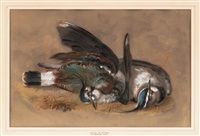 The further examples of paintings shown below do demonstrate that William Dexter was certainly a talented artist.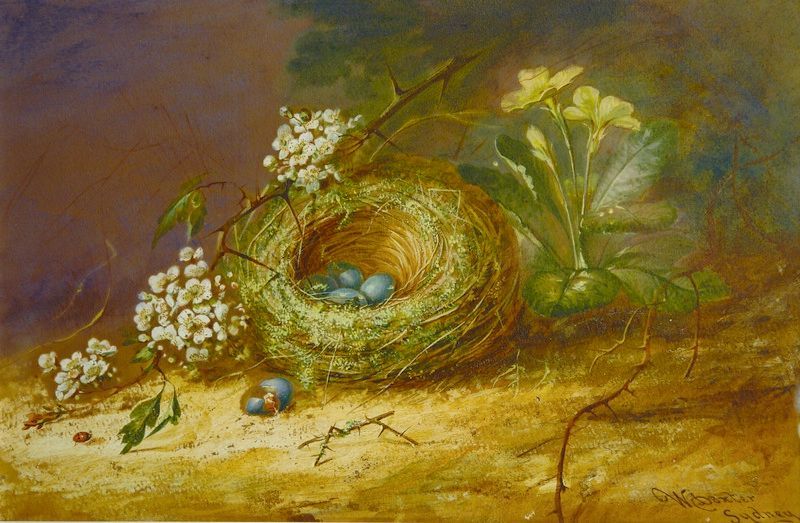 In October 1852, for reasons unknown, William Dexter set off for Sydney in Australia - leaving his wife behind. On arrival he taught drawing at Lyndhurst College, Glebe, in Sydney 7 and then the next we hear of him, William has travelled over 600 miles south to the Central Victoria town of Bendigo, about 100 miles north of Melbourne.
I was absolutely delighted to discover William Dexter in Bendigo as this is my home town. But what was he doing there in August 1853? The answer can be found in a memorial in the beautiful Rosalind Park in Bendigo.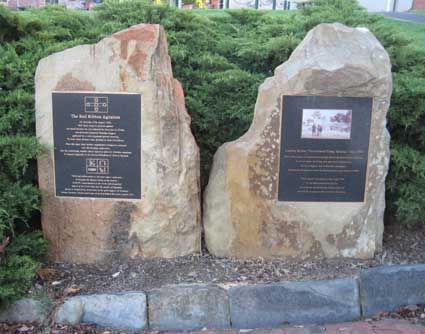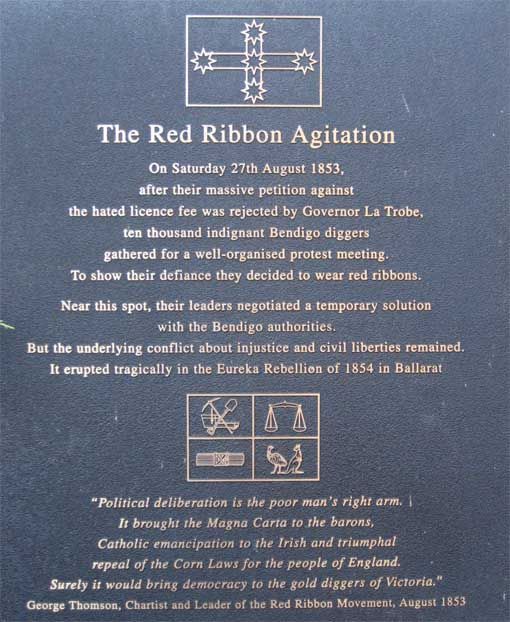 The memorial marks the place where, in August 1853, a demonstration by diggers (miners) took place called the Red Ribbon Agitation. 8
The plaque on the left (above) gives the history of the event which was one of the earliest rebellions by diggers protesting against the payment of a licence fee of 30 shillings a month whether they found gold or not. They also wanted land and representation - the protests eventually culminating in the Eureka Stockade uprising in Ballarat in 1854. The right hand plaque (above right) holds a copy of the Ludwig Becker painting, Government Camp, Bendigo, which shows the Camp Hill area where the Red Ribbon march took place.8
The diggers wore red ribbons to indicate that they would not pay the license and their banner (below) was designed by - yes you guessed correctly - William Dexter. He also spoke to the diggers advocating republican doctrines and severing all contact with Great Britain! 7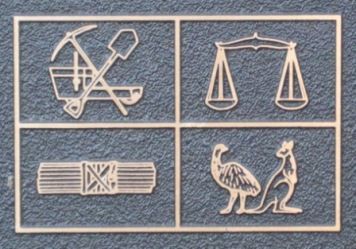 In 1854 William Dexter's wife Caroline Harper arrived in Australia and together they opened a Gallery of Arts and School of Design in Sydney. This venture failed and in 1856 they went to live at Stratford, Gippsland, Victoria.2
In 1857 Dexter exhibited six oils and three watercolours at the first Victorian Society of Fine Arts exhibition, held in Melbourne.2
I have discovered one of his paintings Wood Duck, Gippsland, Victoria (below) hangs in the National Gallery of Victoria, Melbourne.
William Dexter - inscribed in brown paint "Wood duck, Gippsland, Victoria" (c. 1857) oil on canvas National Gallery of Victoria, Melbourne Felton Bequest, 1922 10
Soon afterwards the Dexters separated and William returned to Sydney, becoming a partner in a sign-writing business. William Dexter died in Sydney in 1860.
R.I.P. William Dexter and thank you for standing up for the rights of our diggers.
And what a wonderful day to welcome our latest subscriber - T in Sussex, UK to the AnArt4Life blog. We are delighted to have you join our on-line journey about all things art.
I also have to tell you that I am going to be a little indisposed for a few days as I have to go into hospital to attend to a troublesome ankle that, in itself, is a work of art held together by screws and a plate. While I'm away Jane, Julie and Caroline will do their best to keep the posts rolling out to you all. Please don't be concerned if for the next little while you don't receive a AnArt4Life post every day. Thank you for your on-going wonderful support. Anne
Footnote:
Caroline Dexter (nee Harper) moved to Melbourne still independent, dynamic and unconventional, startling society by opening an Institute of Hygiene and promulgating such novelties as divided skirts and abolition of corsets: she was part of the movement known as the Bloomer Feminists who sought change through women's fashion. In 1861 Caroline married William Lynch (b. Ireland 1839), a former pupil at the Lyndhurst College, Glebe. Caroline died on 19 August 1884. 2
Credit
1.britainexpress.com
2. en.wikipedia.org
3. ticknalllife.co.uk
4. invaluable.com
5. artnet.com
6. aasd.com.au
7. adb.anu.edu.au
8. monumentaustralia.org.au
9. eurekapedia.org
10. academia.edu